Erzincan & Kemah
Part of the Armenian heritage trip memory.
---
note: historical vs modern Erzincan
Erzindjan is now north of the location as of 1907. When Azniv was born, Erzindjan and the surrounding area was part of Armenia. It was made part of Turkey in 1920 after the conclusion of WW1. Besides the genocide, Erzindjan is earthquake prone. In 1254 William Rubruck said more than 10,000 people were killed by an earthquake. In 1939 there was another earthquake which led to the death of 32,962. The old site was entirely abandoned and the town was relocated to the north.
note: family connection with Erzindjan
The following photo was taken​ in 1906,​ four years after Stepan and his family arrived in the US. Standing from left to right in the back row are: Azniv/Agnes Torosian (born Shakargian, who is Nancy and Jim's maternal grandmother)​, her brother Arshag and his wife, Nartouhi Pojojian (alternates Nartoo, Pazozian, Posozian). The adults sitting from left to right in the front row are Nancy and Jim's great-grandmother, Lucien Shakargian (born Donegian), and great-grandfather, Stepan Shakargian. The family believes two of the children are Arshag's children but the third child may be one of the sister's, Eva Kapigian (born Shakargian) children. The travelers think Azniv was born in Erzindjan proper rather than adjacent villages because: 1) they used the Turkish bath house which was a Roman ruin, 2) they had a shop where folks bought things- perhaps sugar, candy, coffee, 3) Azniv went to a school and the city had a school for girls (Chrisdinian).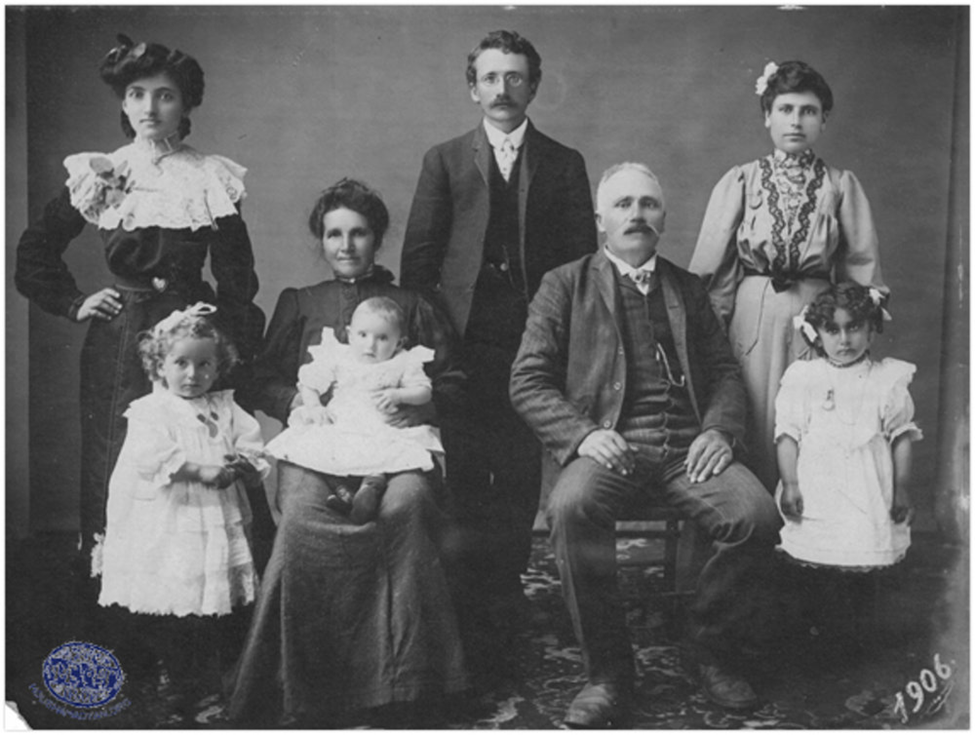 ---
arrival
The travelers took a 1.5 hour flight from Istanbul to Erzincan, arriving around 15:00. Erzincan is a medium sized city, with an official population roughly 37,000. The true population is twice that, with many of the undocumented being Roma. The airport is quite modern and nice, funded extensively by Russians.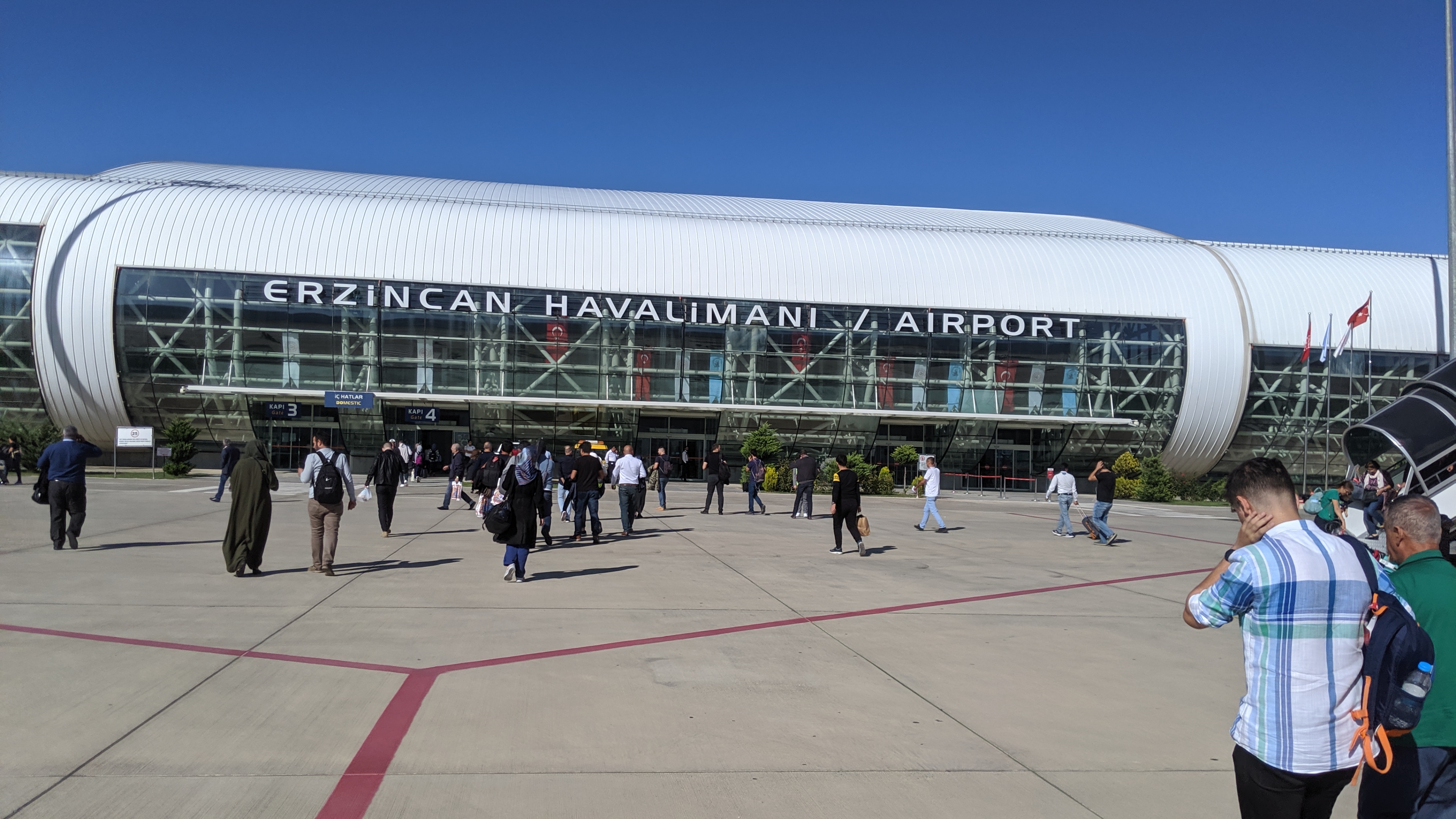 Erzincan airport.


The city of Erzincan has been almost entirely rebuilt since the 1939 earthquake. Unlike other cities visited by the travelers, the roads are clearly planned and the buildings seem quite modern.

The travelers stayed at Hayat Home Suite in the center of town. The hotel was quite nice, more like an apartment than a typical hotel room. There were two small bedrooms, a bathroom including washing machine, kitchen complete with stove, and a very large living and dining room. Jim and Nancy took the bedrooms, while Blaise slept on the living room couch. Total cost of hotel was 480 TL for two nights.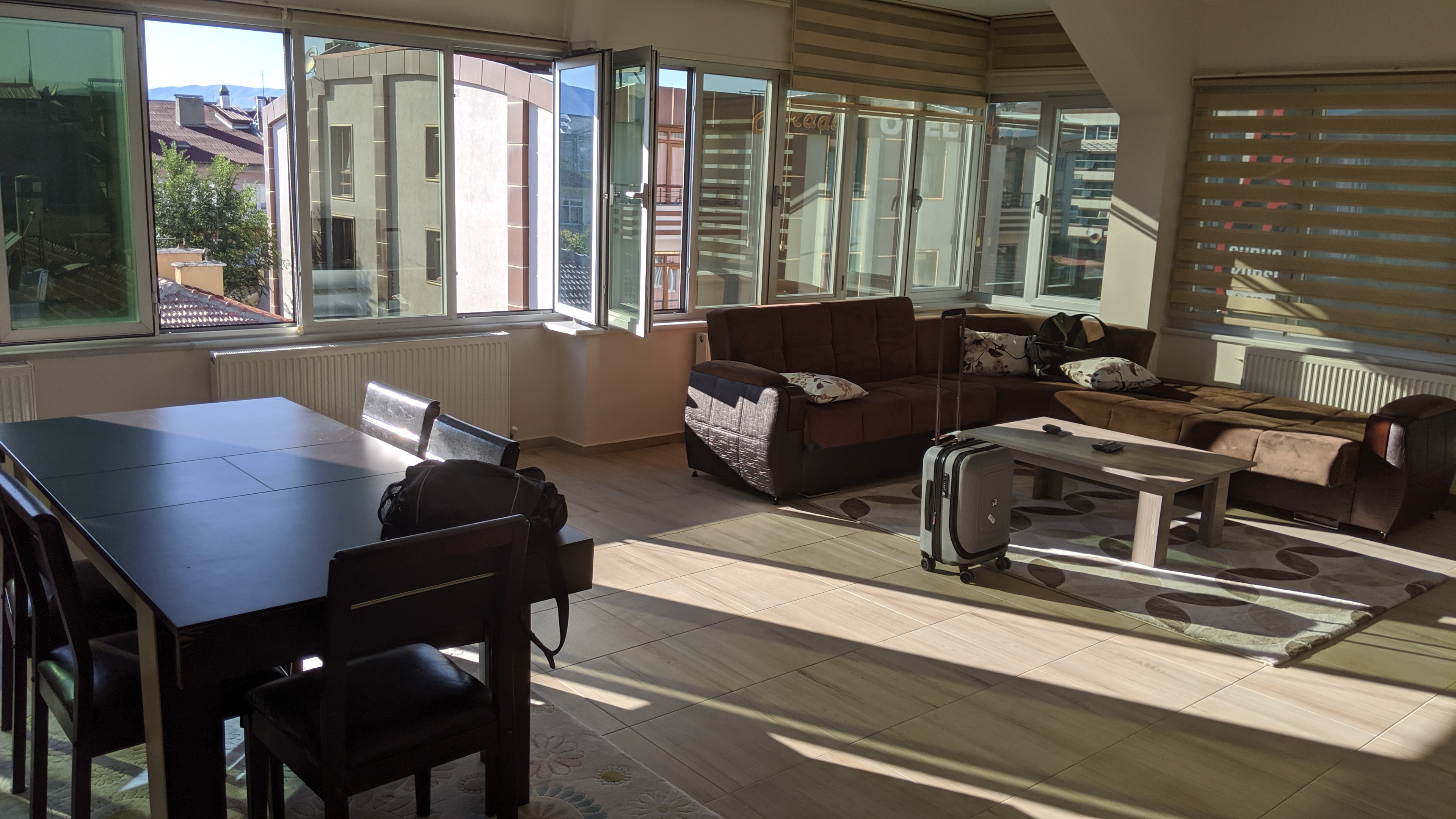 Living and dining room of Erzincan hotel.

dinner
The travelers met their guide (Ahmet Cetin) and his driver. The driver spoke only Turkish and was not very communicative for the entire trip. All five enjoyed dinner at a local restaurant. Credit cards were a problem, but the travelers were able to withdraw cash from nearby ATMs. After dinner, all five visited a local bar to plan the trip. At the bar, Nancy enjoyed drinking special Erzincan carbonated lemon drink (Kizilay).
Tevhit Karakaya
On the flight from Istanbul to Erzincan Nancy was placed in first class for some reason. Nancy sat next to a local politician and business man Tevhit Karakaya. Tehvit was interested in Nancy's historic photos of Erzincan. Tevhit did not speak English, but a friend of his translated on the plane.
Tevhit invited the travelers to stop by his hotel to obtain a book of historic Erzincan photos which he himself had compiled. Once Ahmed heard of the Nancy's interactions with Tevhit, Ahmet called Tevhit and all were invited to meet Tevhit at his hotel.
While at the hotel, Tevhit and his associates asked Nancy and Jim for more information regarding their Erzincan relatives. All enjoyed tea and special Erzincan grapes. The travelers needed to be instructed to eat the grape seeds, and indeed the seeds were easy to eat and even seemed to enhance the grape texture. The grapes were very sweet and the seeds were not at all bitter.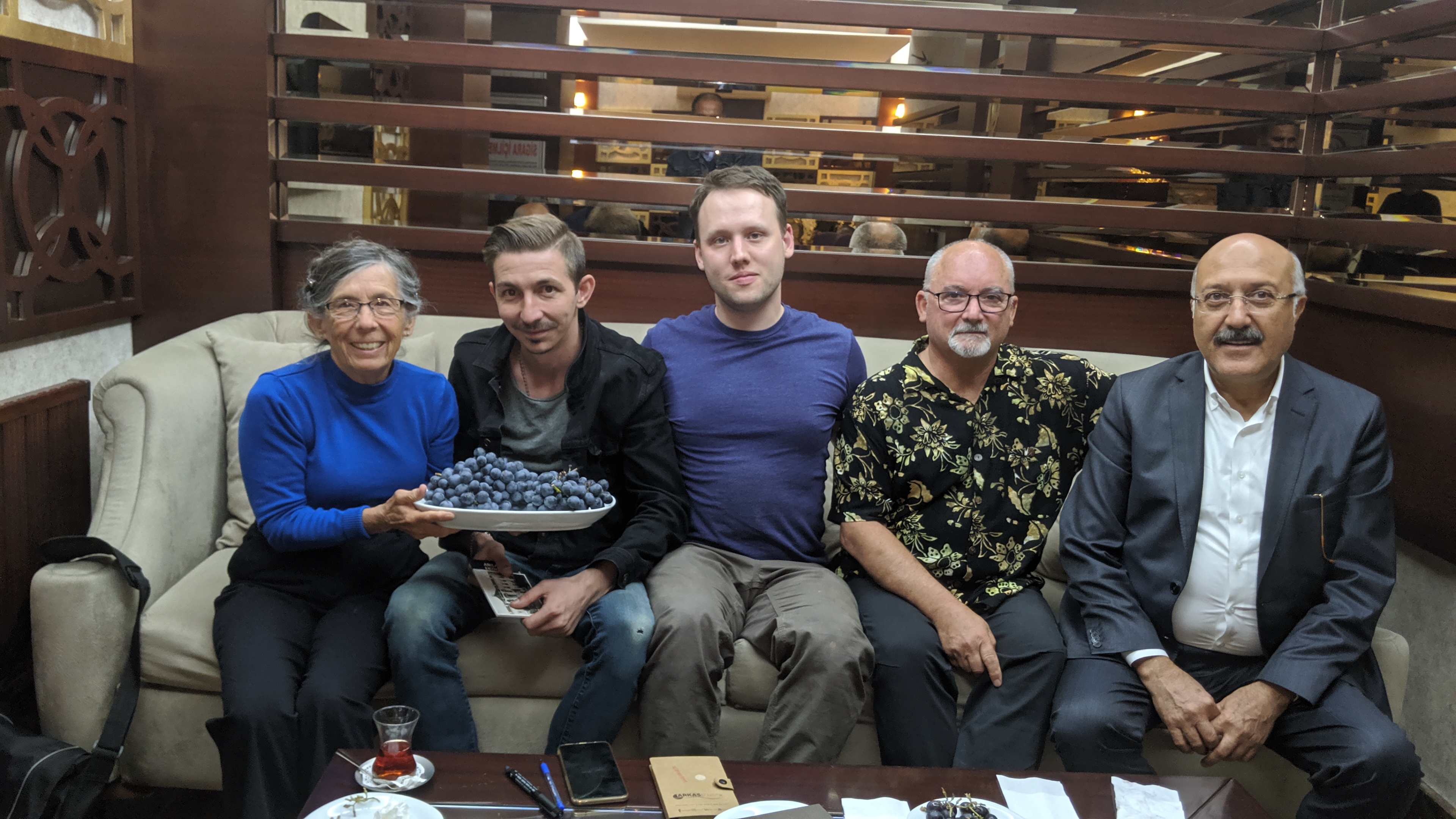 The travelers meet with Tevhit Karakaya (far right). Picture taken in lobby of Karakaya hotel. Note grapes held by Nancy.

---
breakfast
At around 09:00, the travelers met with Ahmet and started their day with breakfast at a local restaurant, Siber Bilişim Sistemleri. It was a typical middle eastern breakfast with a large variety of options. The travelers enjoyed trying rose petal jam, similar to that made by Azniv Torosian and remembered as part of Nancy and Jim's childhood.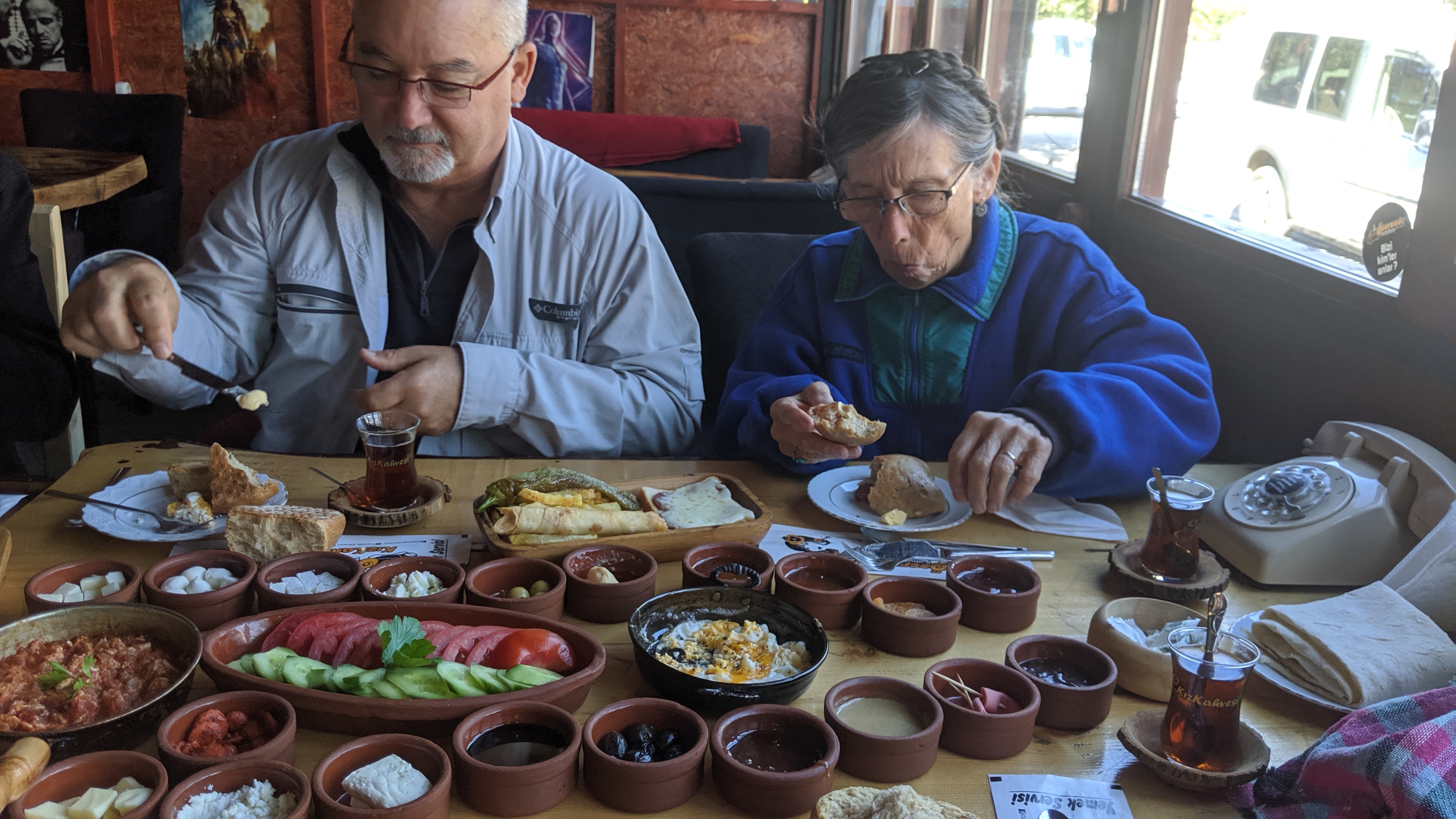 Jim and Nancy enjoy breakfast.

old Erzincan
Nancy and Jim's Grandmother (Azniv Torosian, nee Shakargian) was born in old Erzincan. She left in 1902 with her parents, one brother, and the brother's wife and children. An additional sister stayed behind as she was already married. Azniv was roughly 16 years old at the time. The travelers attempted to visit the place where Azniv and her family had lived.
Nancy's notes contained a picture of old Erzincan (1907) behind which a particular view of the mountain range could be seen. This was Mount Kazen Kaya. It was also known that old Erzincan was next to the Euphrates river. Since the earthquake and rebuilding, there are almost no remaining structures or clues about the position of old Erzincan. Still, the travelers were able to find the mountain view as seen in the old pictures, and also where the Euphrates currently flows.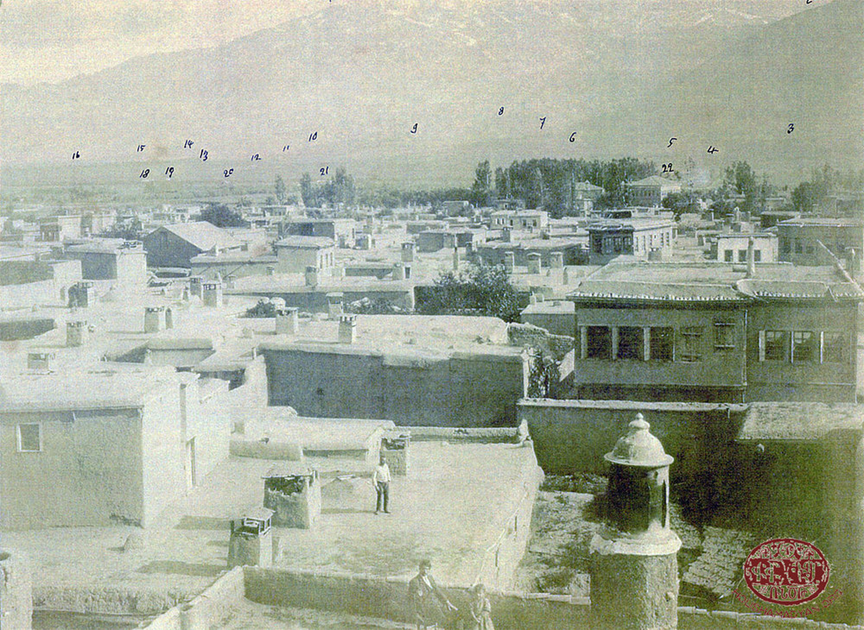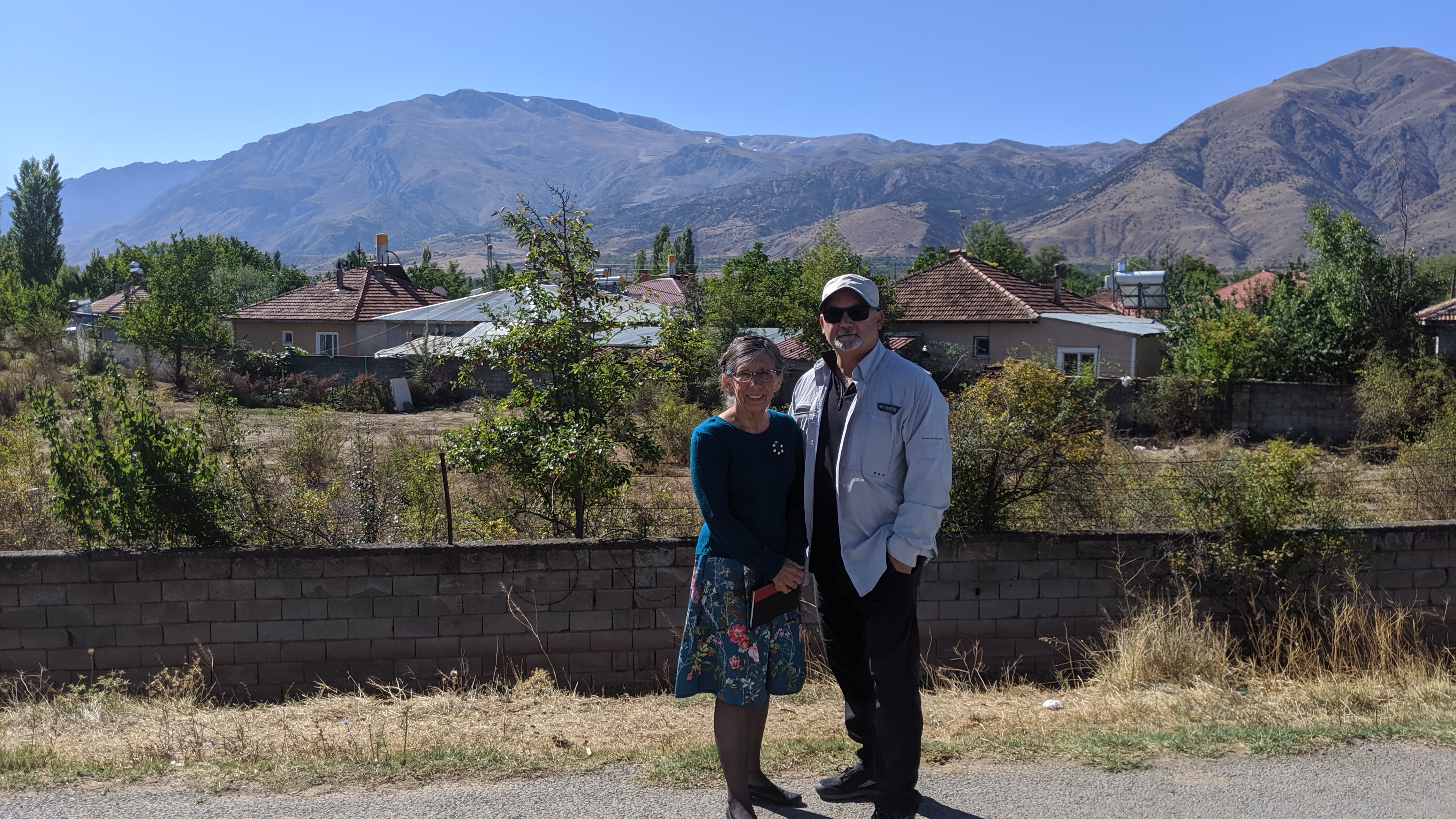 Nancy and Jim pose in front of the mountain range from Nancy's notes. Immediately behind the photographer is the Euphrates river. [39.691N, 39.504E]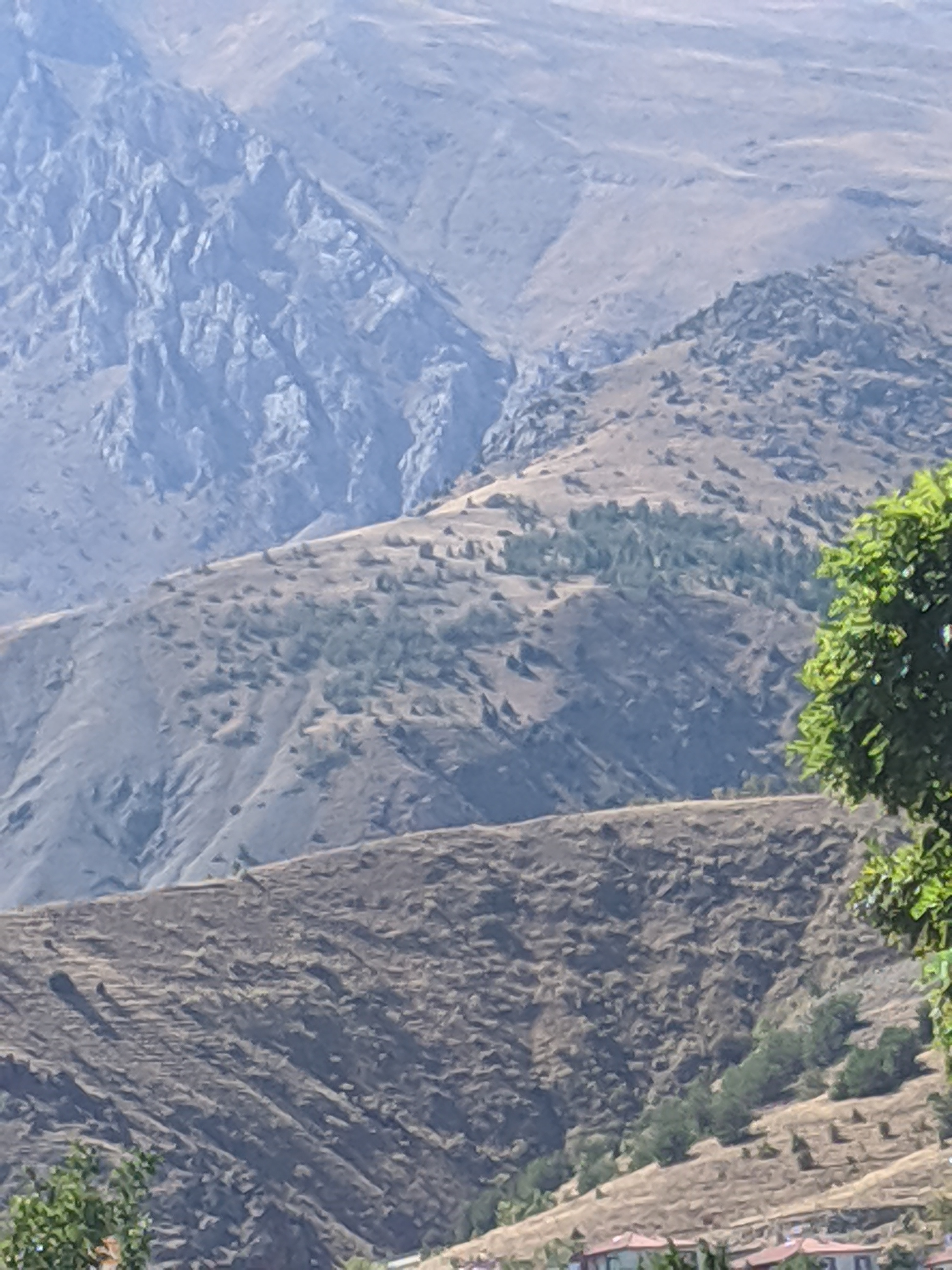 Detail of foothills adjacent to Mount Kazen Kaya.

cemetery
Travelers attempted to see the ruins of an Armenian cemetery, but were taken to a muslim cemetery instead. Saw tomb of a female Turkish soldier that died as a suicide bomber.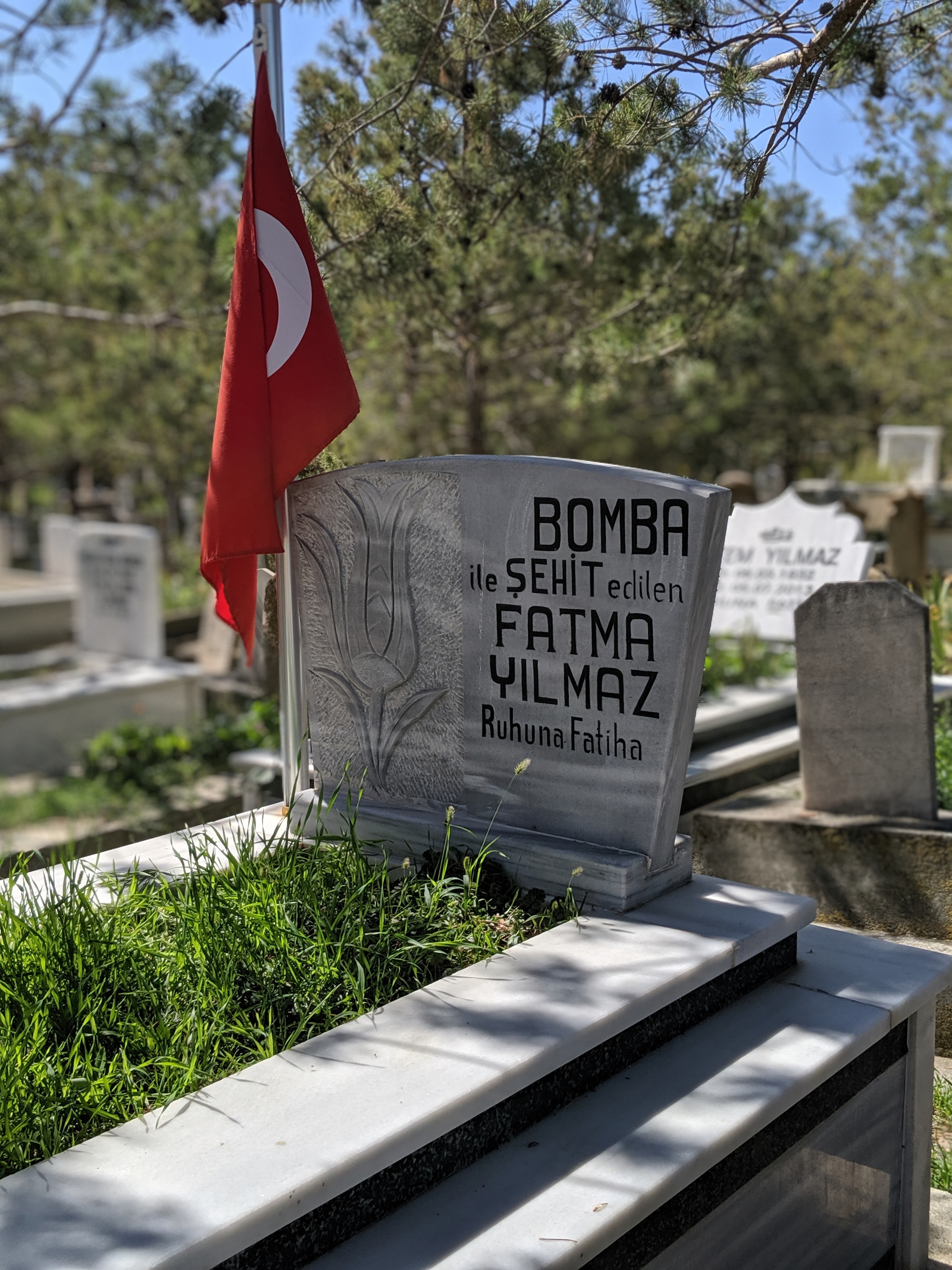 Tomb of a Turkish soldier. [39.717N,39.498E]

drive to Kemah
The travelers headed to Kemah, which is about 40 miles from Erzincan by car. Along the way many military instillations were seen. The car passed through a check point, which our guide was able to talk his way through without difficulty. The Turkish government has military in this region due to fears of Kurdish and Syrian terrorist attacks from the south.
Along the drive, the travelers stopped at Kemah gorge, which is now used as a point of recreation (base jumping, climbing etc.) There is a turkish monument at this place which memorializes a truckload of soldiers that died here in a car accident on the bridge. This was undoubtedly one of the many places between Erzincan and Kemah where 25,000 Armenians were thrown into the Euphrates river (1915). This gorge is 13 km from the town of Kemah.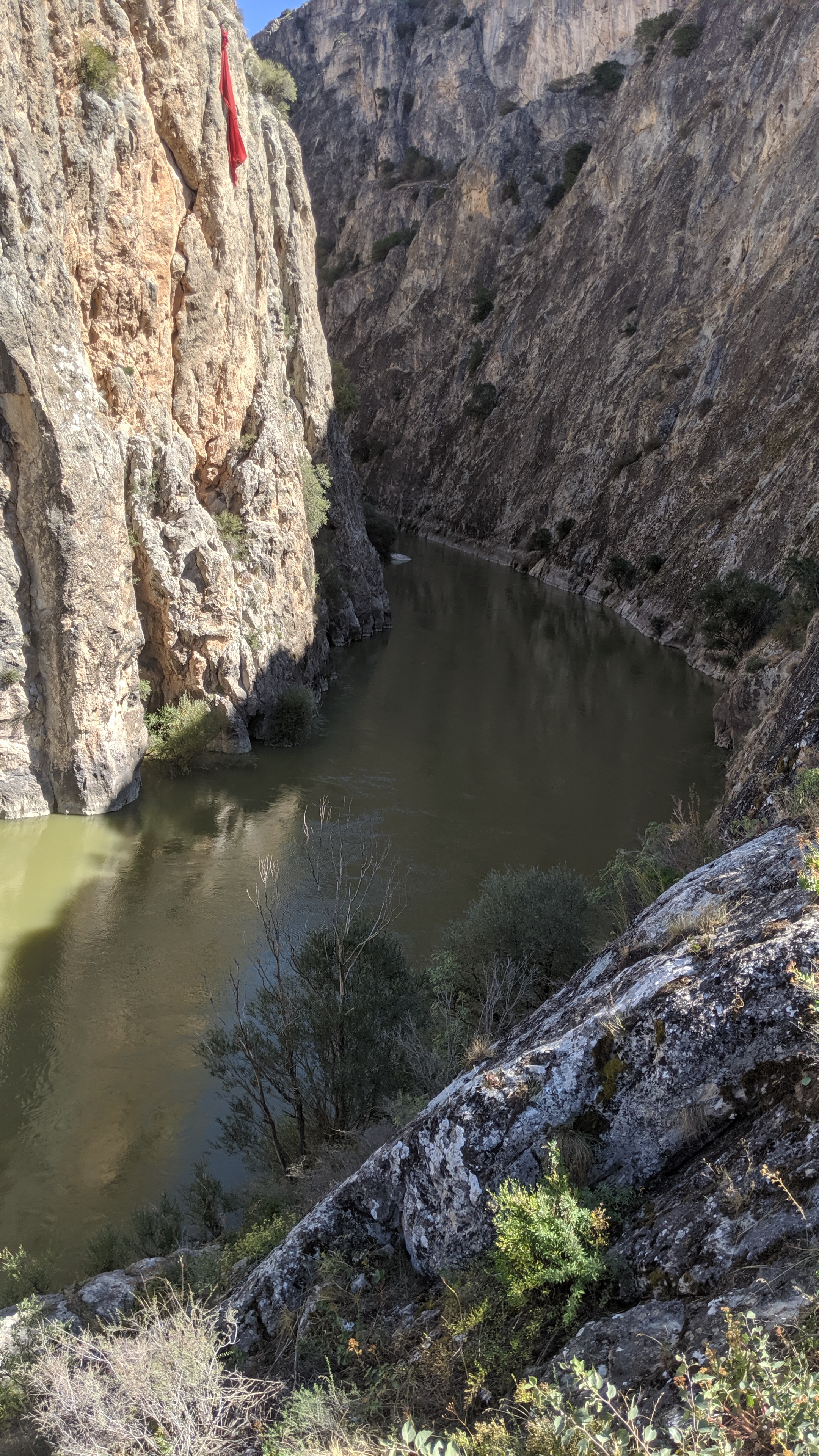 Kemah gorge. [39.653N, 39.360E]

Kemah
Nancy and Jim's Great Grandmother, Azniv's mother, Lucien Donegian is believed by the travelers to have grown up in the Kemah area. Azniv's father, Stephan Shekargian, was living in Erzincan and traveled two days by horse to marry Lucien. Azniv described trips to visit Lucien's family, where wonderful stones sparkled in the sun. It's likely true that Lucien was from one of the several Kemah-associated villages.
Arriving in Kemah, the travelers found the location of another photograph from Nancy's notes: the Kemah Fort. They were able to find the exact point where the photograph was taken.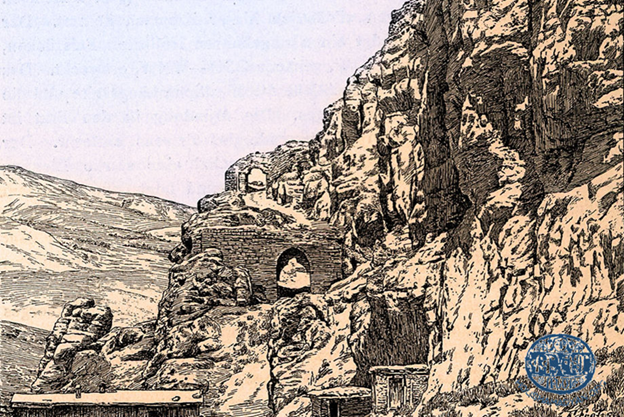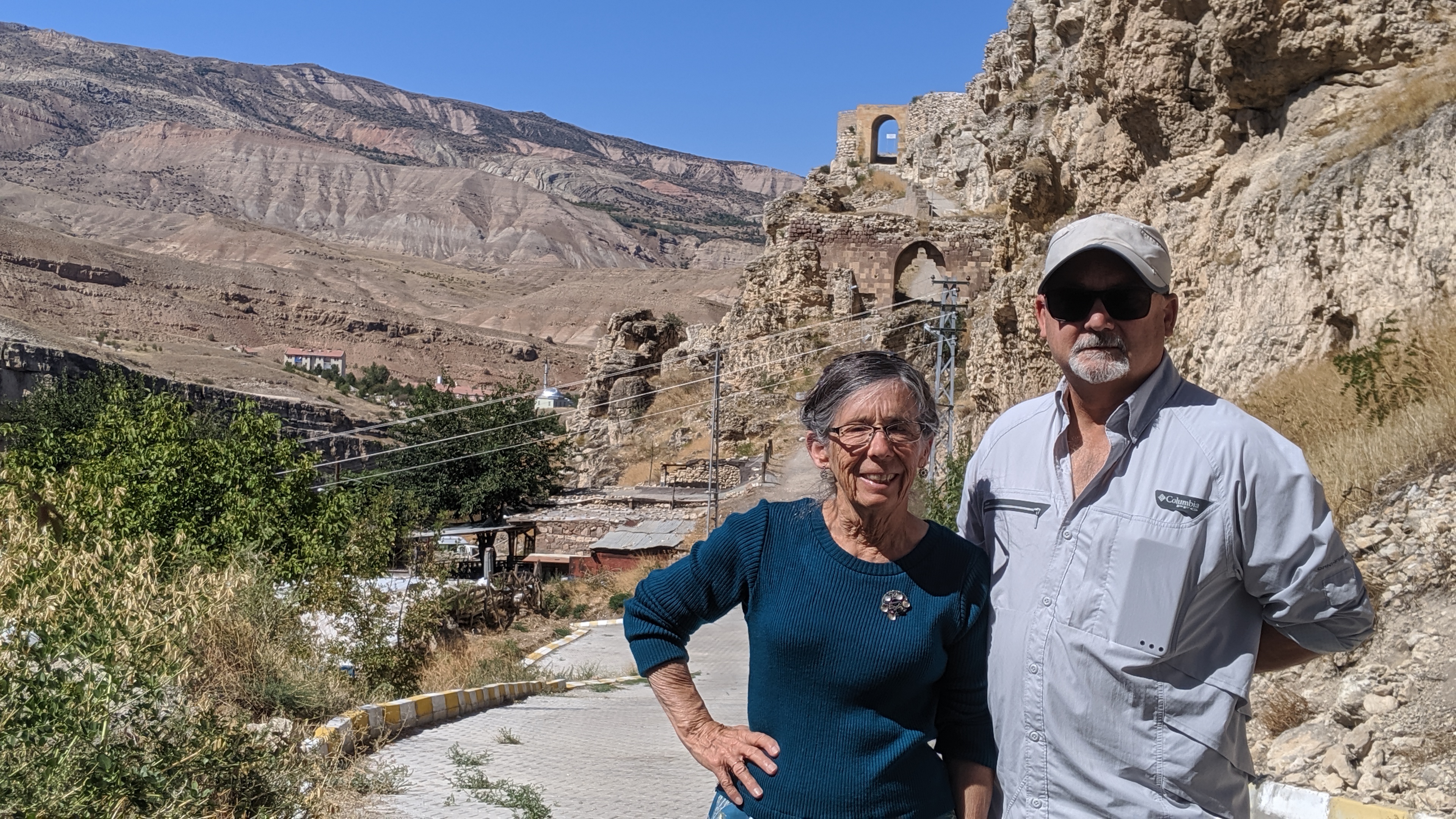 Nancy and Jim pose in front of Kemah Fort. [39.603N, 39.0372E]


The Fort was built into a mountain which gives a good view of modern Kemah. There were also caves that had been fortified, and an ongoing archaeological excavation.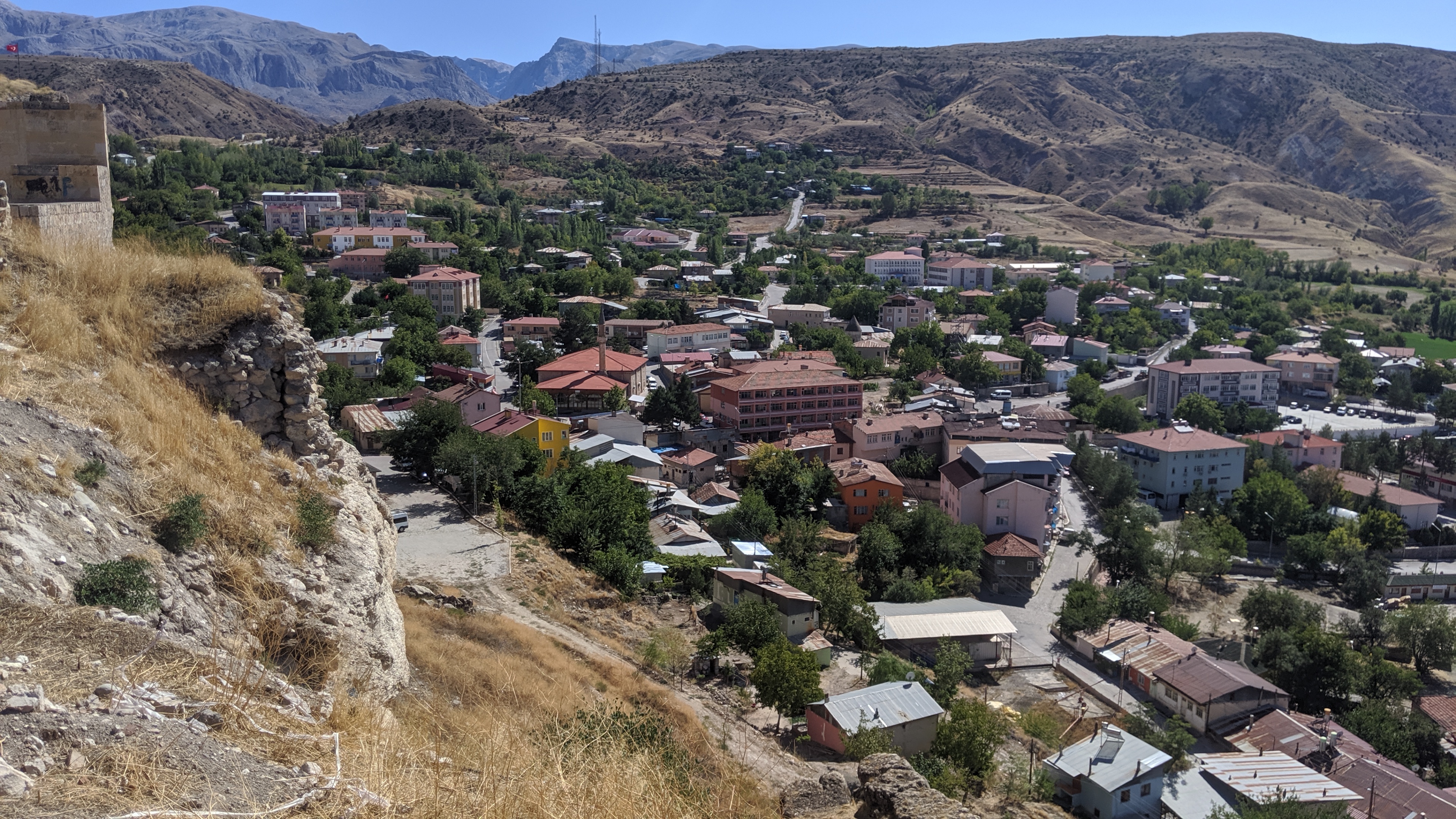 Town of Kemah as seen from Kemah Fort. [39.604N, 39.035E]


Beside Kemah, on the other side of the Euphrates river, is a large ridge which is currently occupied by a Turkish millitary outpost. The travelers believe that this is the famous ridge from which 25,000 Armenians were thrown to their death between June 10 through 14, 1915. Oral history describes the Euphrates filled with bodies and red with blood. Before that time, many Armenians lived peacefully in this area. In 2019 the city of Kemah contains just 2000 people, all Turkish.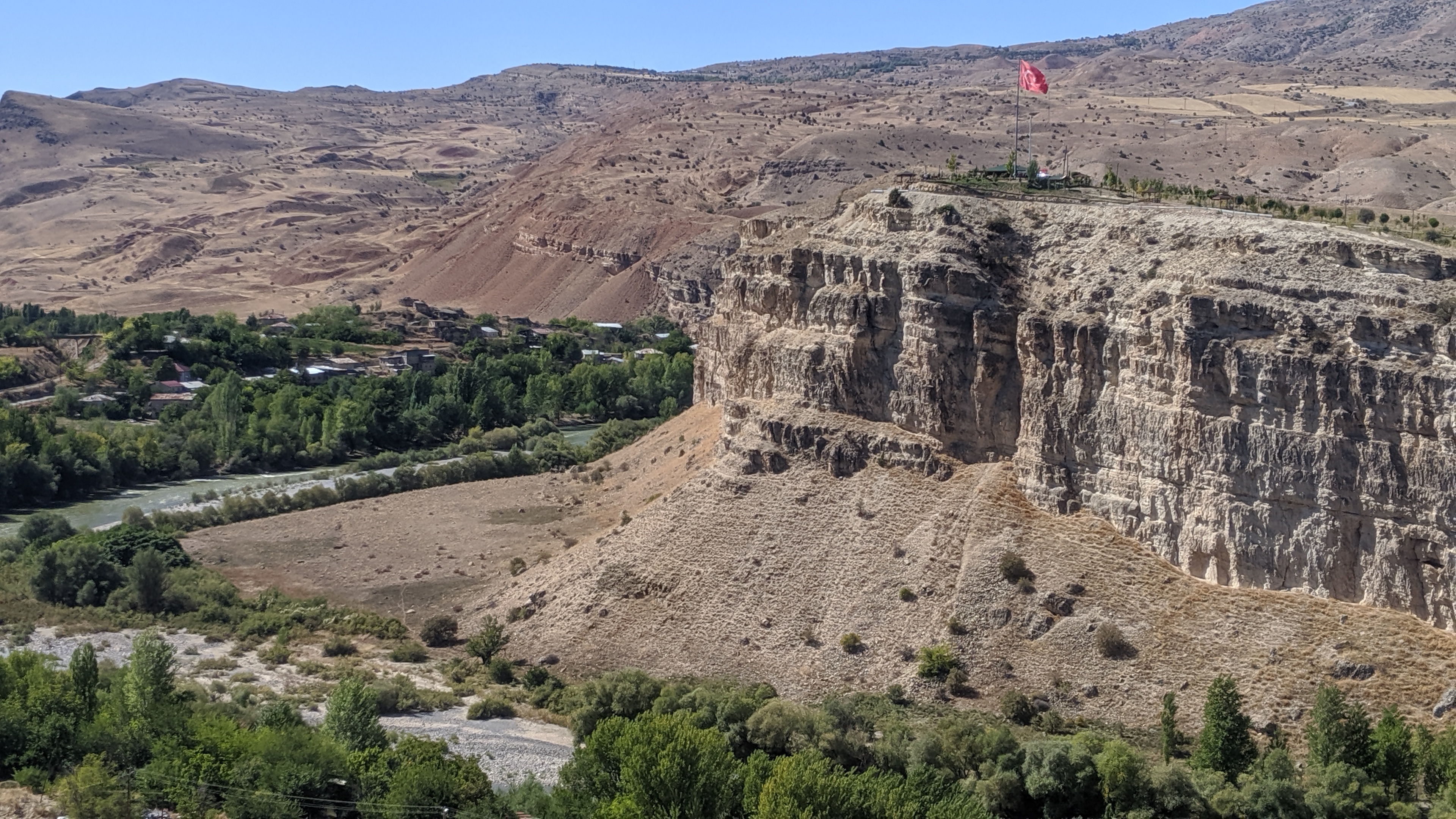 Kemah ridge as seen from Kemah Fort. [39.604N, 39.036E]


After visiting Kemah Fort, the travelers spent some time in the Kemah city center. Once Ahmet suggested tea, it was remarkable how quickly the young friend was able to procure it. Kemah seems like a nice city, with local cats, dogs, and chickens. The town is clean and bustling with activity.
lunch
The travelers had lunch at a rustic outdoor restaurant called Kemah Alabalık Tesisleri. Specialty was trout, and delicious Shepherd's Salad. The lunch featured special salt mined near Kemah. There was a pomegranate sauce that was excellent on the salad: nar ekşisi kalori.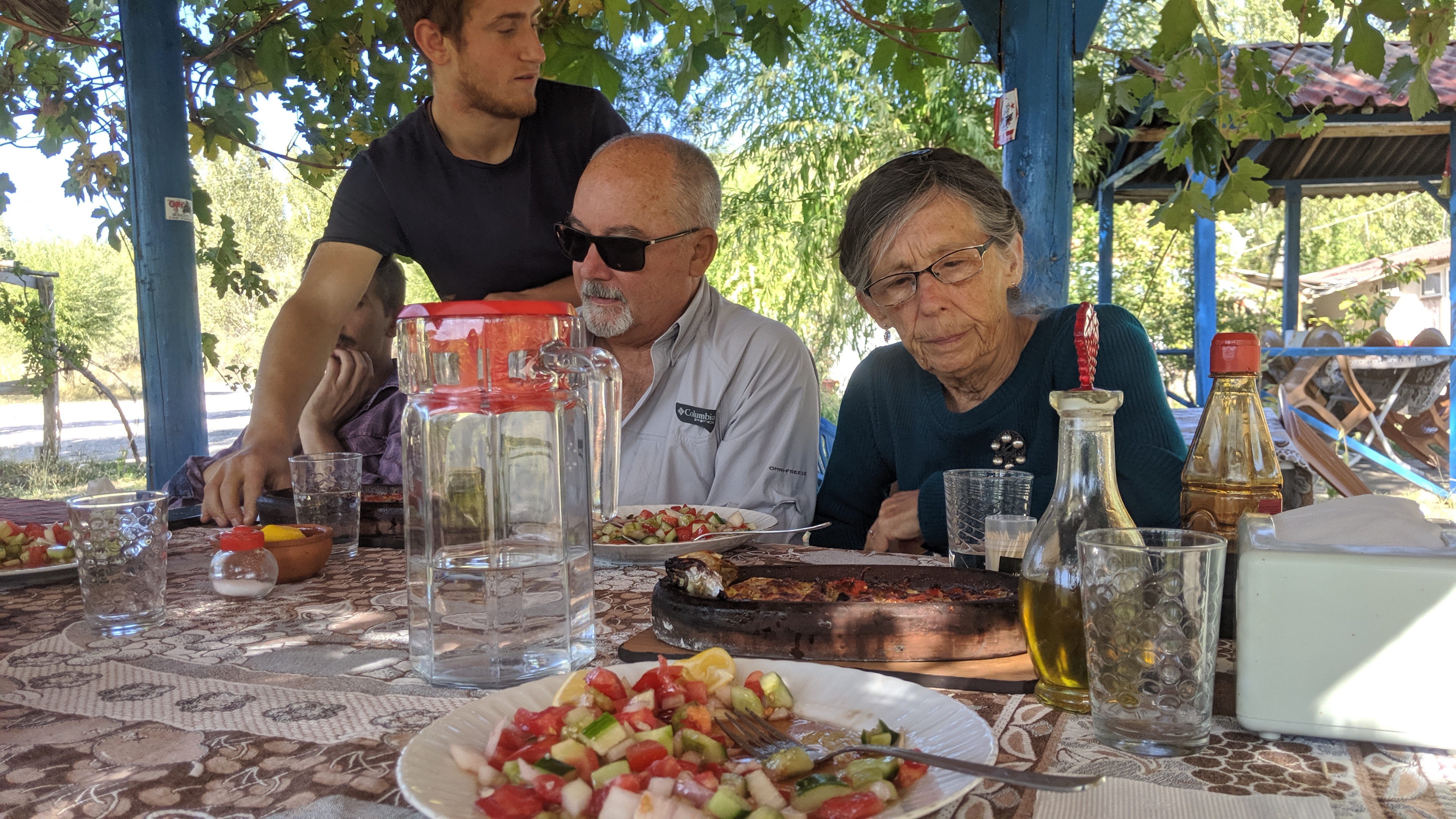 Travelers enjoying lunch. [39.614N, 39.038E]

Kemeryaka
The travelers were interested in trying to find the exact village where Lucien Donegian grew up. In pursuit of this, Ahmet took them to the local village of Kemeryaka. There they found many village men doing construction working together to build a new brick house in the center of town. All shared tea and great conversation as translated by Ahmet. In conversation, they recommended that the travelers visit Morik. The crucial piece of information in recommending Morik was Nancy's remembering that Azniv had said the place where her mother grew up had a storage area where many (including Kurds) stored their freshly caught meat.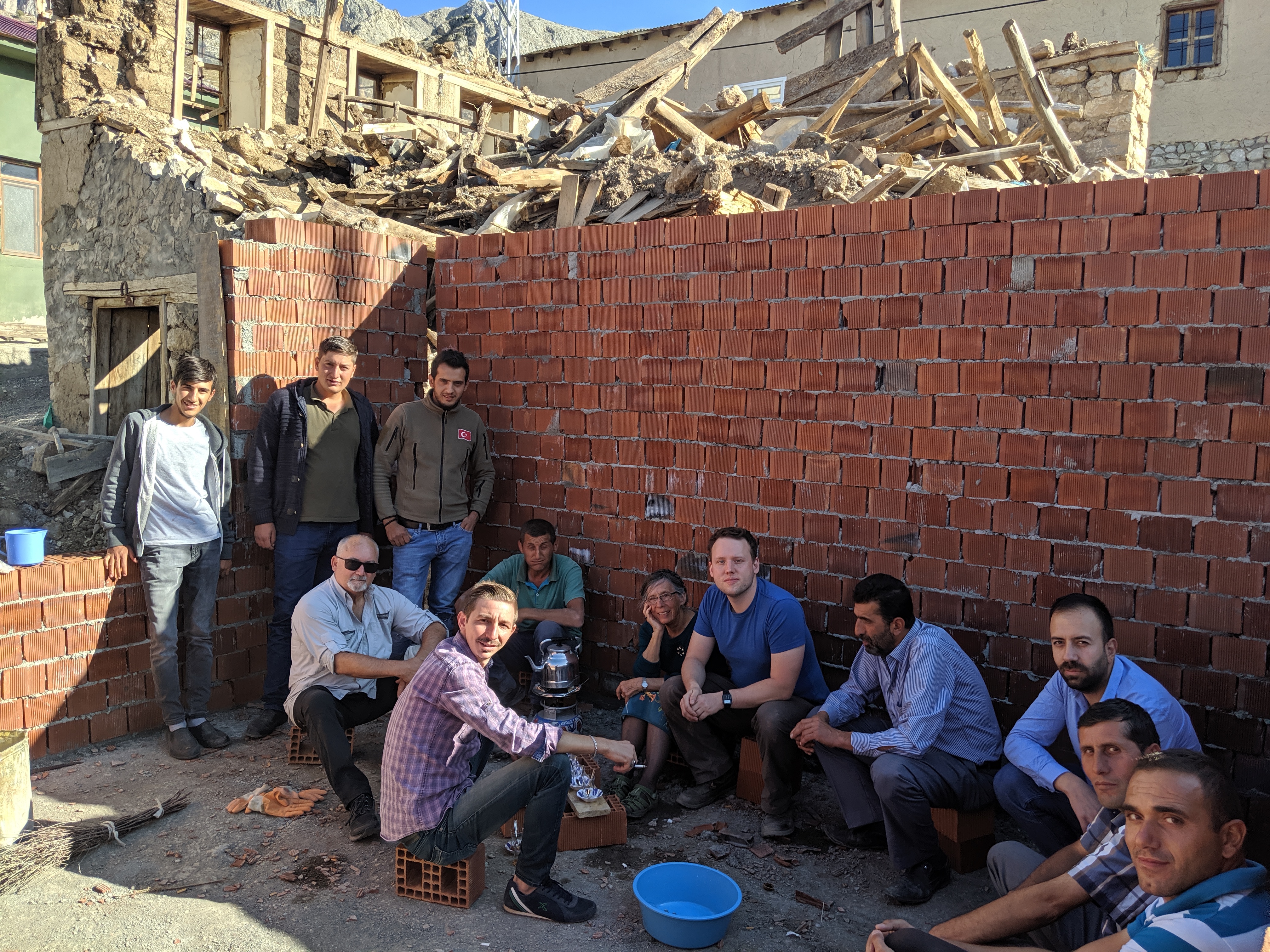 Travelers meet with men of Kemeryaka. [39.550N, 39.068E]

stone khachkar
It seems that local Turkish people believe that Armenians were some kind of treasure keepers, rich magical people of old. The people of Kemeryaka seem excited to show the travelers some local "mythical" signs of historic Armenian presence. One of the village elders jokes that when the travelers find the Armenian treasure they can split it "50/50". There are interesting parallels between stereotypes about Armenians and those about Jews.
Joined by several teenage boys from Kemeryaka, the travelers drove to a place where khachkars (crosses) had been carved into the stone by previous Armenian dwellers. The valley that they visited was truly beautiful, and it was powerful to see sure signs of Armenian presence. One of the two khachkars had recently been destroyed by other treasure seekers. The travelers theorize that these khachkars were used as road markers for an old mountain pass.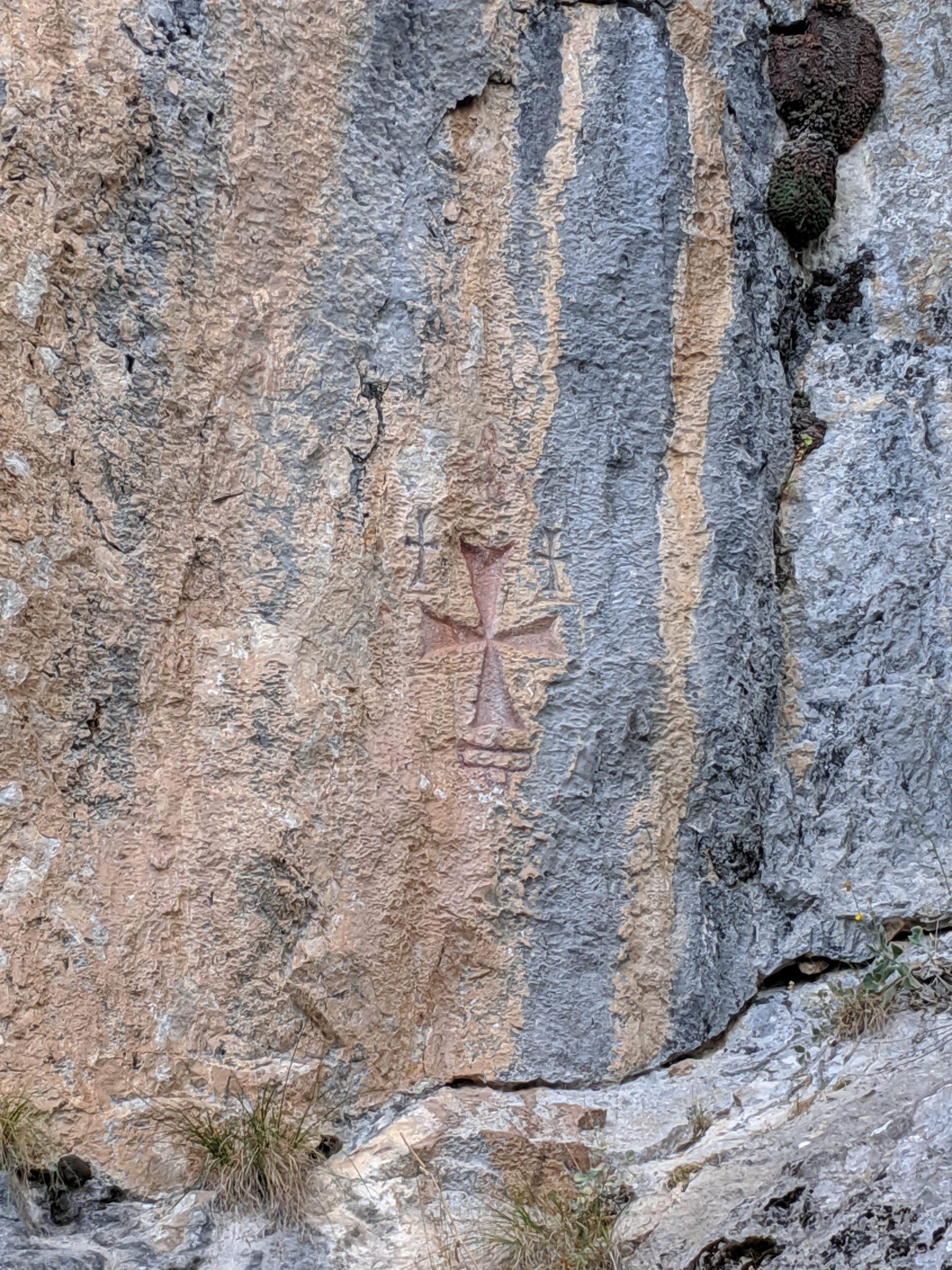 Khachkar carved into stone. [39.546N,39.0648E]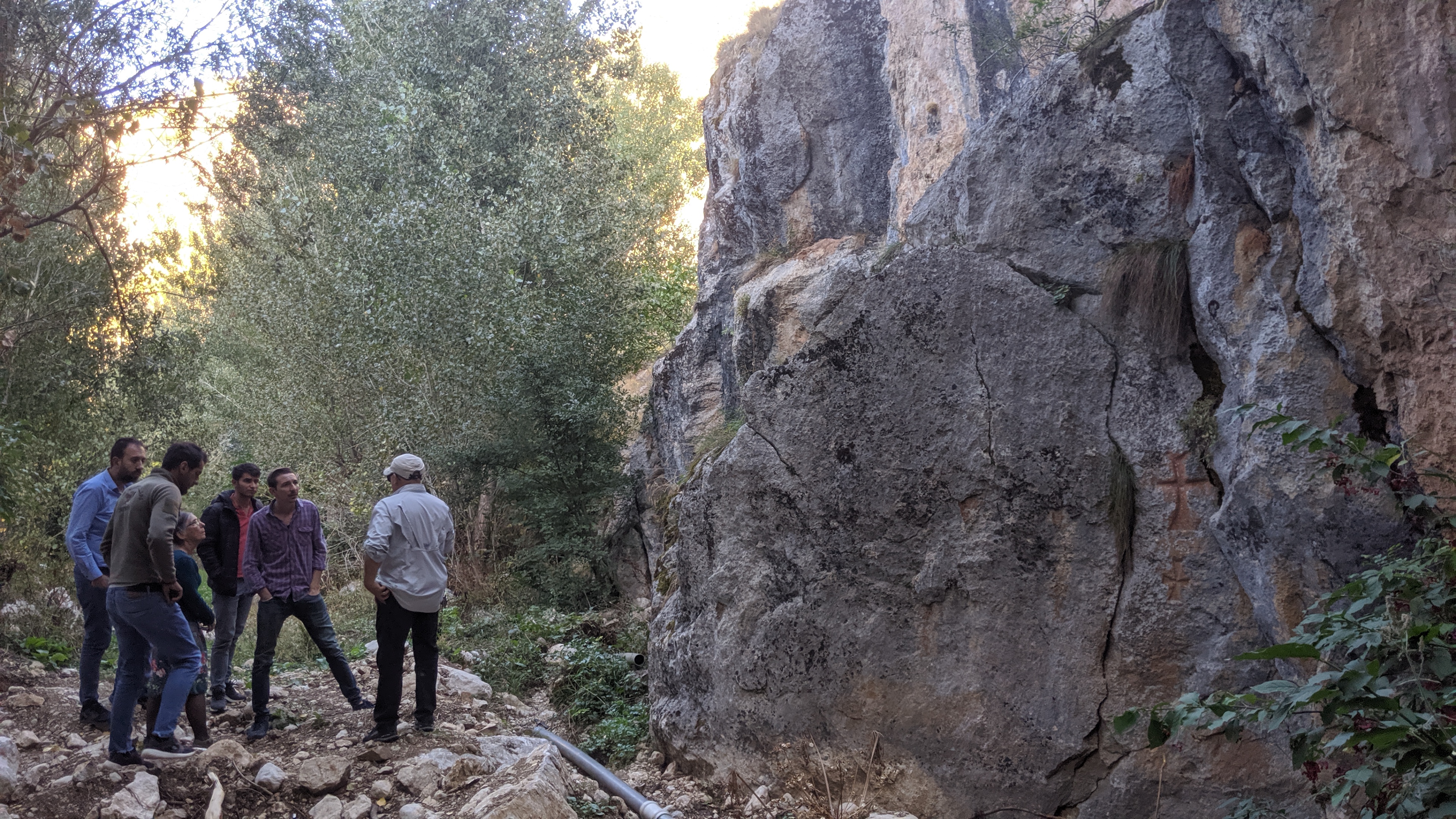 Travelers discuss khachkares. Note two other khachkars on the right hand side of the photo. [39.544N, 39.063E]


Second khachkar, destroyed. [39.544N, 39.065E]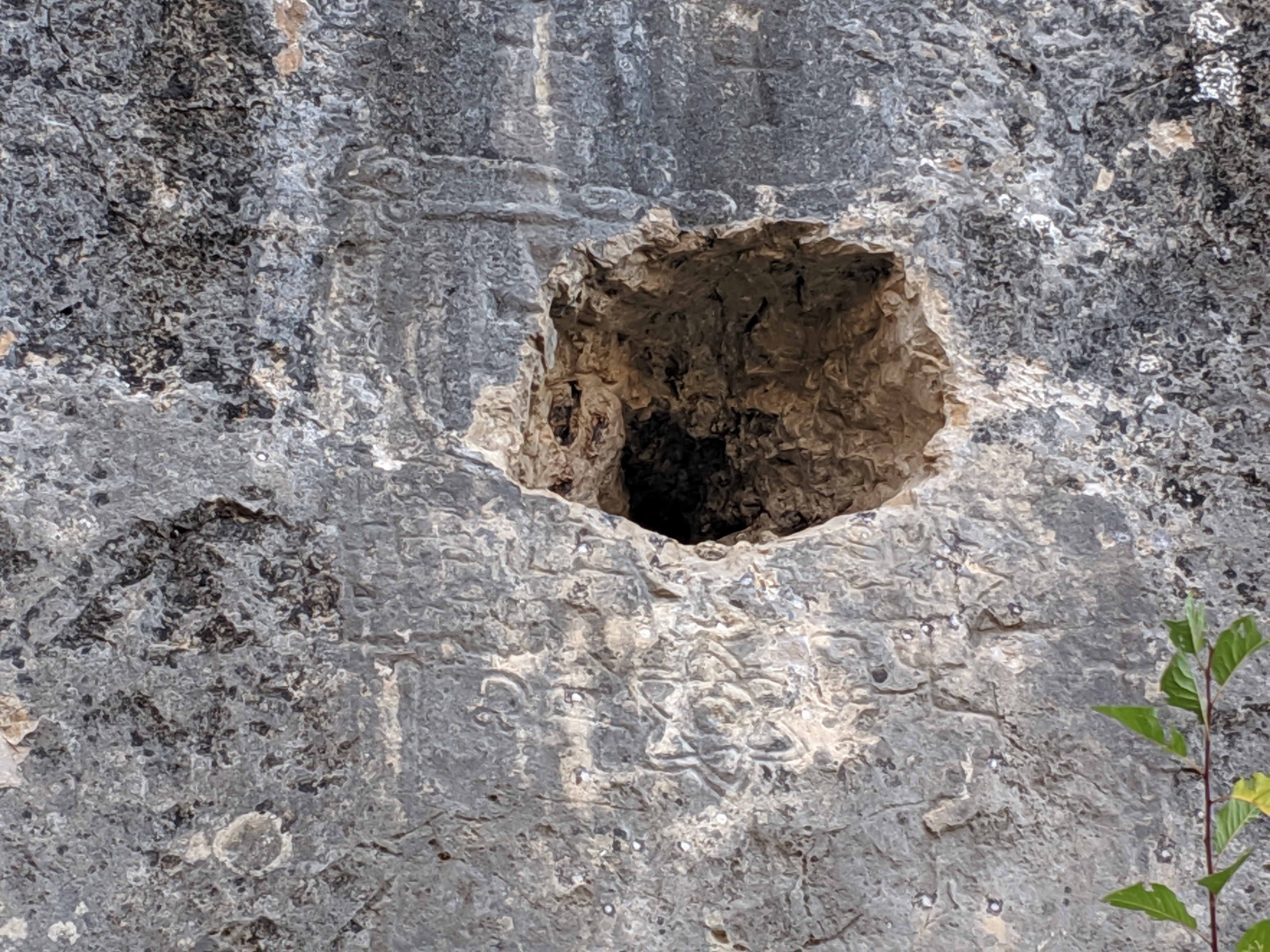 Second khachkar, detail.Note crosses above, writing below, and star or flower. [39.544N, 39.065E]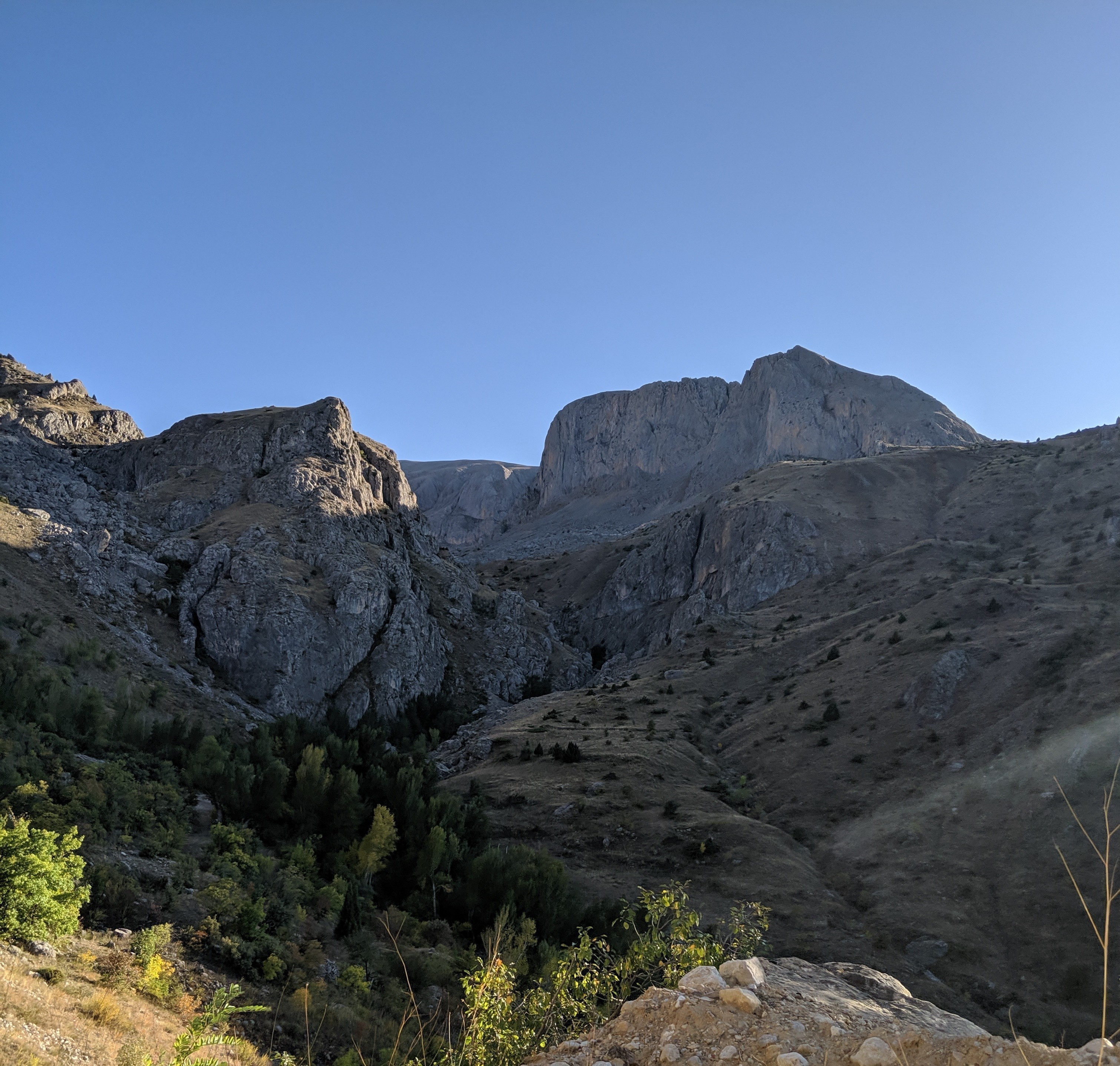 Mountains where khachkars were carved. [39.548N, 39.0648E]

Morik
As mentioned earlier, one unique feature of Lucien's village was their unique storage facilities for meat and cheese. These facilities were used by many local villages and nomadic Kurds as they were quite valuable. When the travelers mentioned this to the men of Kemeryaka, those men instantly agreed that the village in question was likely Morik. Morik's old name was Ayranpınar.
On the way to Morik, the travelers dropped off the teenage boys from Kemeryaka and picked up an adult man Mehmet who seemed to be a local leader. Mehmet sat on Ahmet's lap in the front seat for the trip between villages. As the travelers arrived, the way into the village was blocked by cows. The village director's son was moving them through the main street. They drove to the village director's (Umit) home. All enjoyed an active conversation sharing the reason for visiting and the history of Lucien Donegian.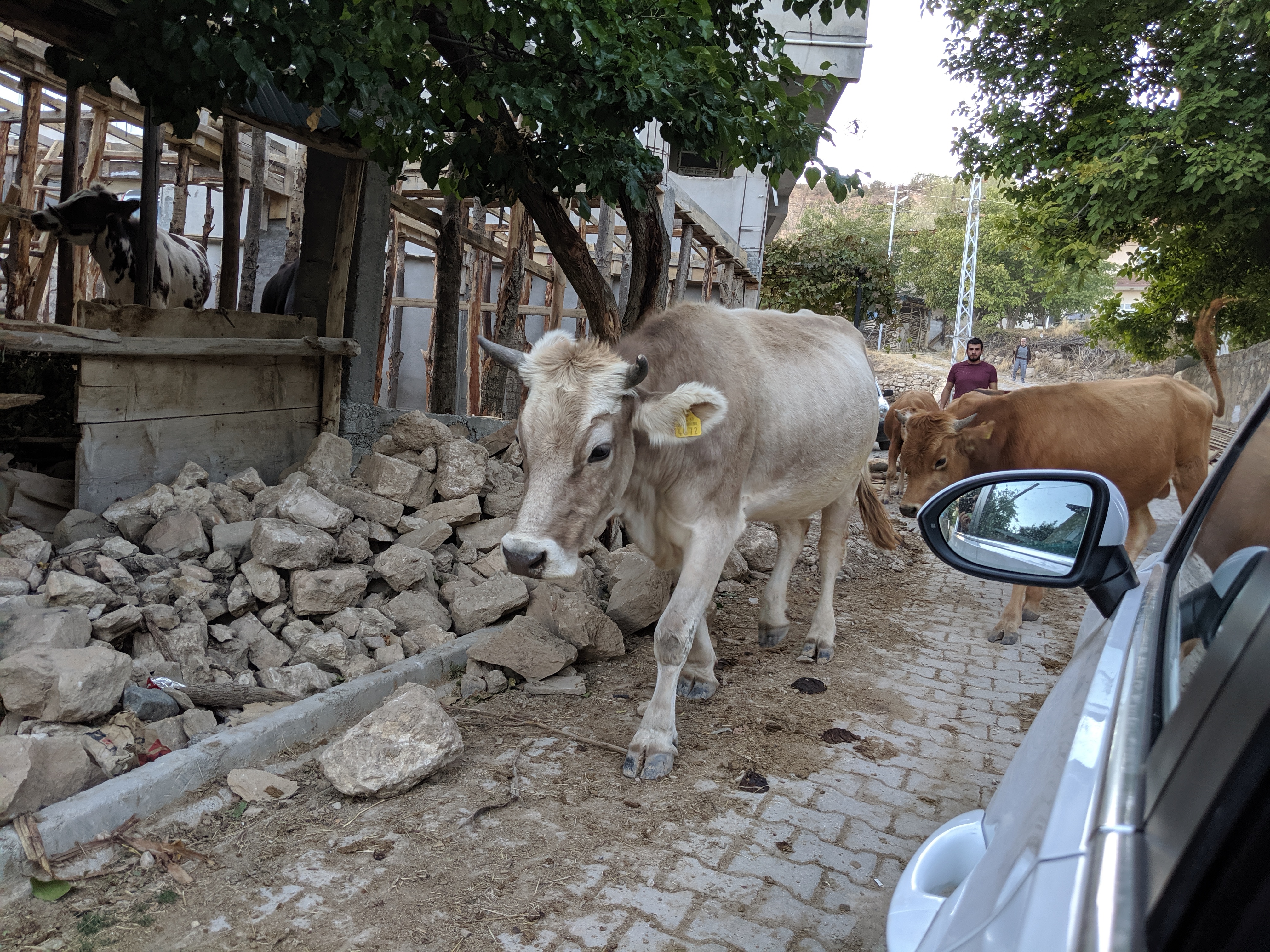 Cows on the way into Morik. [39.634N, 38.998E]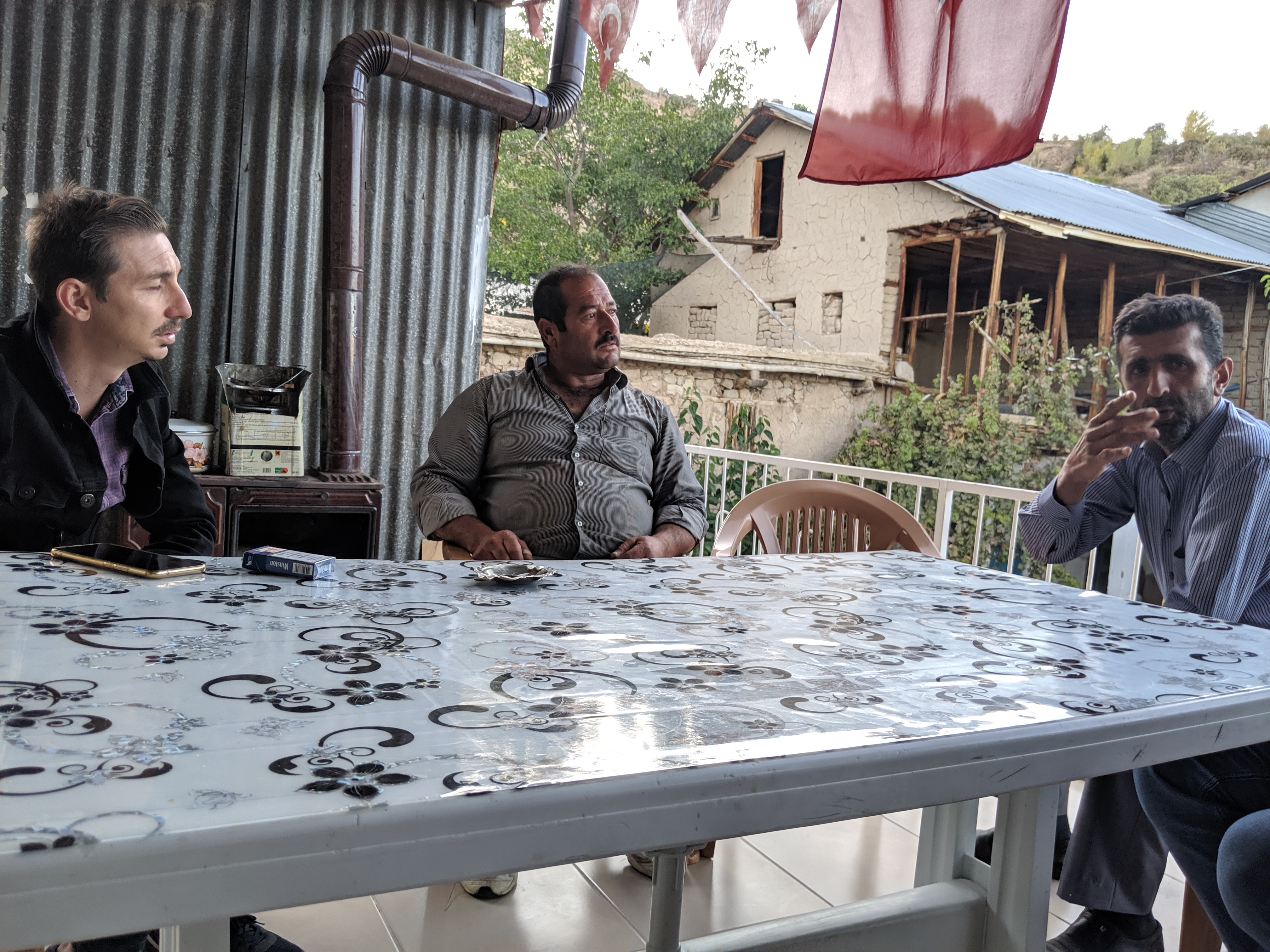 Conversation on the deck of Umit, Morik's appointed director, home. Left to right pictured Ahmet, Umit, Mehmet. [39.634N, 38.998E]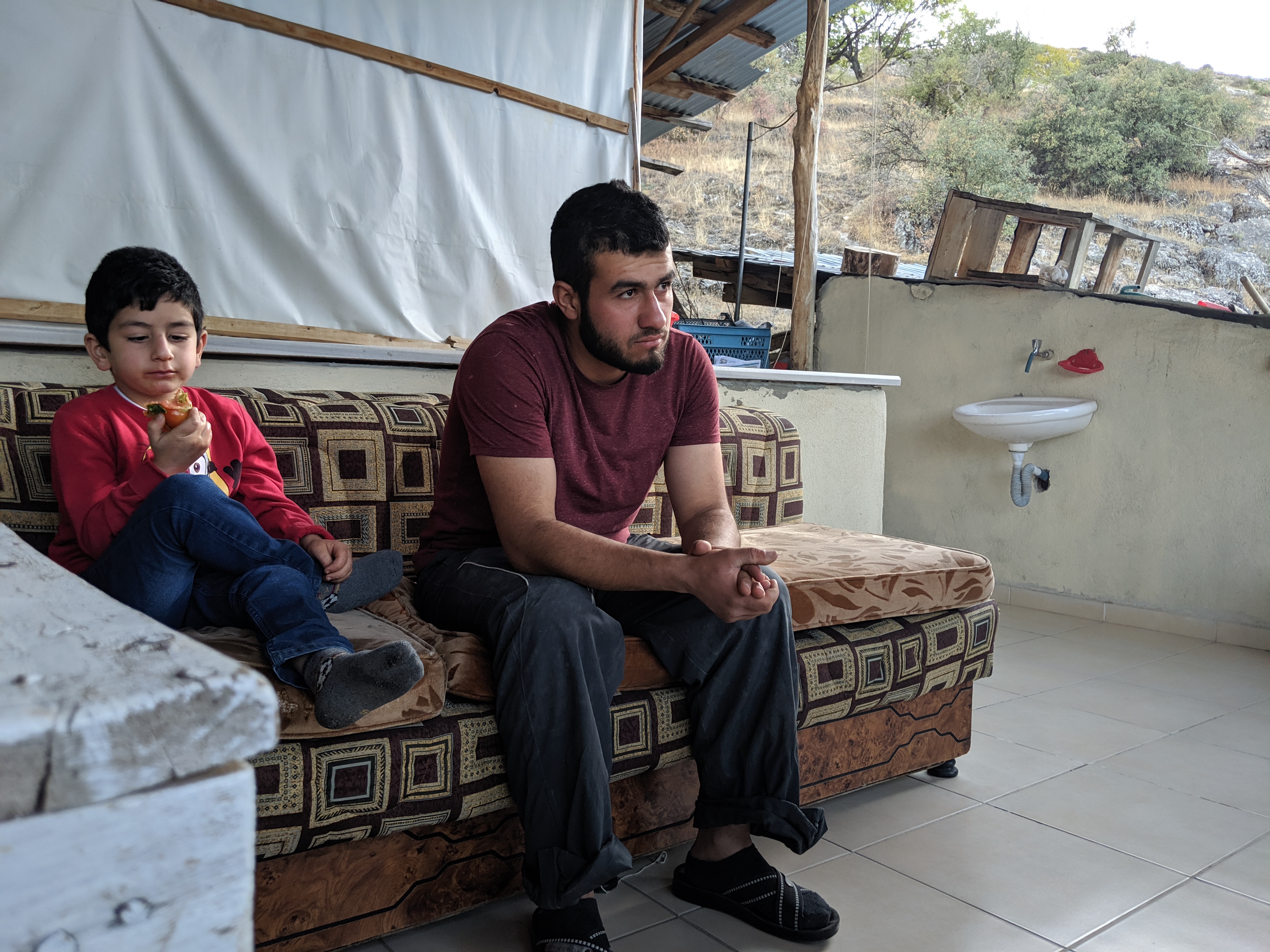 Son of Umit (right), and his son grandson of Umit (left) during the conversation. Grandson enjoying fresh tomato. [39.634N, 38.998E]


From Umit's home all rode or hiked up to the storage cave. Amhed's car couldn't make it all the way up because the mountain became too steep. Umit shared that the cave is special because the mountain makes ice there all year round. Currently it is mainly used for goat cheese (tulum), which develops in the cave for six months. There are currently 40 tons of cheese inside. Mehmet himself was storing cheese in the cave, despite the fact that he is from a different village.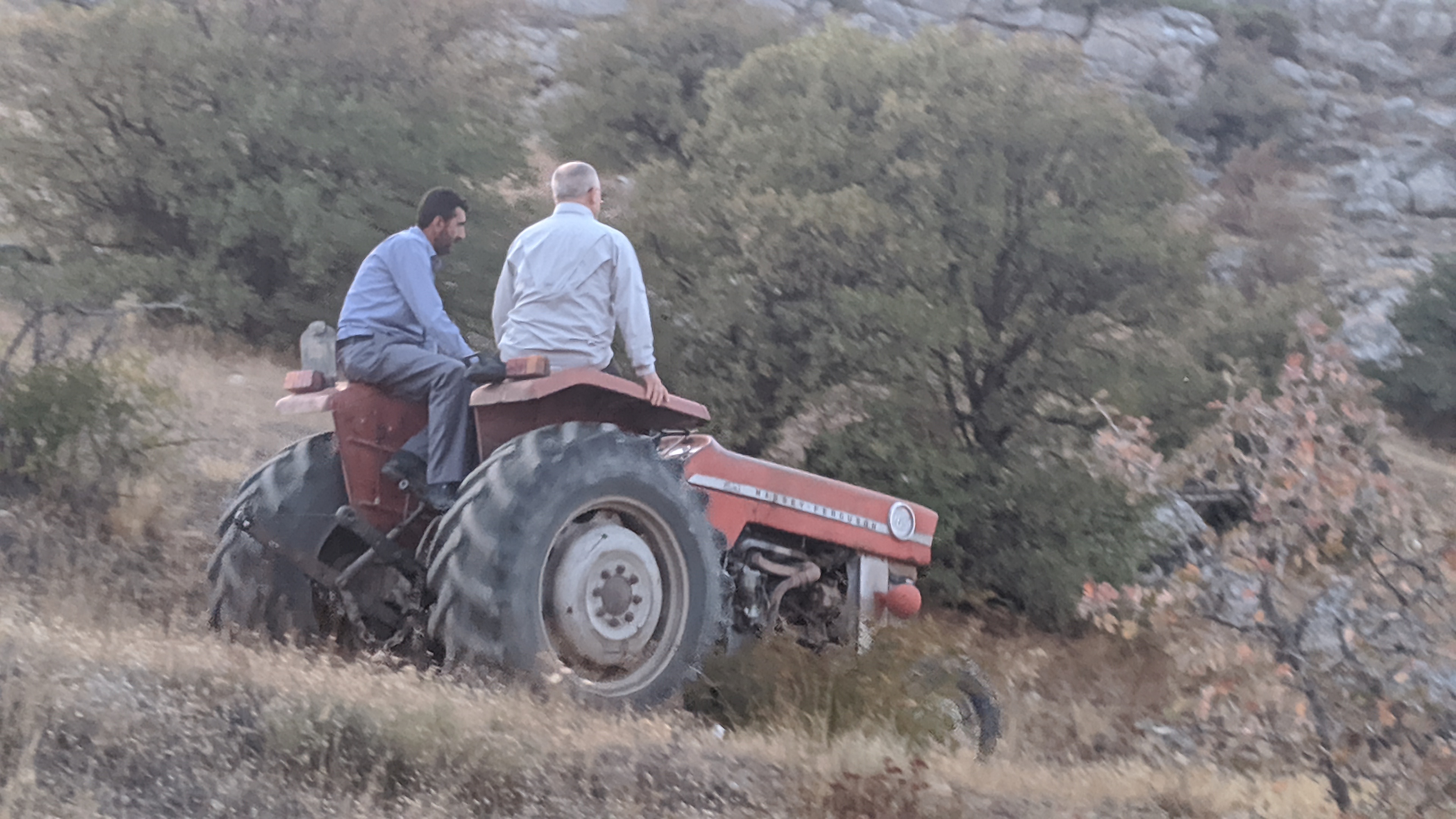 Jim and Mehmet riding a tractor up the mountain to visit the ice cave. [39.631N, 38.997E]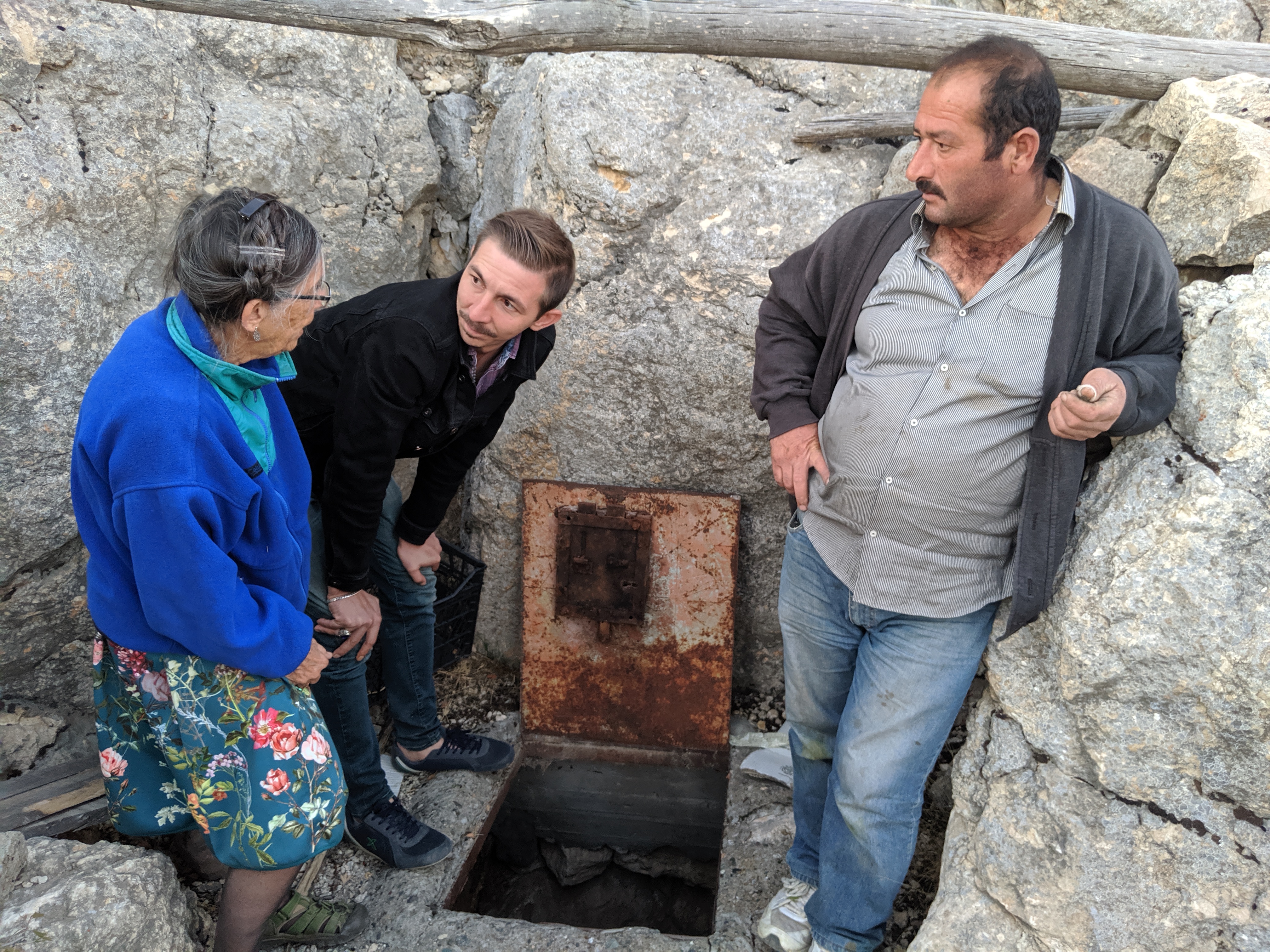 Nancy, Ahmet, and Umit visit the ice cave. [39.631N, 38.996E]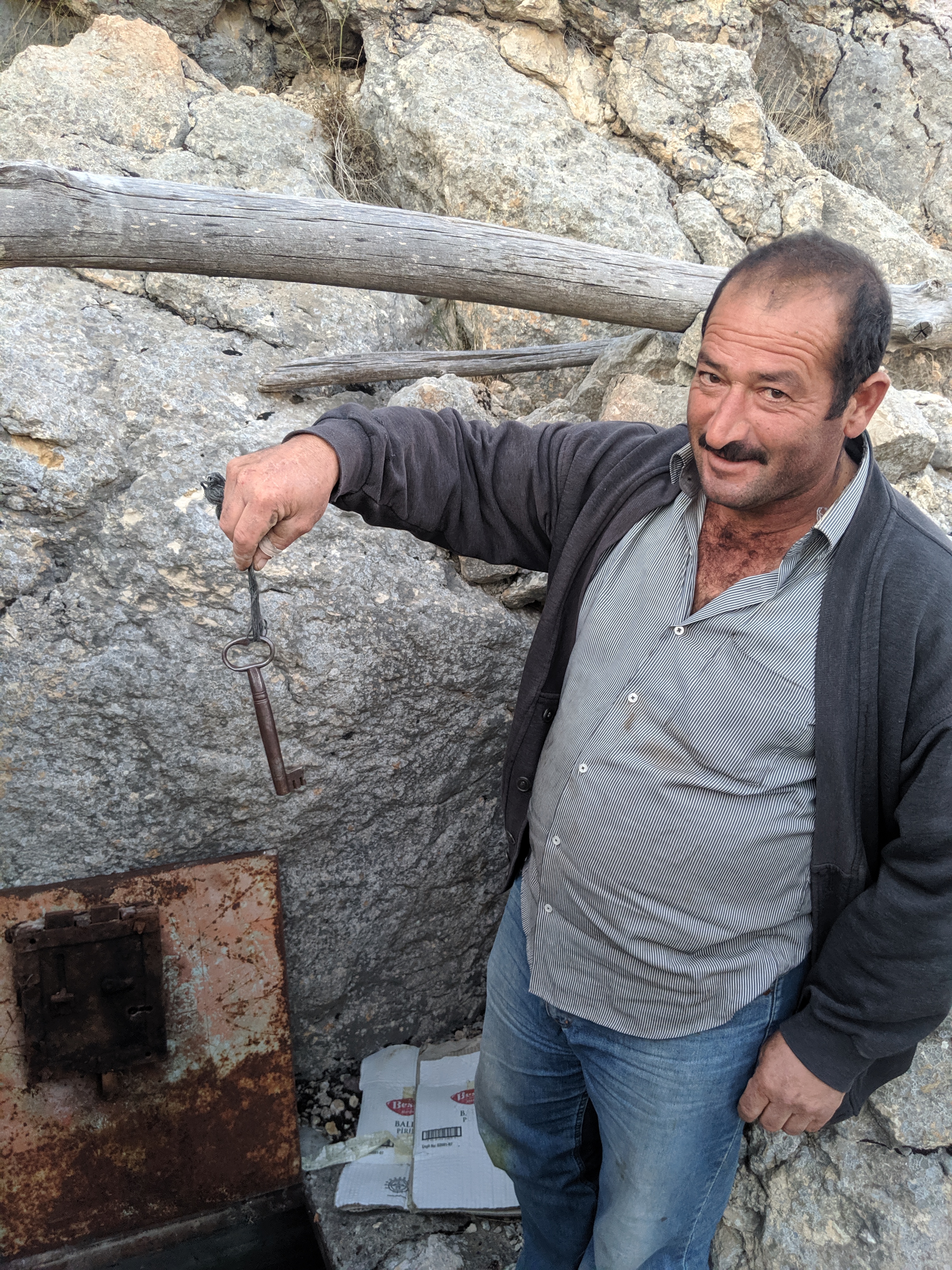 Umit showing off the key to the ice cave. [39.631N, 38.996E]


Since the ice cave was higher up on the mountain, there was an excellent view of Morik and surroundings.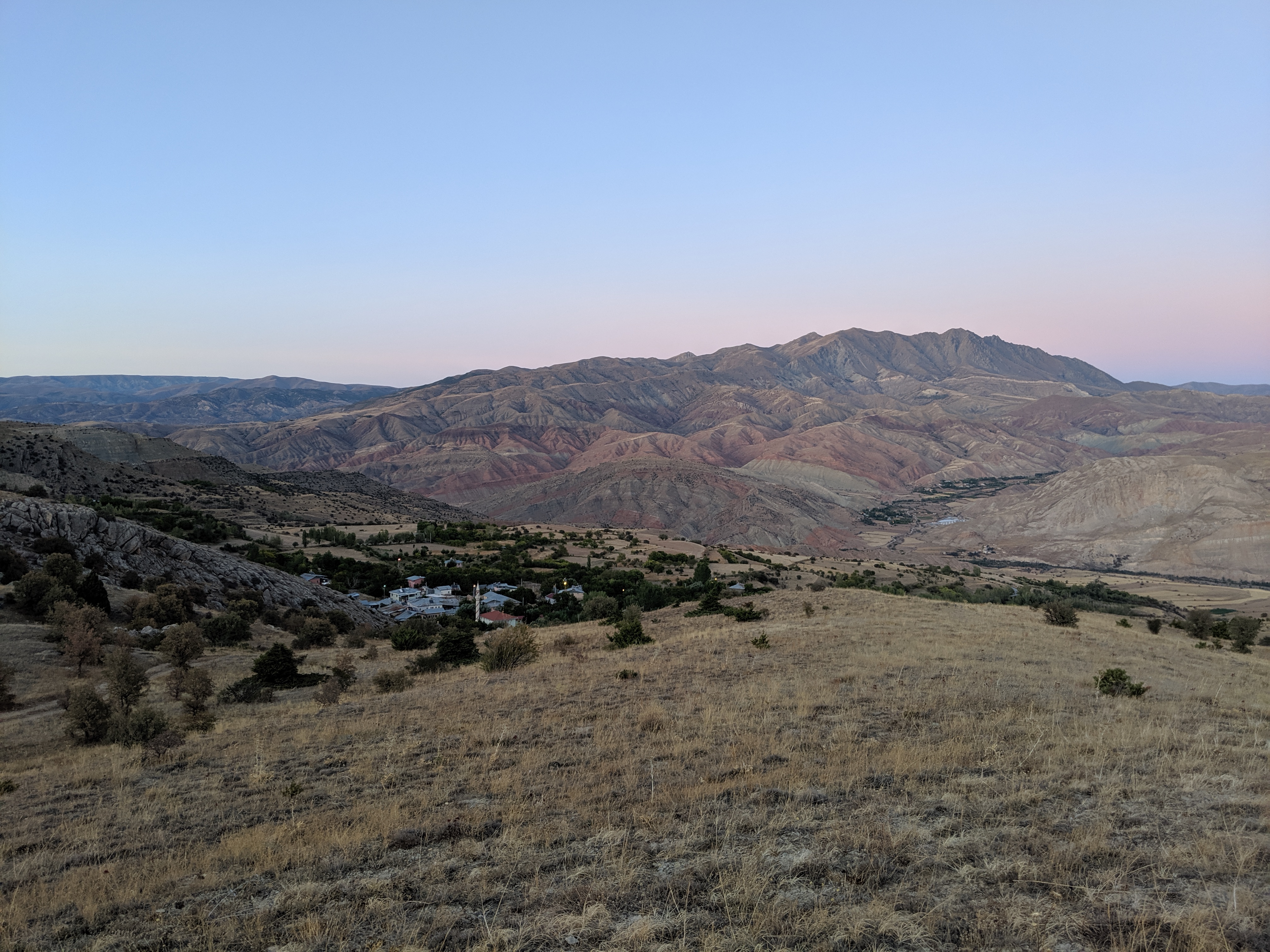 View of Morik from near the ice cave. [39.632N, 38.997E]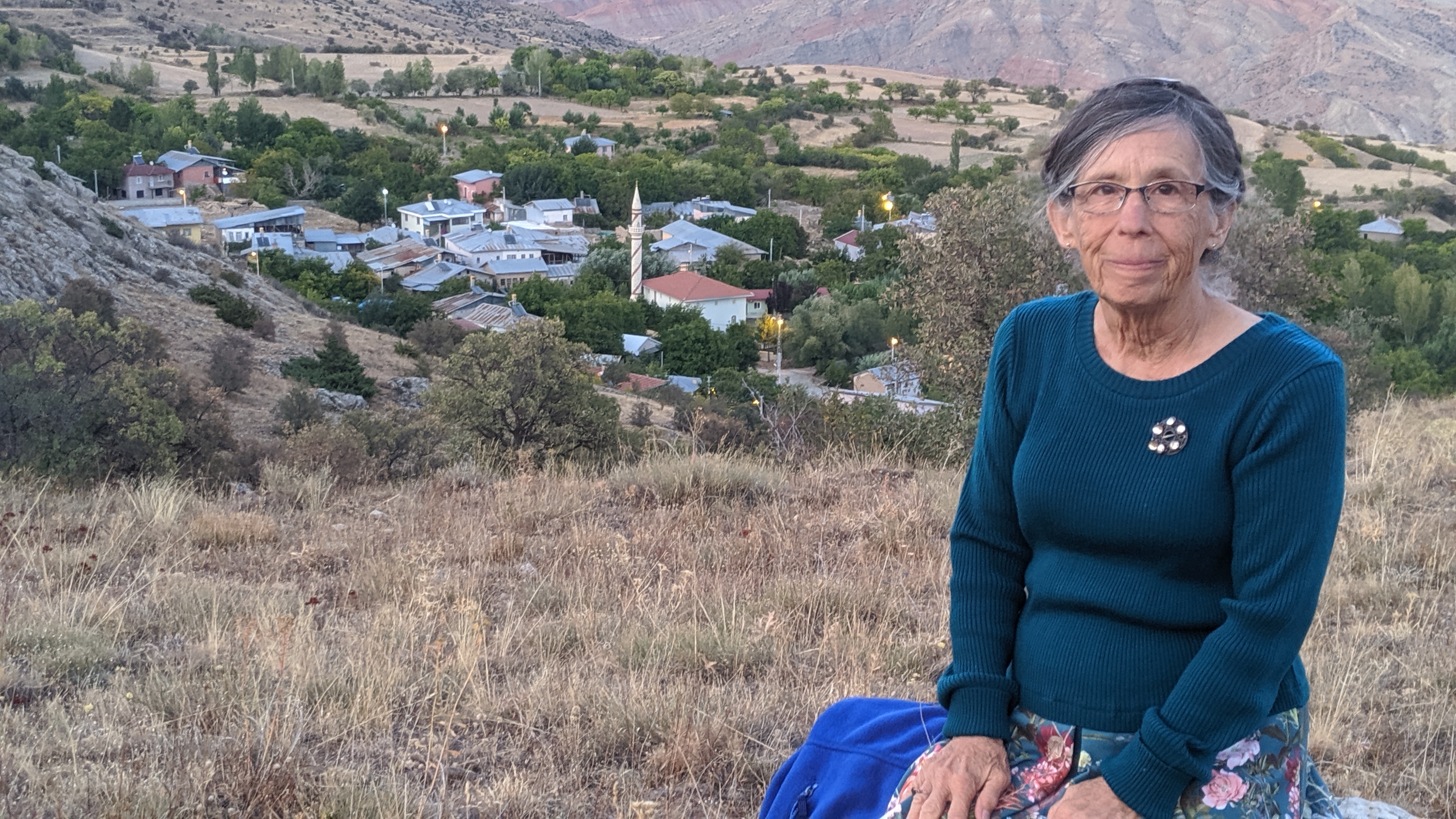 Nancy with Morik in the background. [39.631N, 38.997E]

return to Erzincan
The travelers went first to Kemeryaka to drop off Mehmet. From Mehmet they bought a large amount of local goat cheese (tulum), totaling 630 TL. Most of this was given to Ahmet and the driver, as there was way too much to take home.
After all this the travelers returned to their hotel in Erzincan and slept well.
---
Euphrates
Tuesday morning Nancy placed her feet in the Euphrates river. The place she chose was not far from the 1907 location of Erzincan. After this, and breakfast, the travelers set on their way to Cappadocia.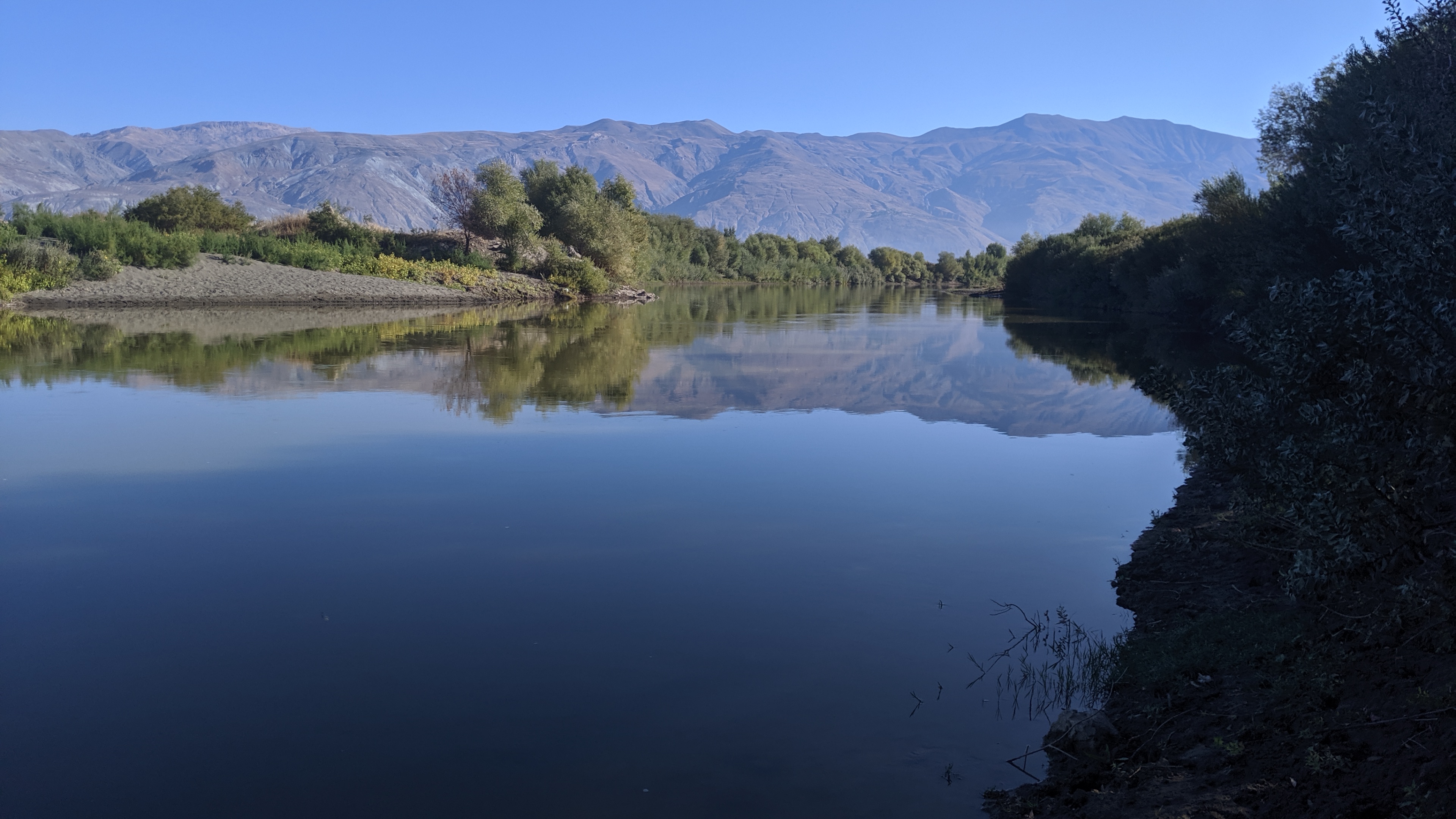 View of the Euphrates as it was when Nancy placed her feet. [39.701N, 39.519E]