Istanbul
Part of the Armenian heritage trip memory.
---
Nancy, James Jerusalem to Istanbul
The travelers flew from Telaviv to Istanbul and caught a cab. The cab ride covered a distance of about 60 miles.
It is good that the airport has many moving sidewalks because the place is HUGE. It took the travelers a long time to get from the places where they debarked the plane to the place where they collected their luggage, went through security and found a cab.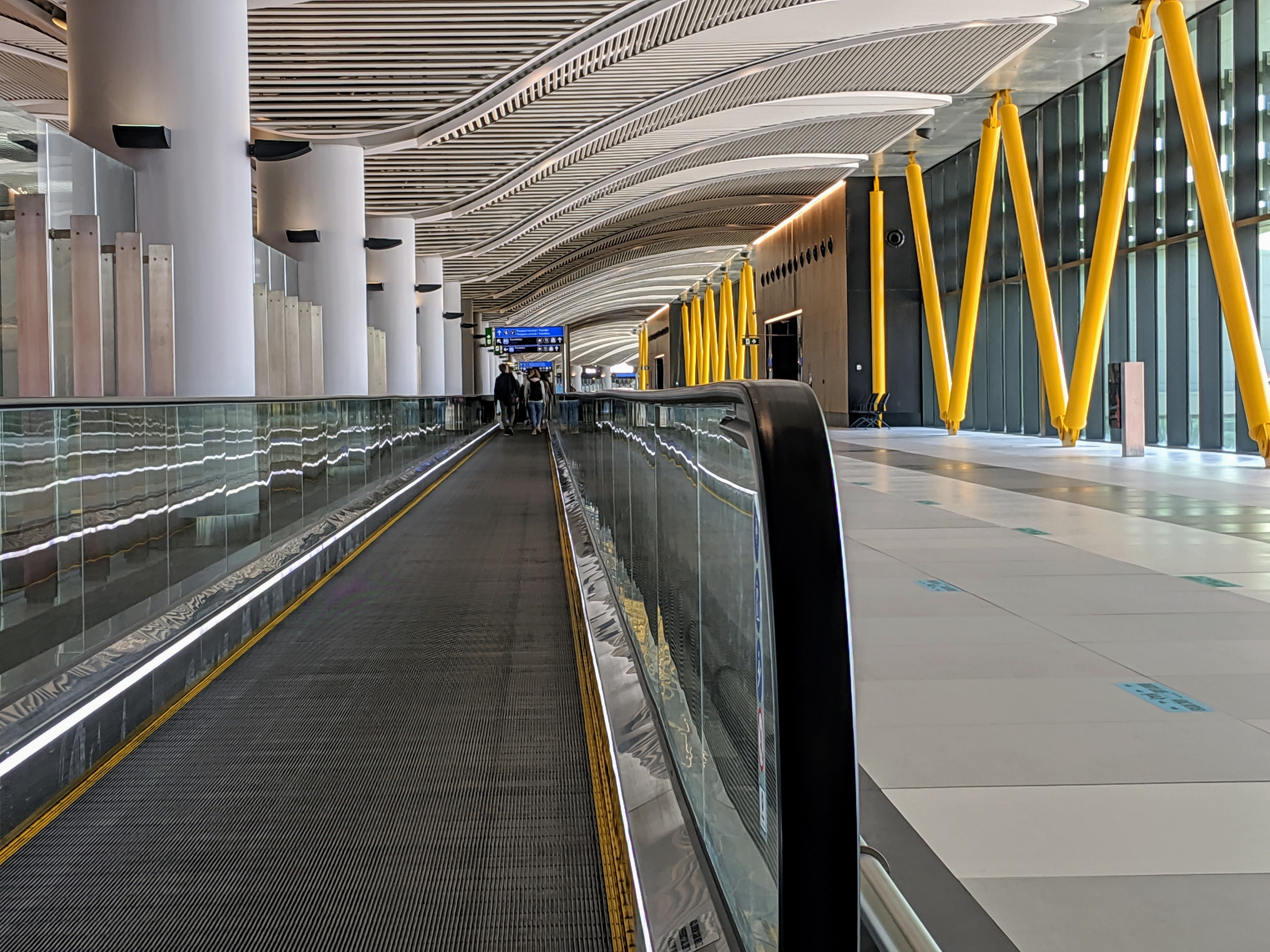 Istanbul Overview
Istanbul is a popular place to visit with a long and important history. The travelers wanted to experience this place and gain some understanding of what life may have been like for Yesia when he lived there. Yesia began working in Istanbul when he was 13 and lived there until he was 17 when he immigrated to the US (1900) due to Turkish fear of Armenian revolutionaries.
Basileus Hotel
The travelers arrived at Basileus Hotel, their home away from home in Istanbul.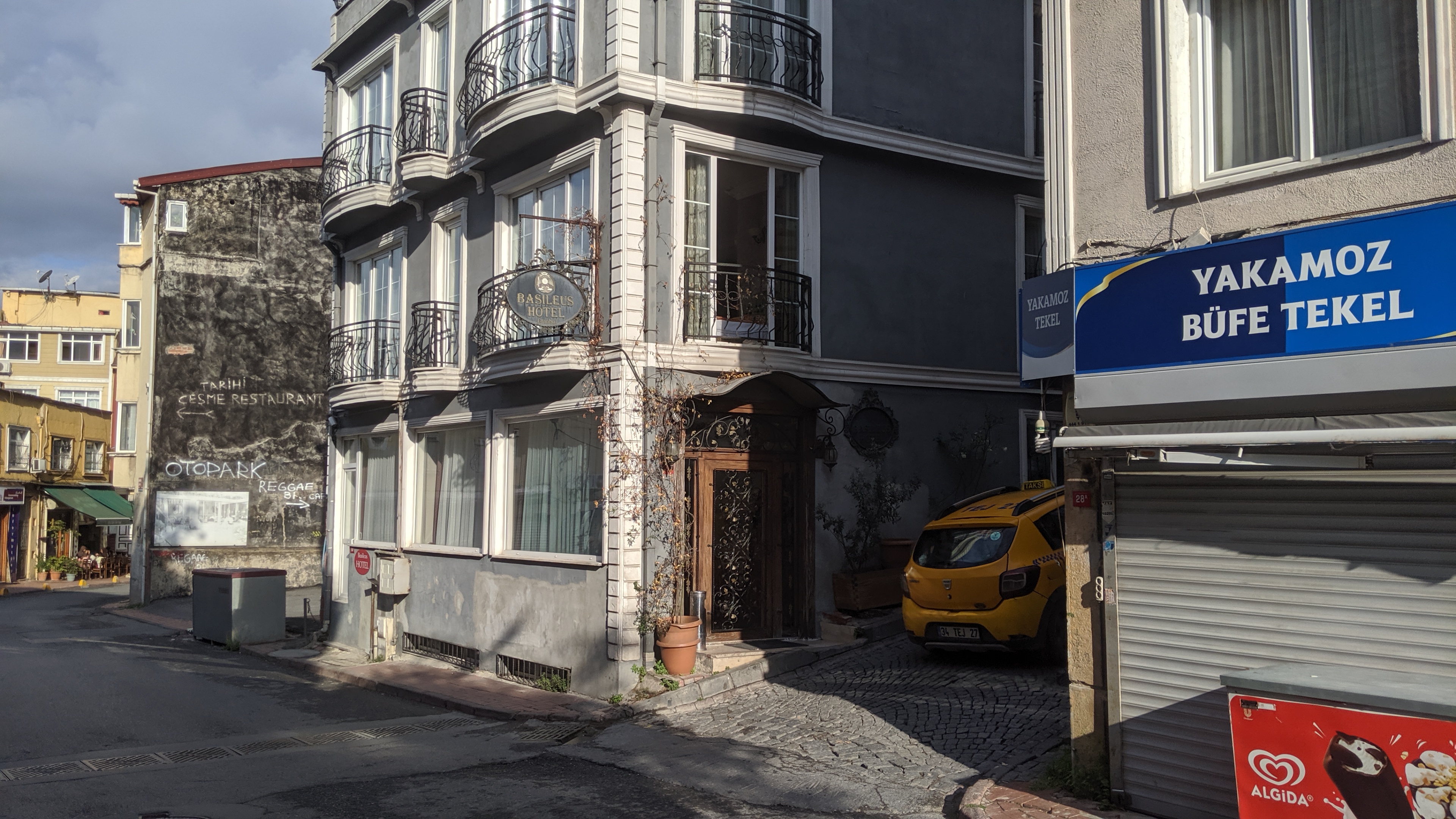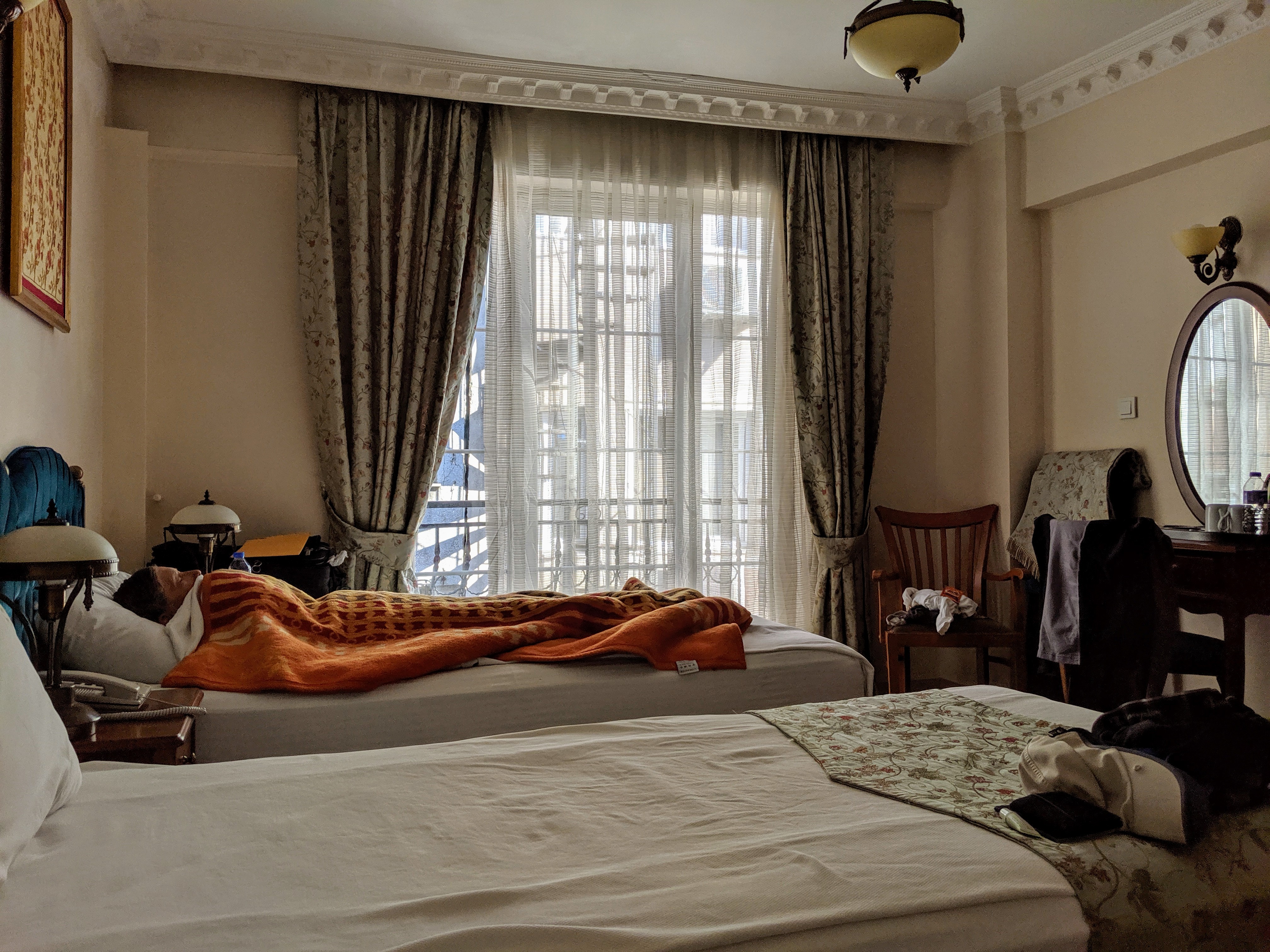 Istanbul first reactions
There seem to be lots of dogs and cats roaming the streets. It appeared that they were all fed and perhaps even vaccinated.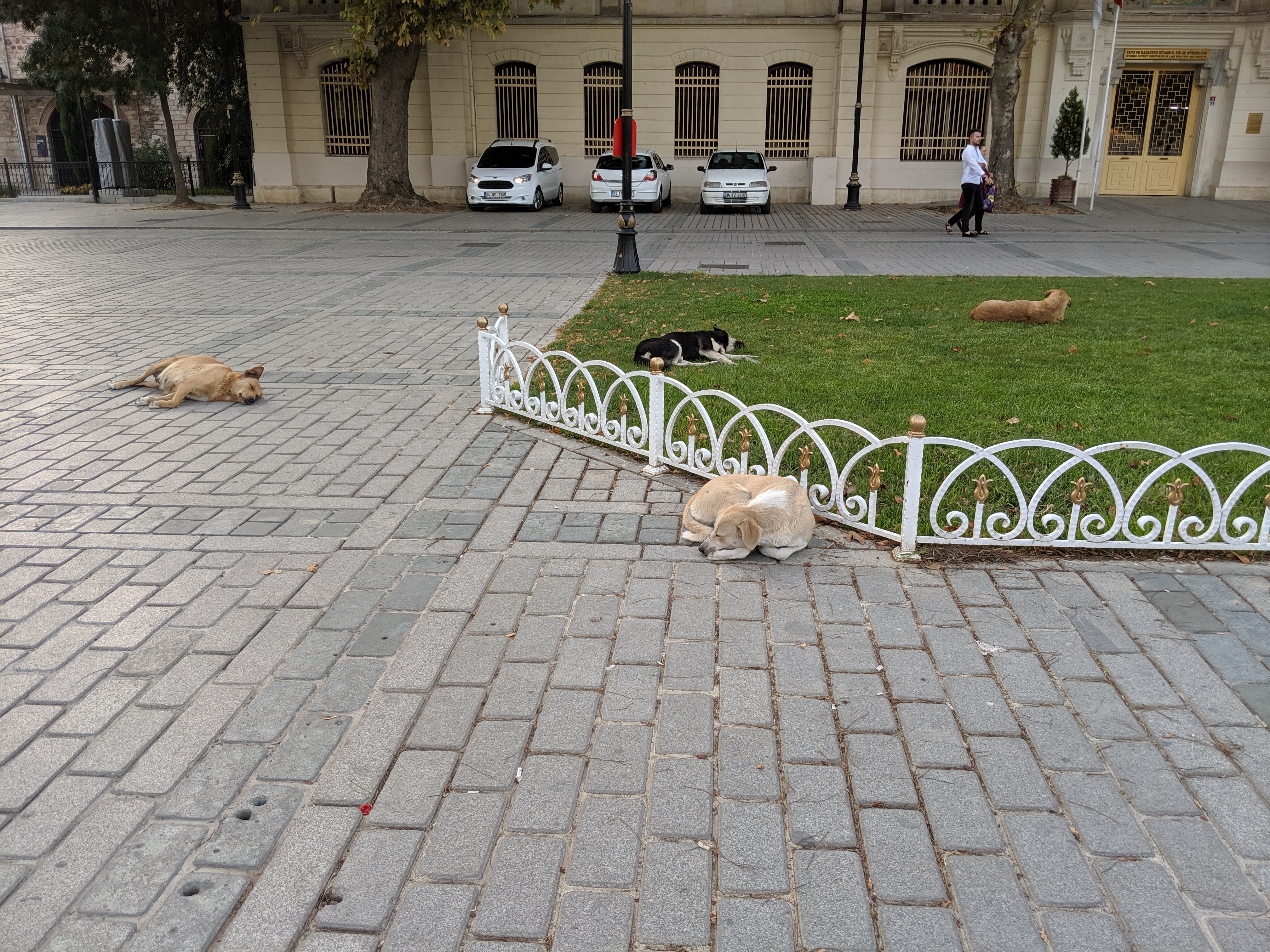 The travelers enjoyed turkish delight candy.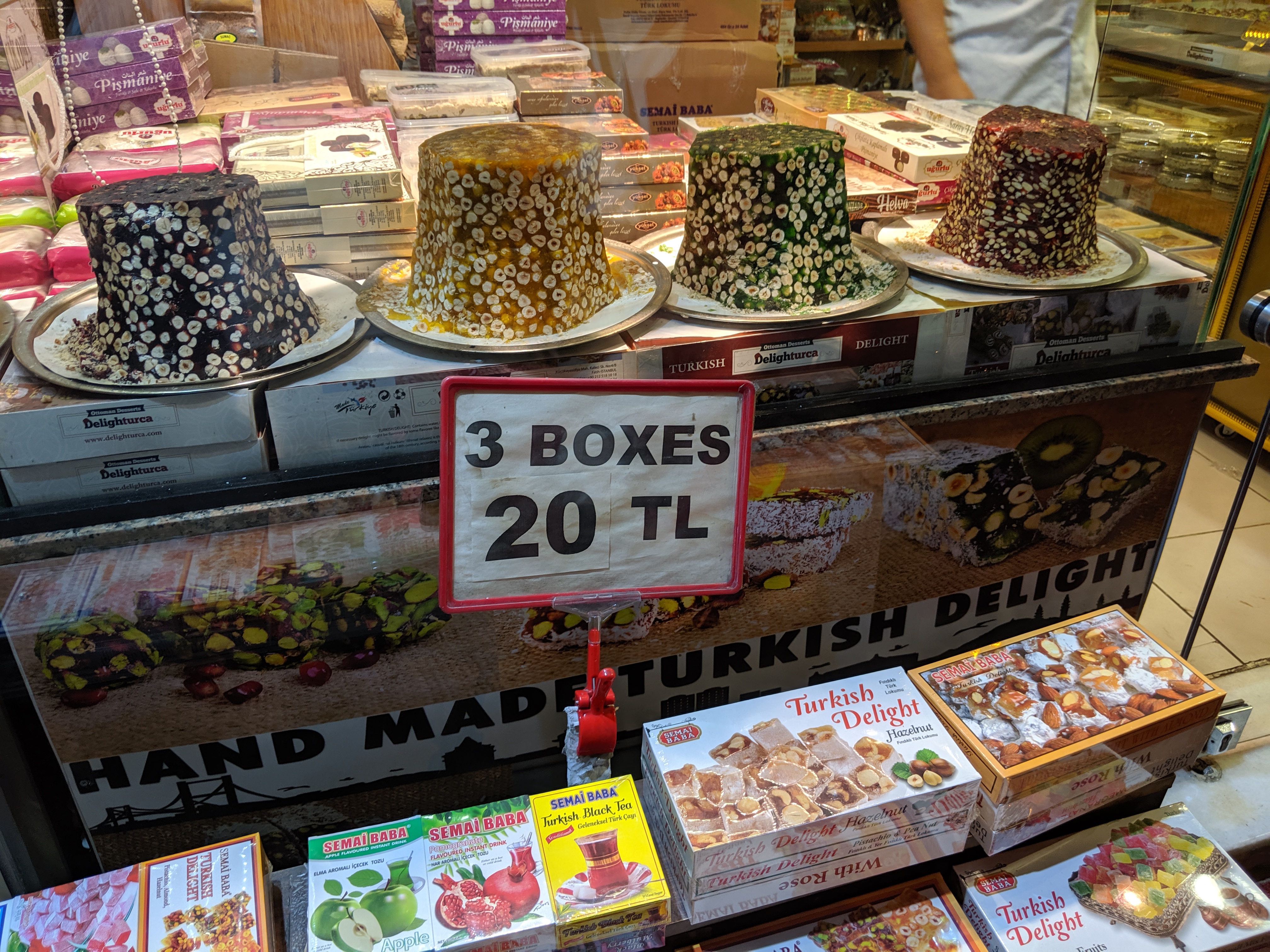 Hagia Sophia at sunset was a special sight.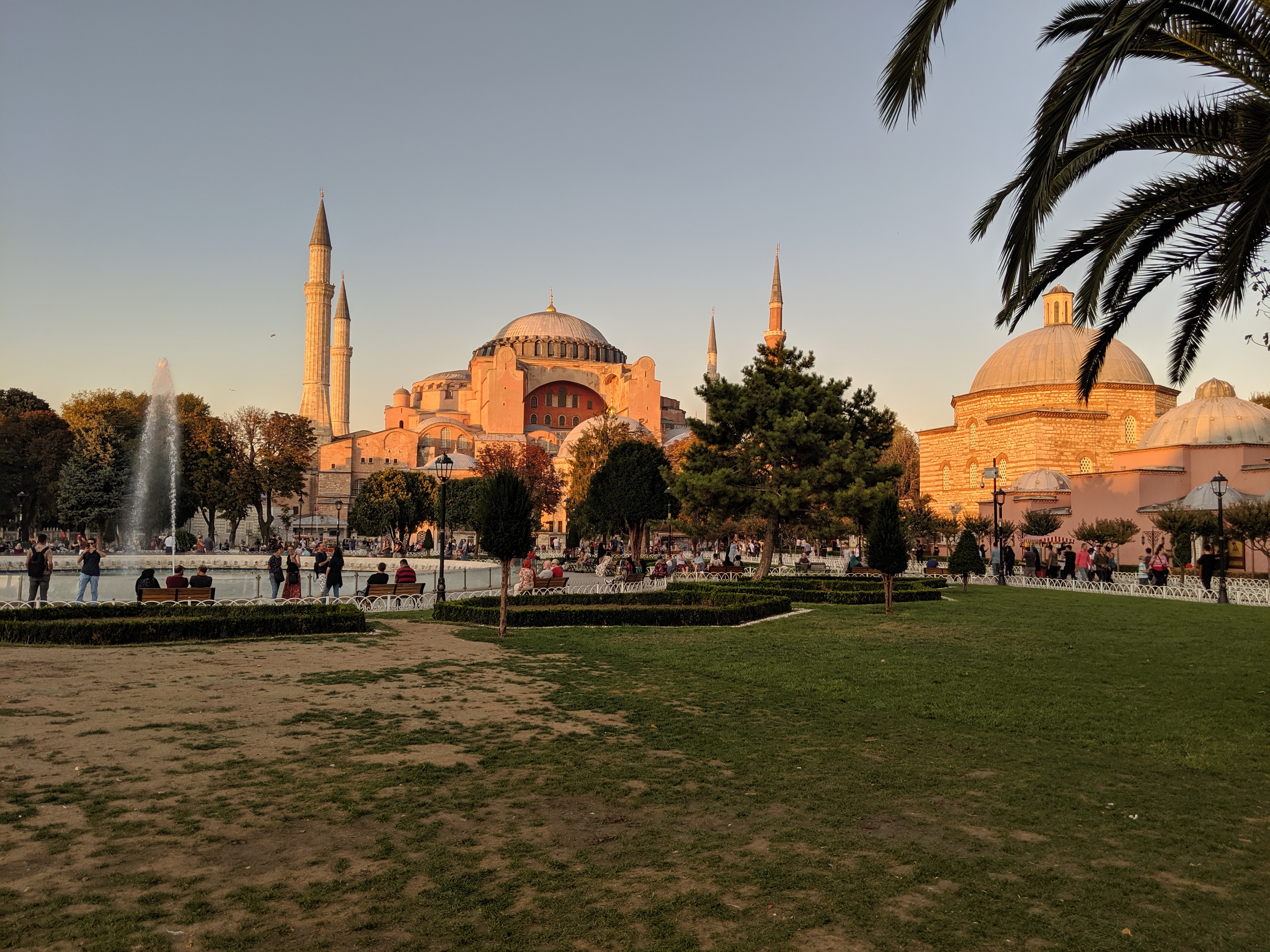 The travelers had dinner at 3 Partners Restaurant. Both Jim and Nancy had an entire bowl (meant to be for dipping) of jajikh.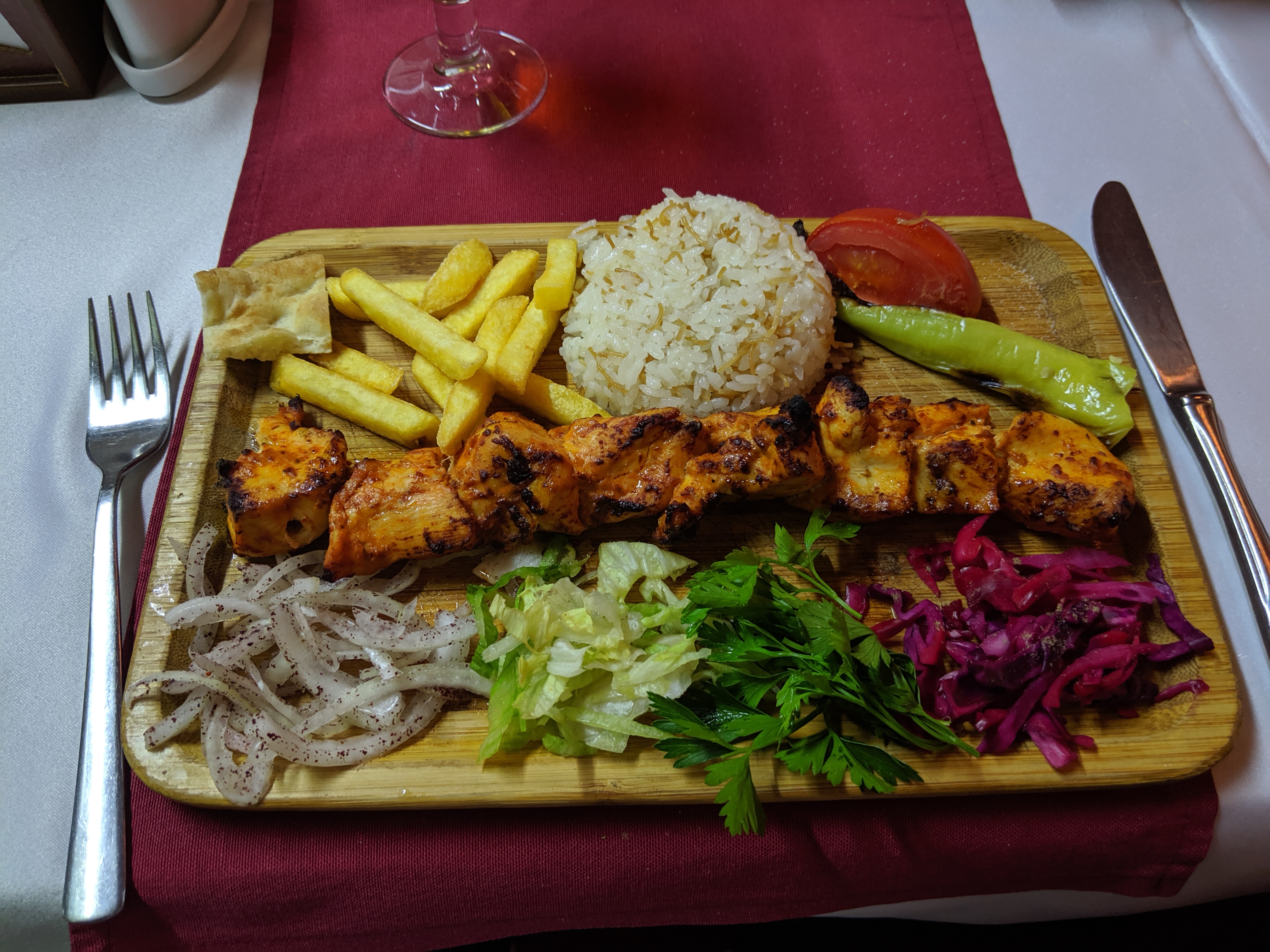 ---
breakfast
The travelers learned that Turkish breakfast is quite different from "continental style".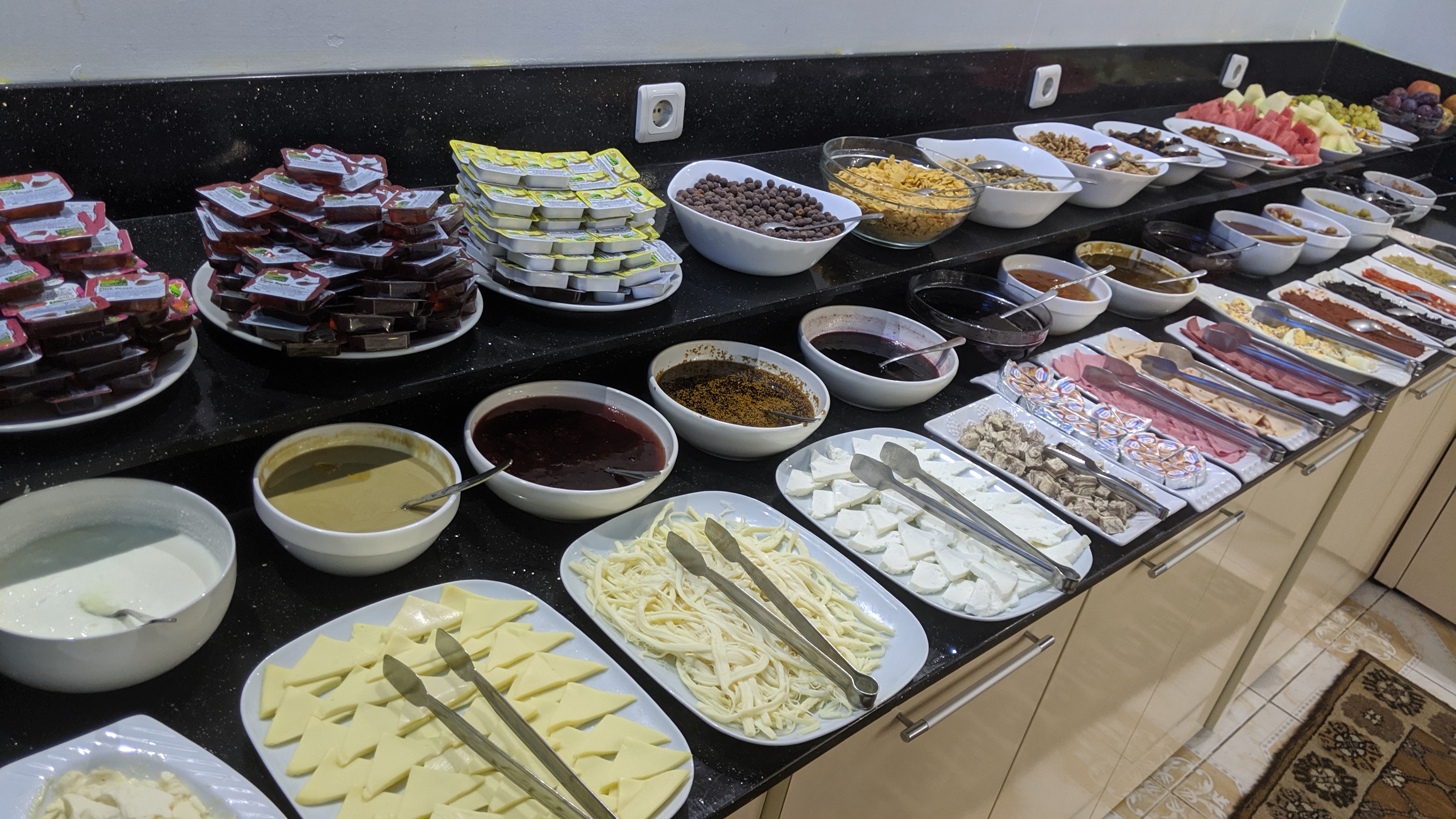 Sultan's Palace
The travelers visited the Sultan's Palace.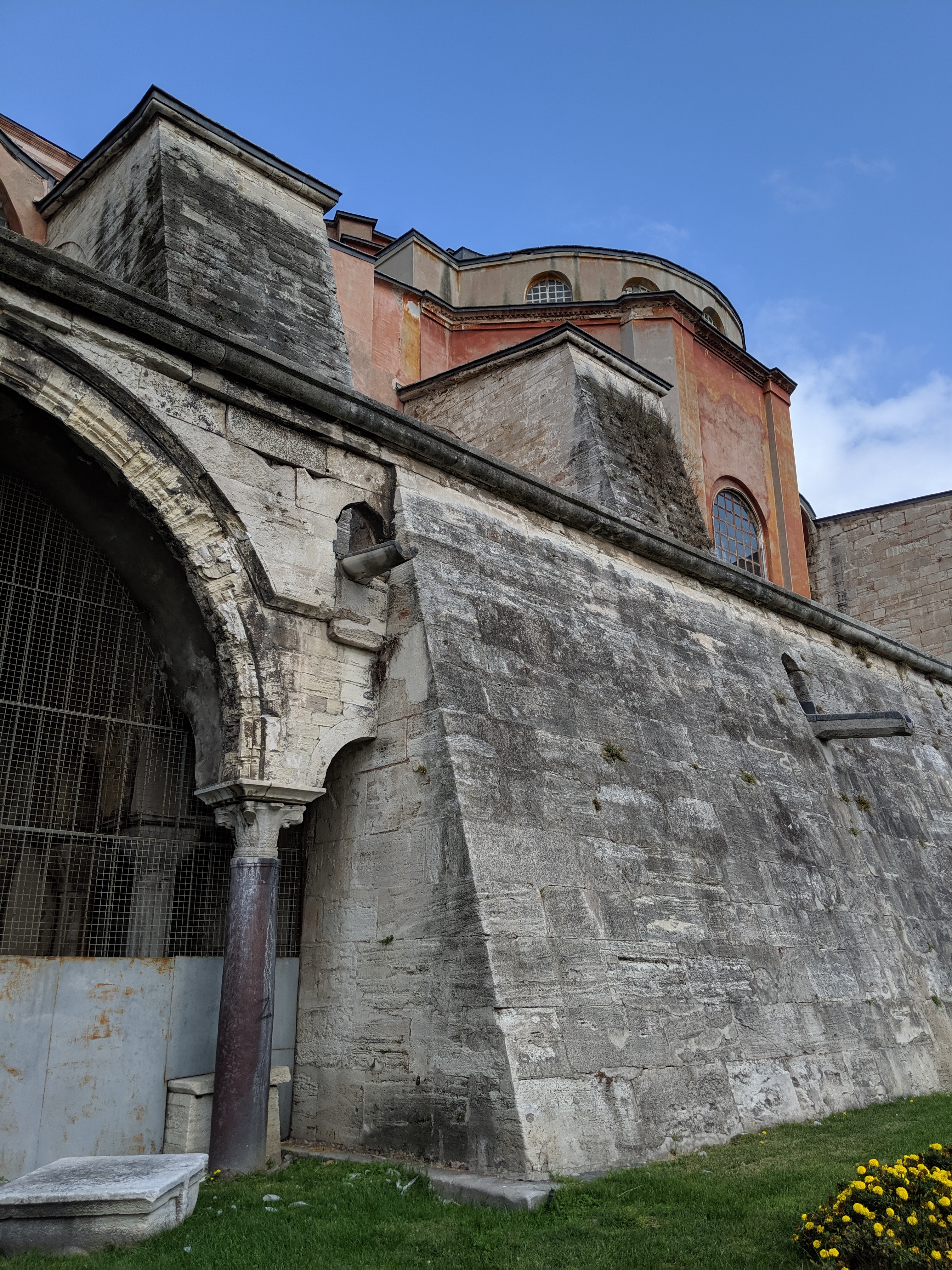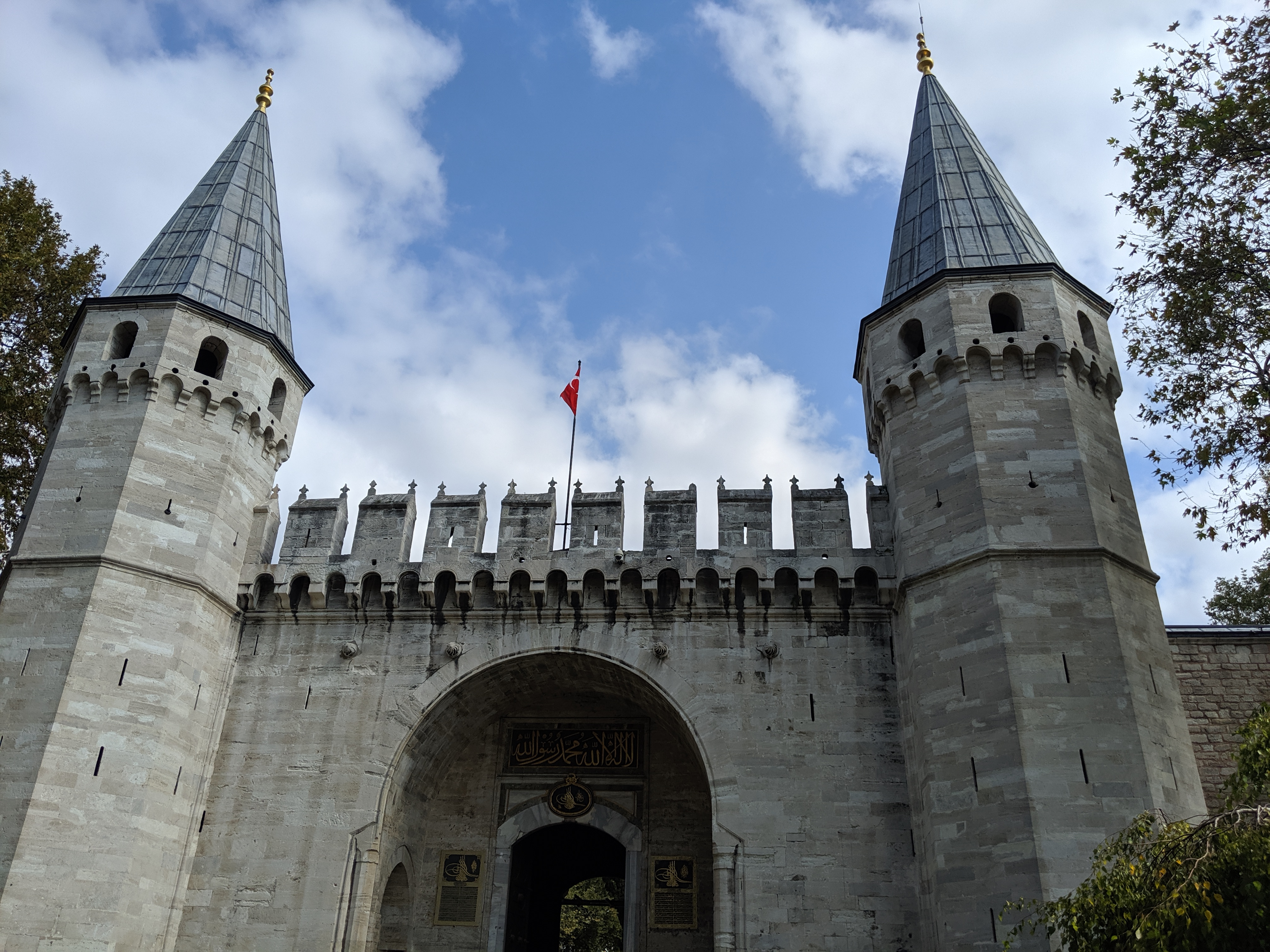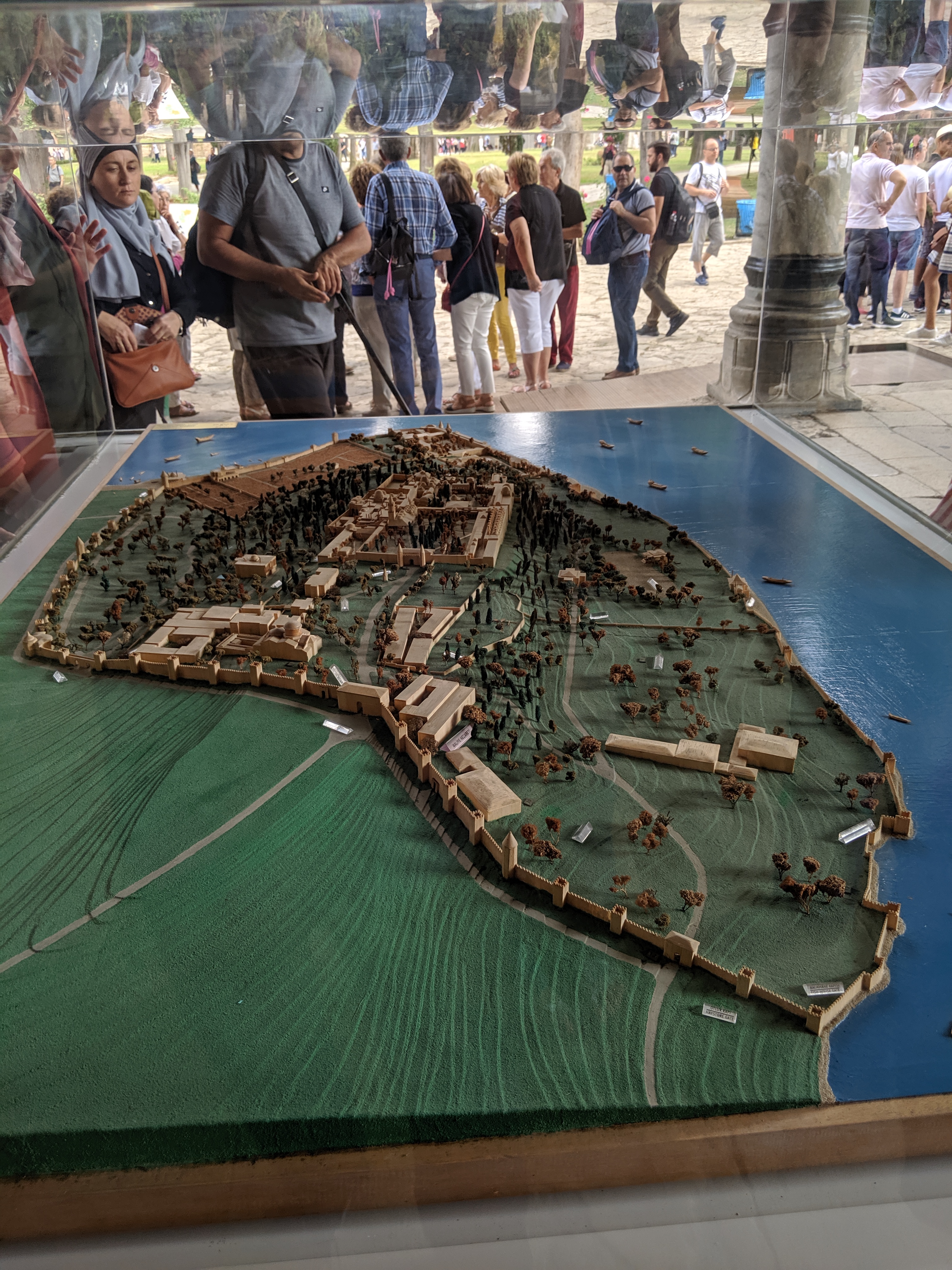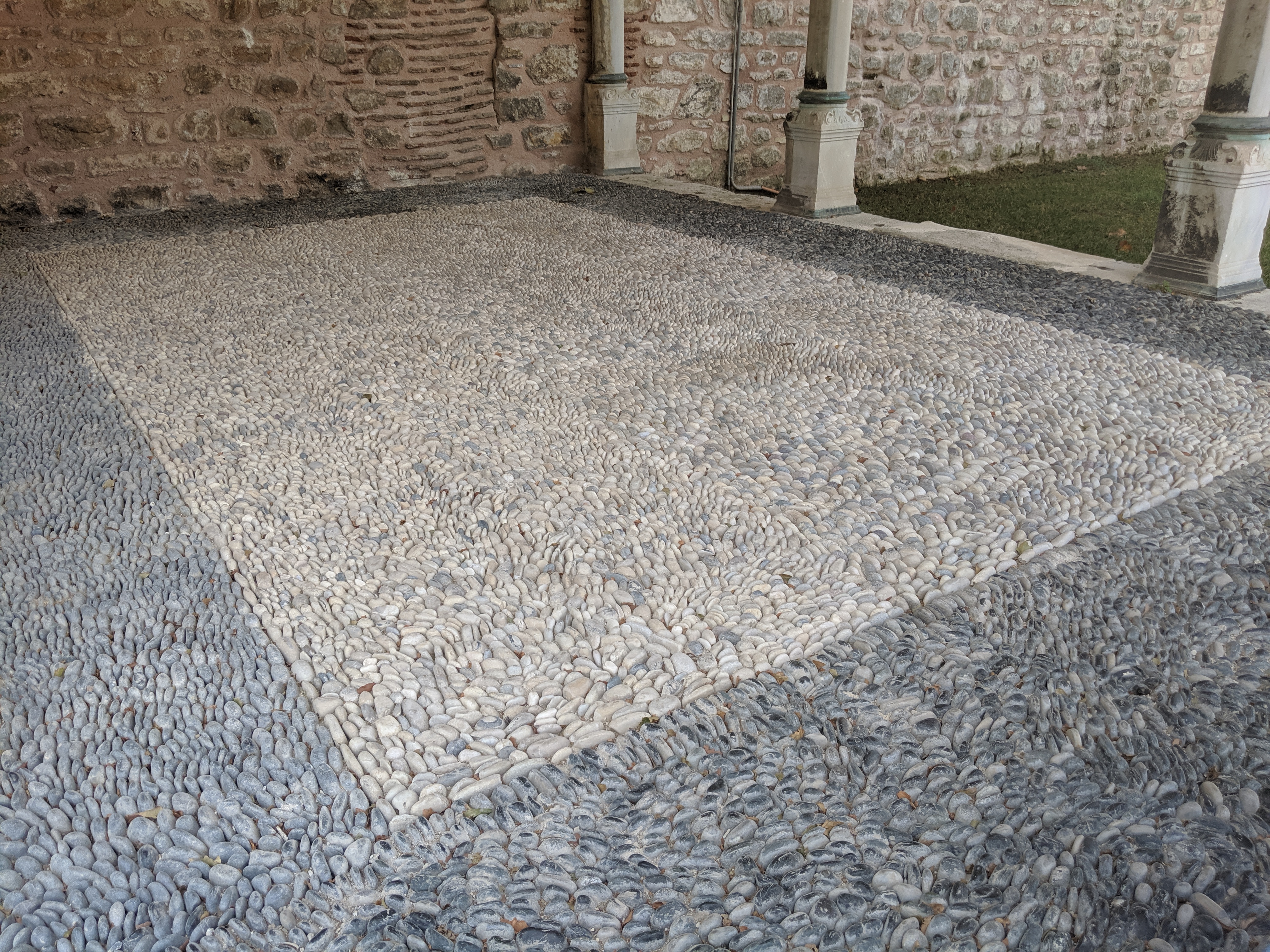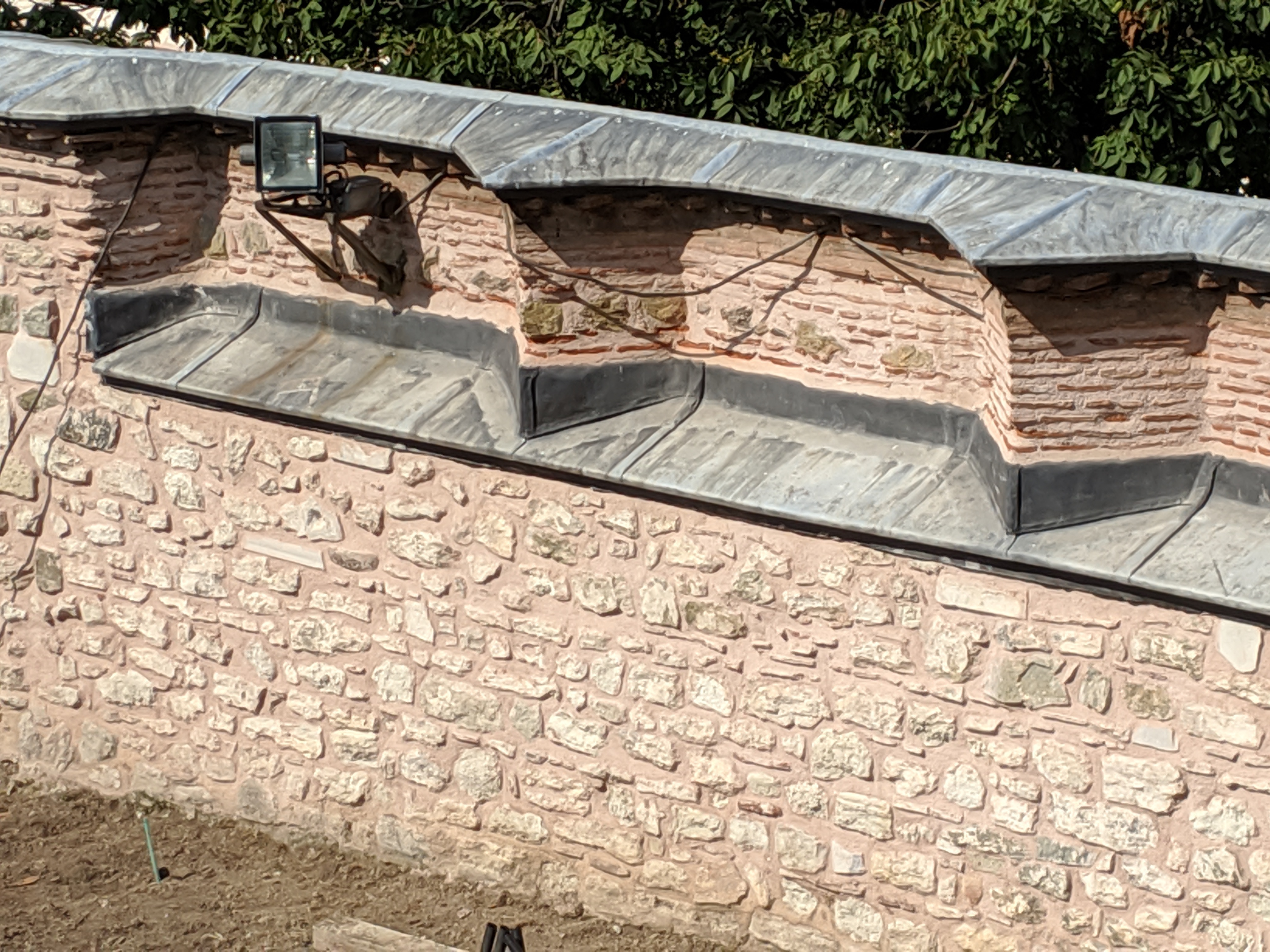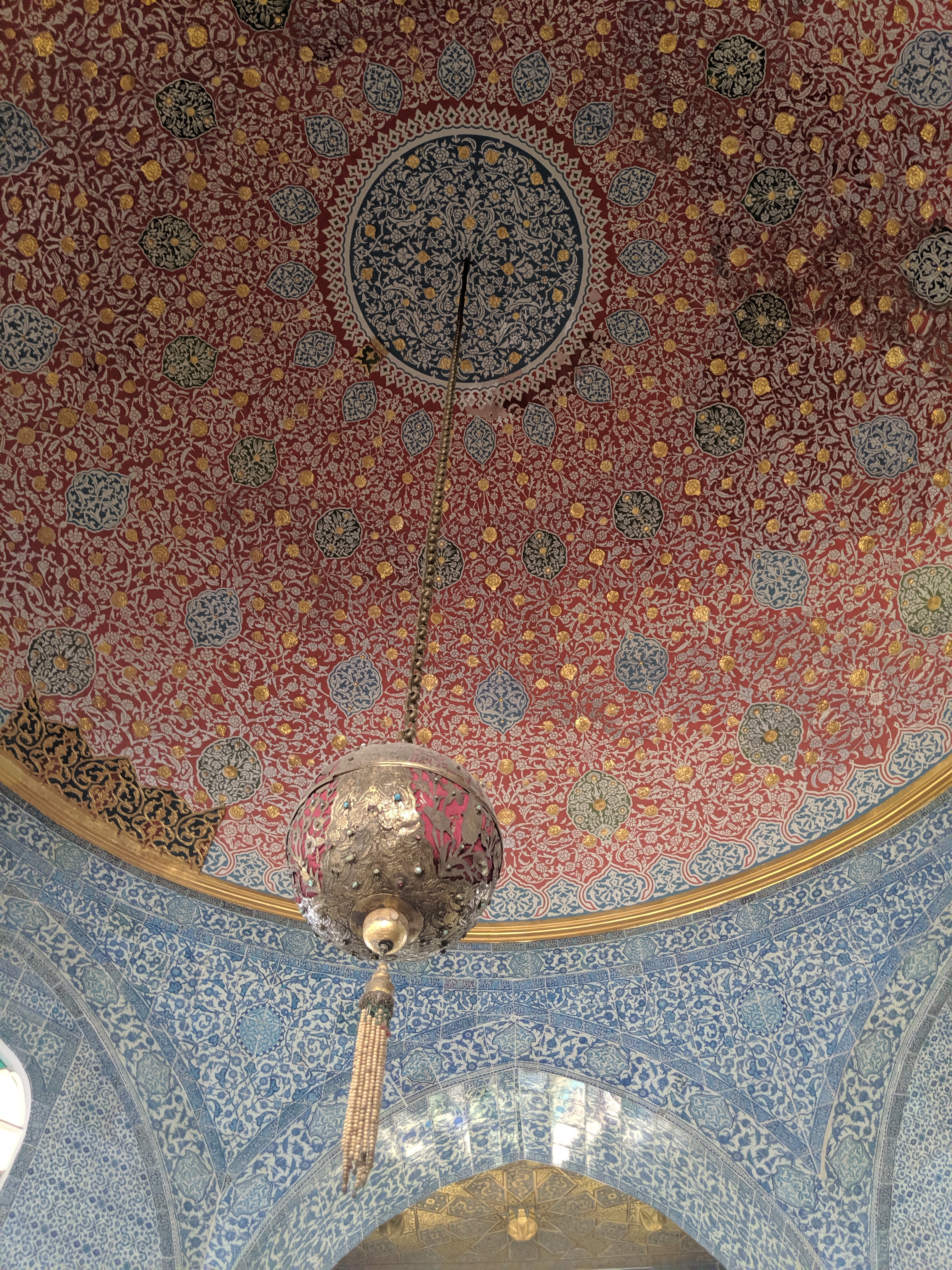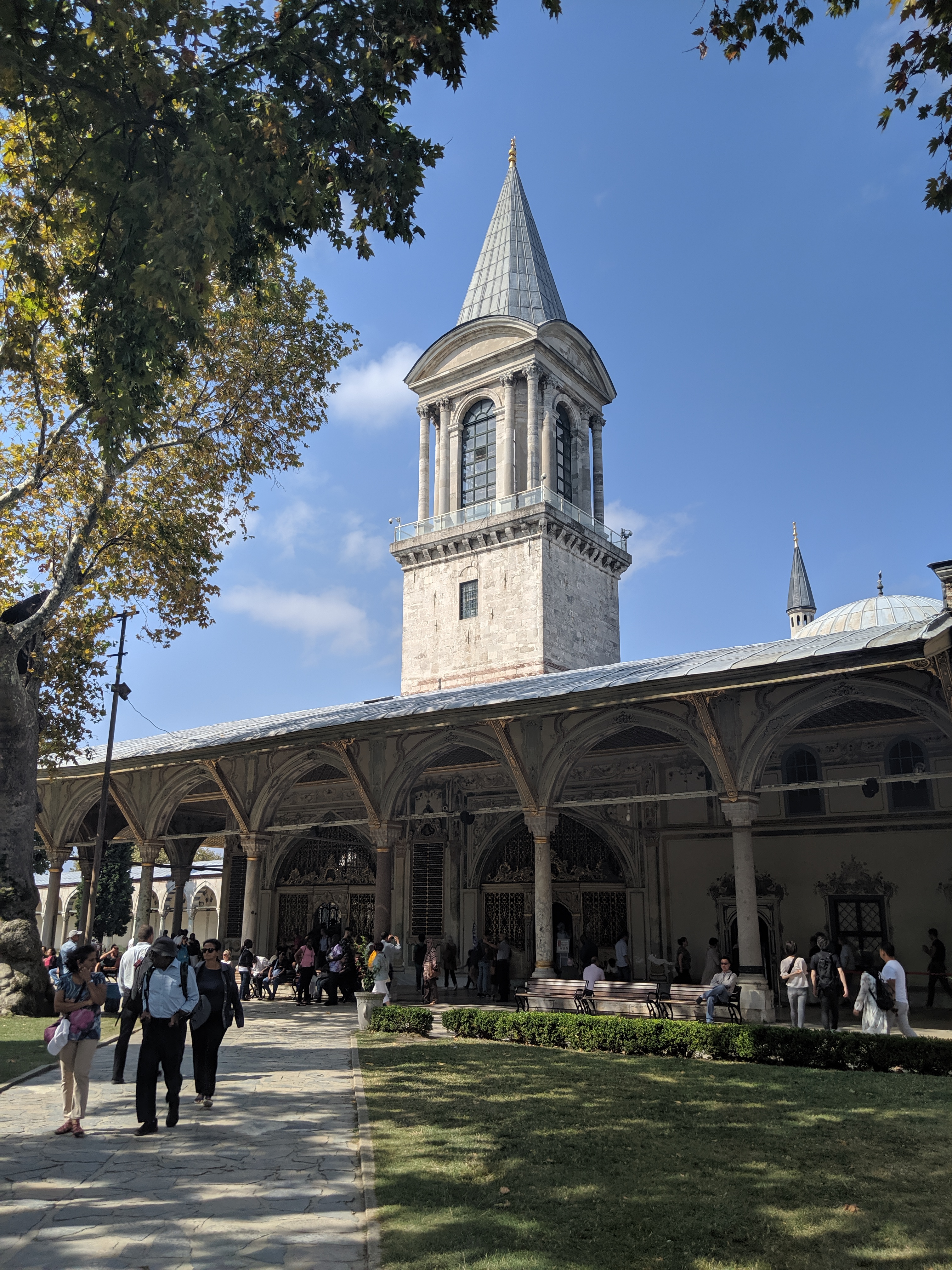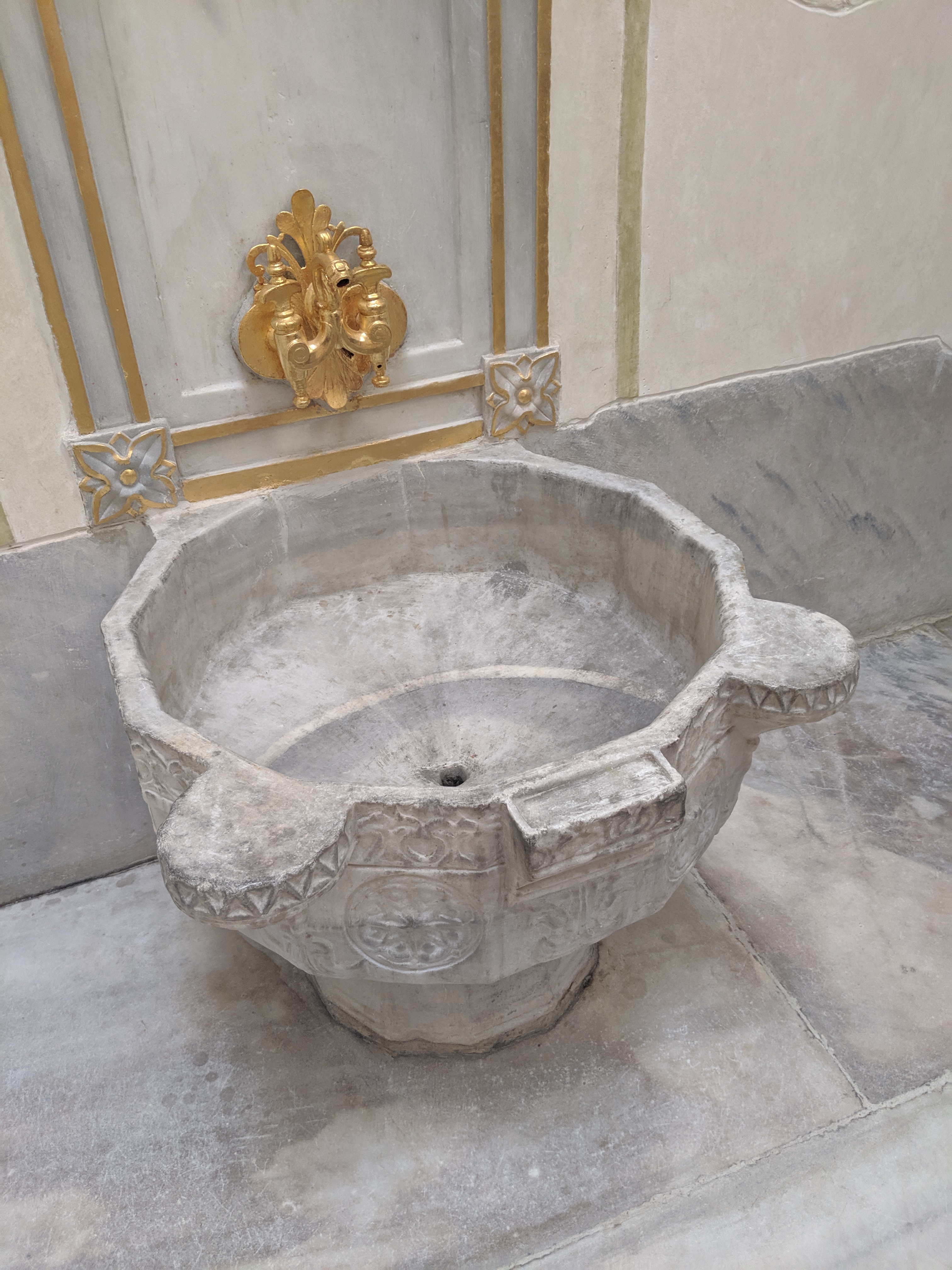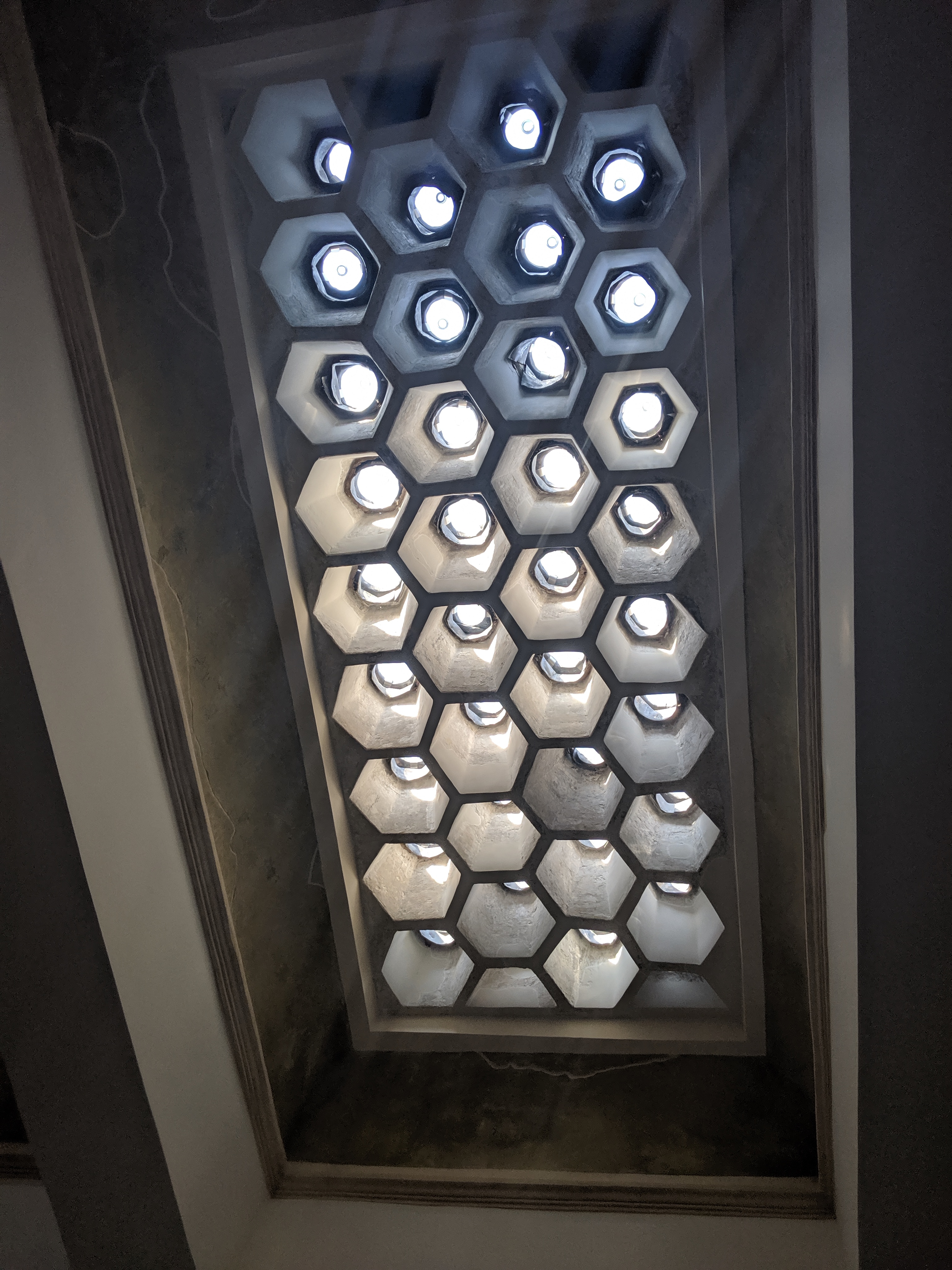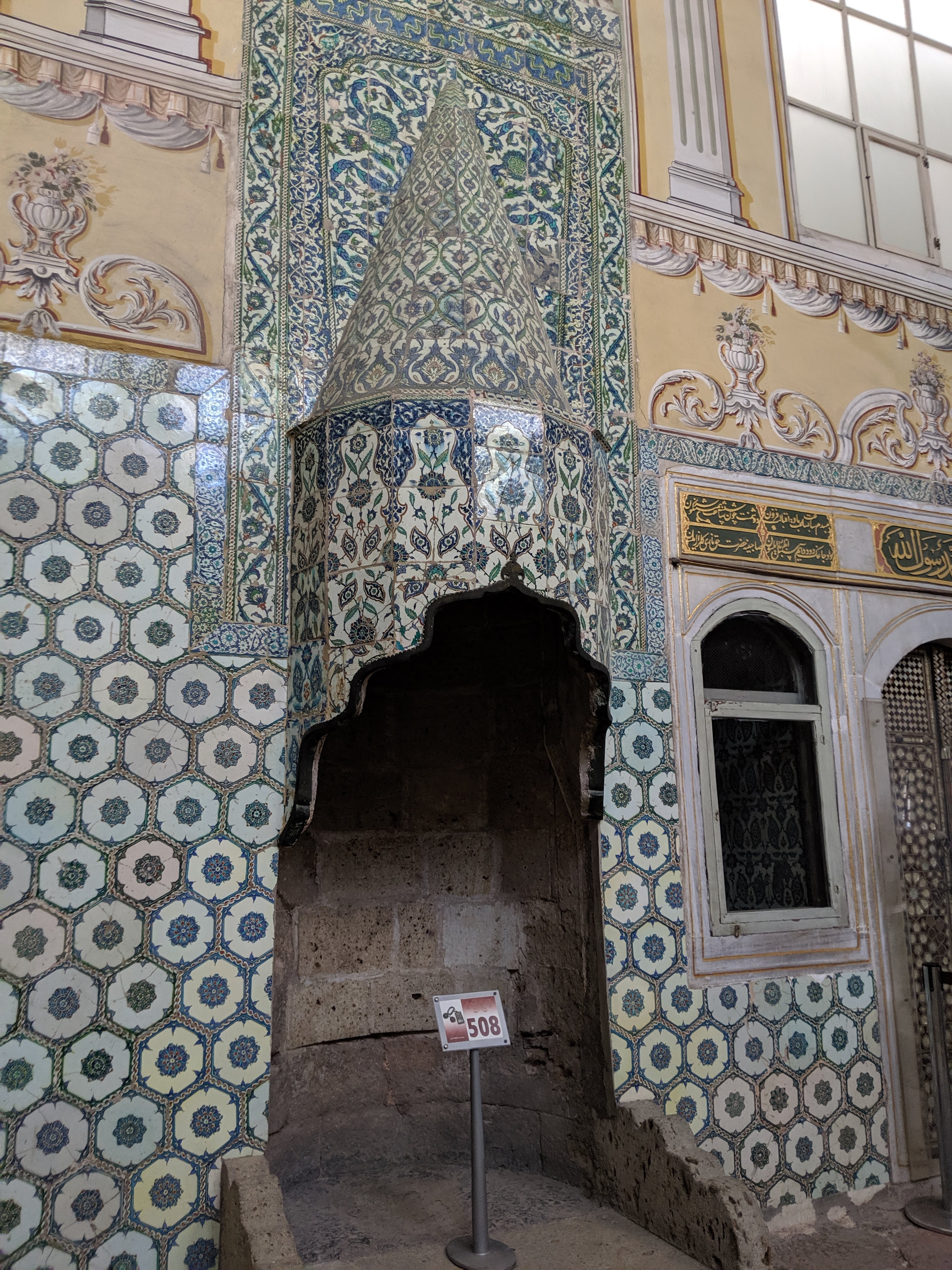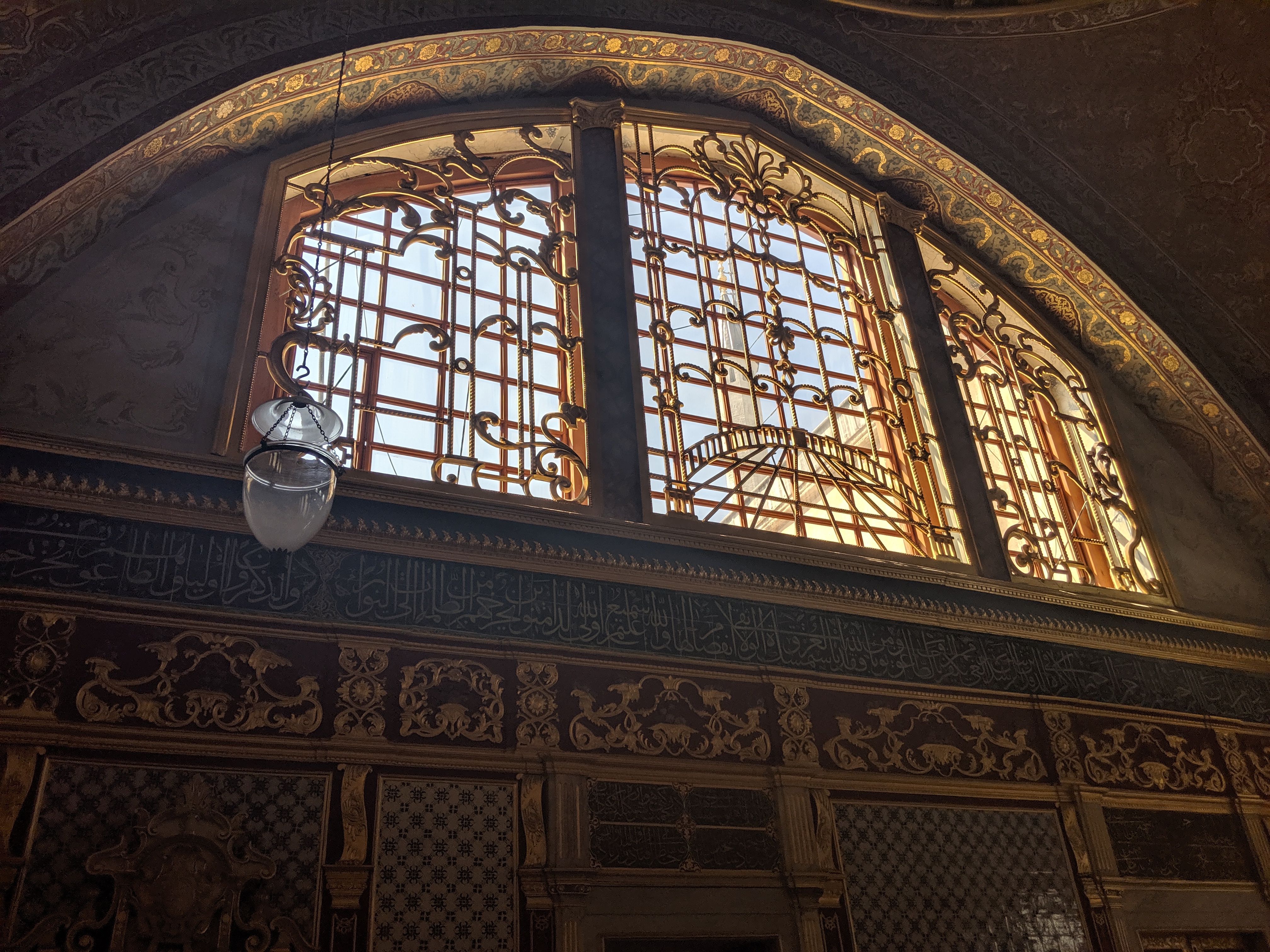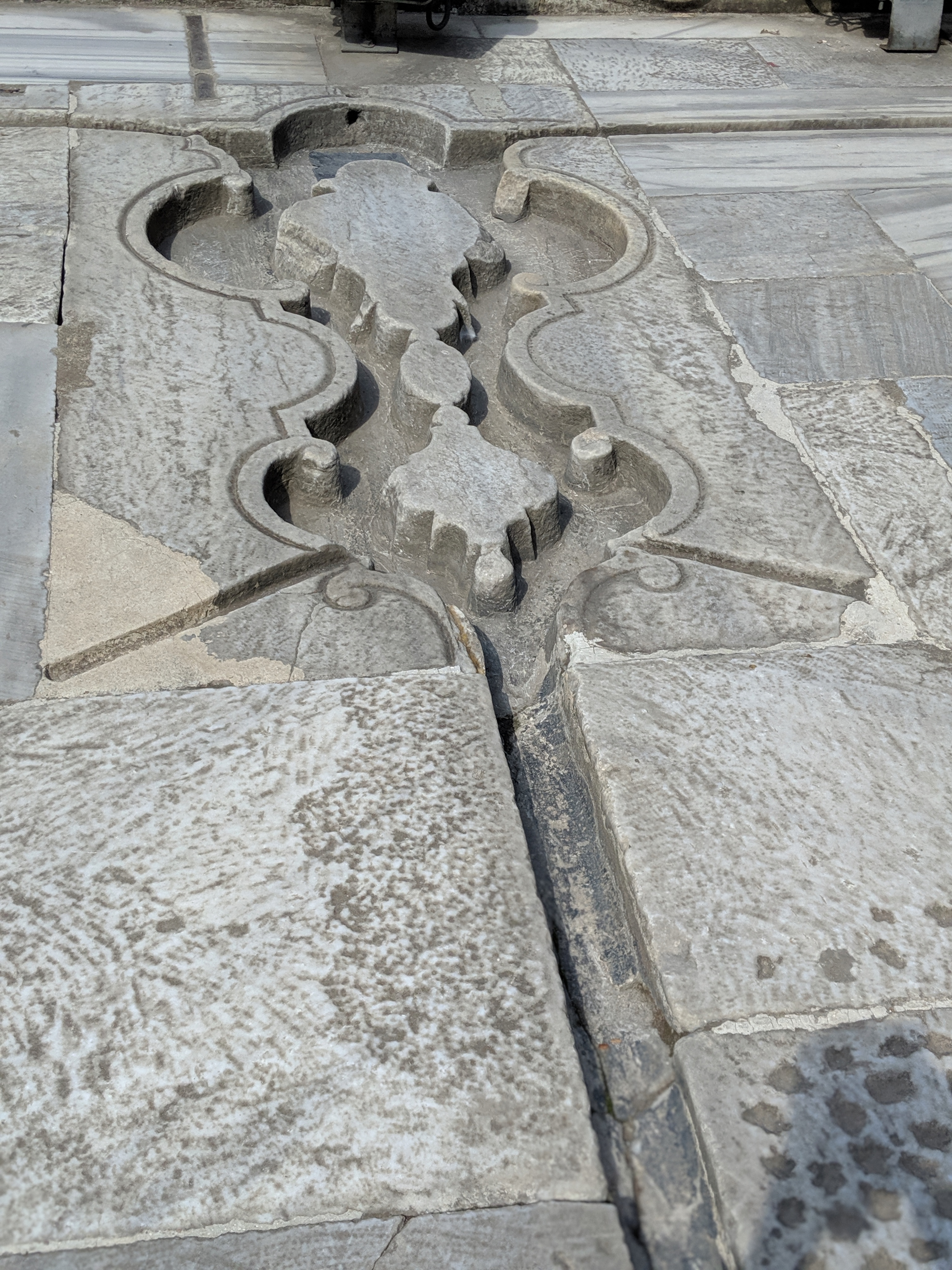 Hrant Dink Foundation
After lunch the travelers undertook to find the offices of the Hrant Dink Organization located on the Asian side of Istanbul. They had the address but had trouble finding it. Finally they did find it with the help of Jim's phone GPS and a hand drawn map by a tattoo artist who worked in a shop nearby. Once there, they were given helpful information about visiting Istanbul, Kayseri and Erzindjan. The staff were interested in the fact that the travelers were visiting Develi in an attempt to see where the property Yesia inherited may have been. Evidently this organization is in the process of suing the Turkish government which claims that Armenians who left Turkey before the genocide as Turkish citizens should be entitled to reparations. They do not intend to be part of this lawsuit, but wonder if Turkish documents about Yesia might have indicated if he was a Turkish citizen when he left in 1900.
After spending the afternoon in this way, the travelers enjoyed a nice dinner before bed.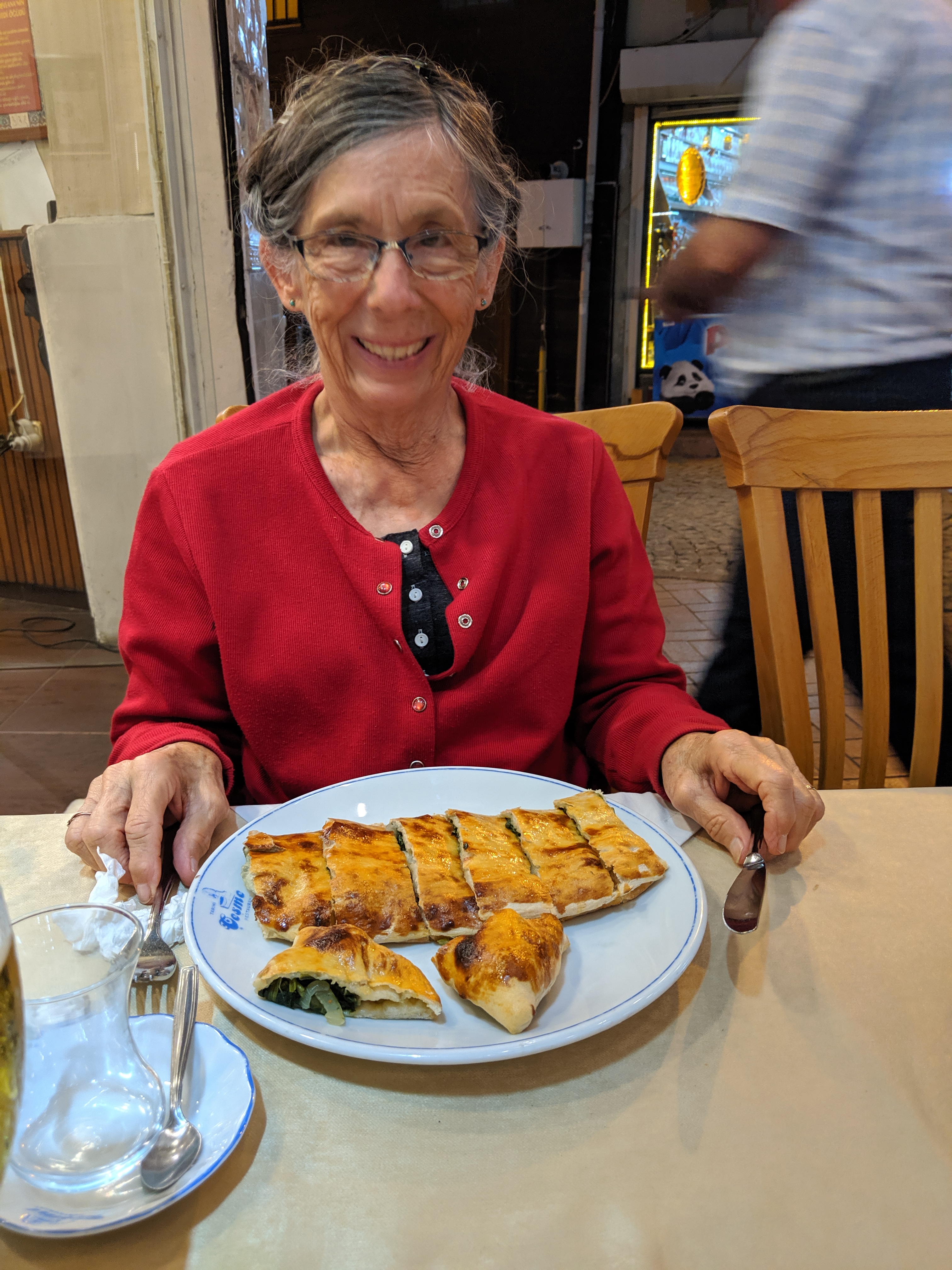 ---
Basilica Cistern
Jim and Nancy tour The Basilica Cistern- used by Romans to bring water via aquaducts to the city. 7000 slaves dug the hole (9 feet deep, 140 feet long and 70 feet wide) in 9 months.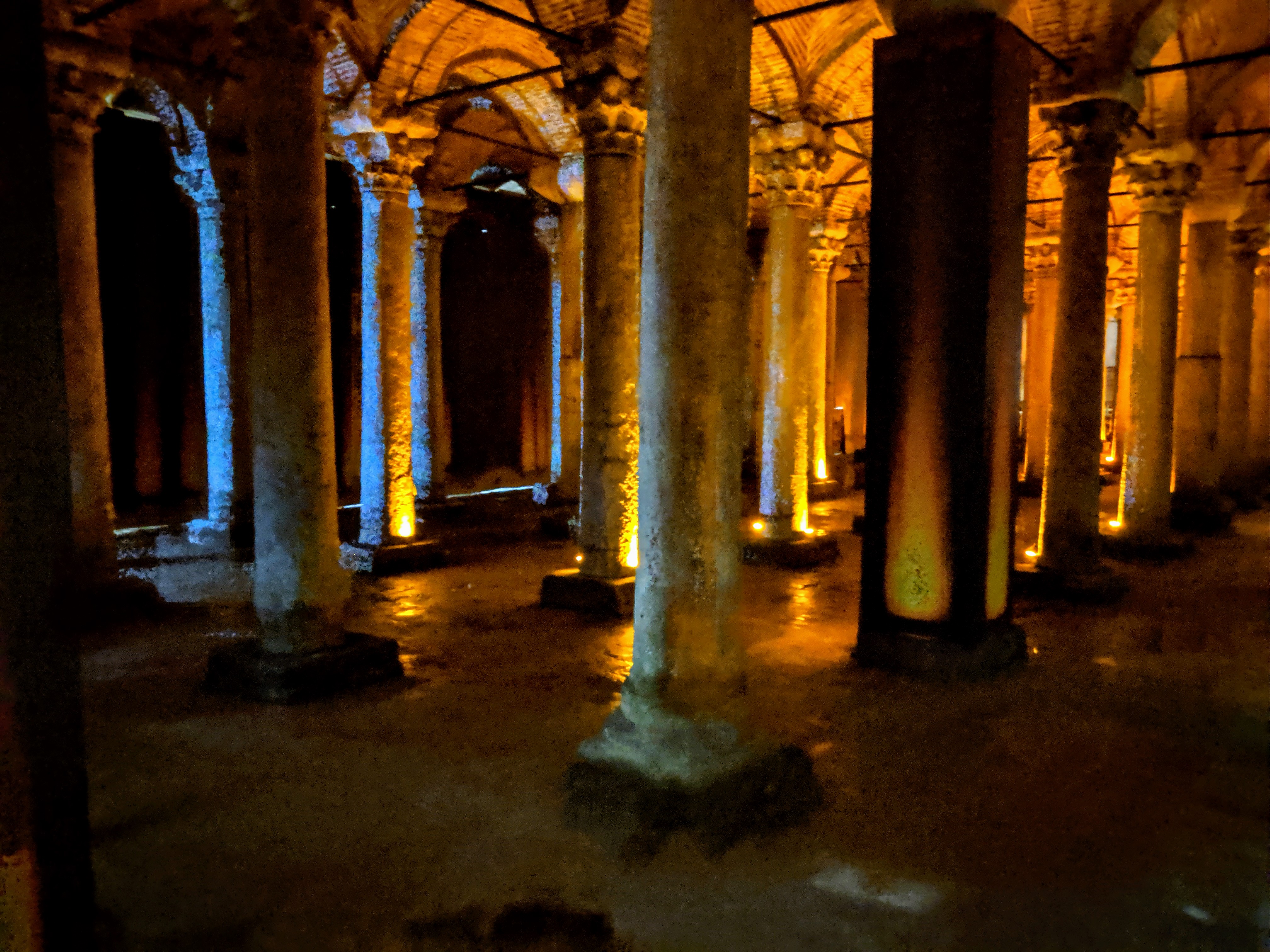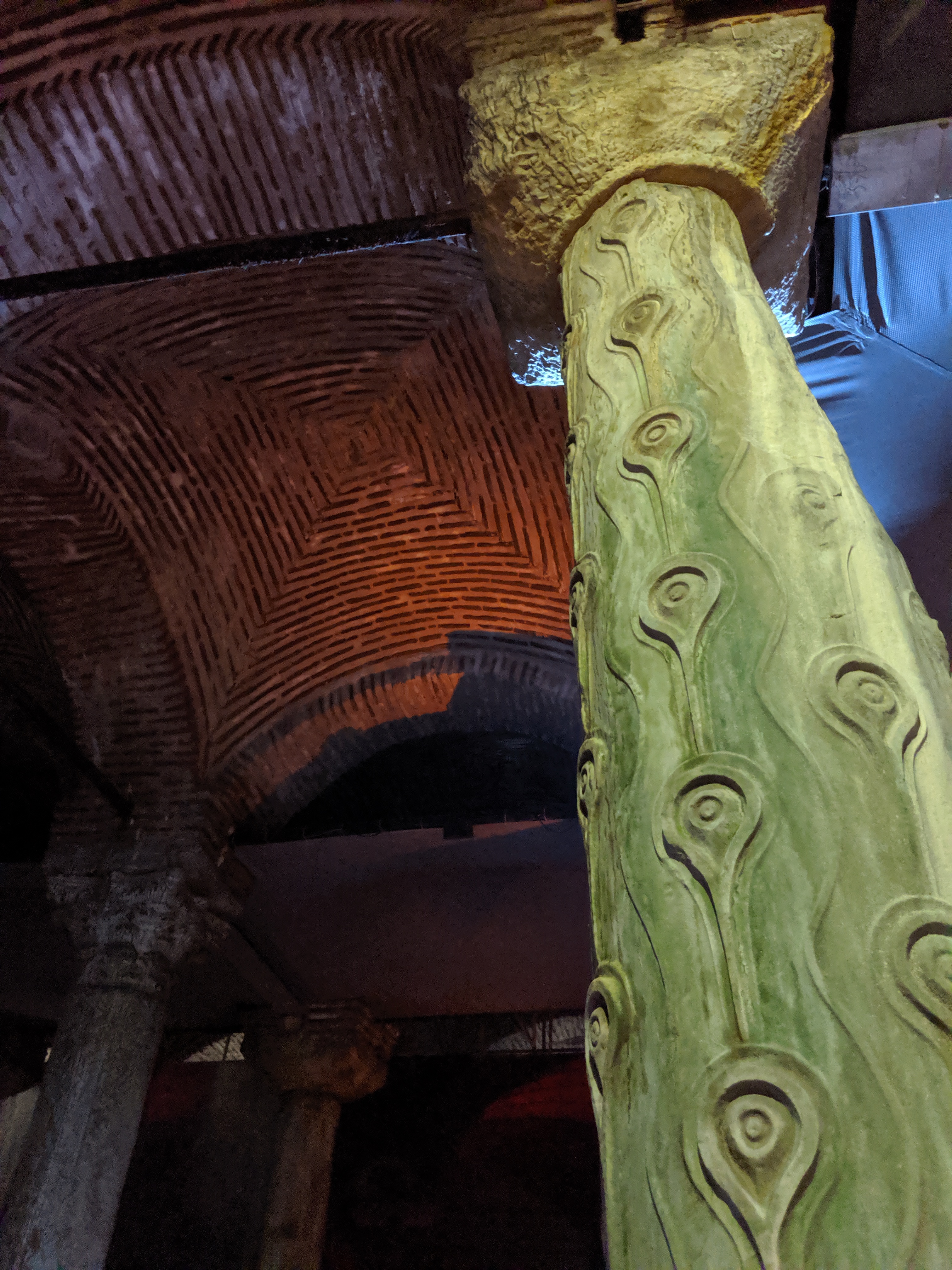 Armenian district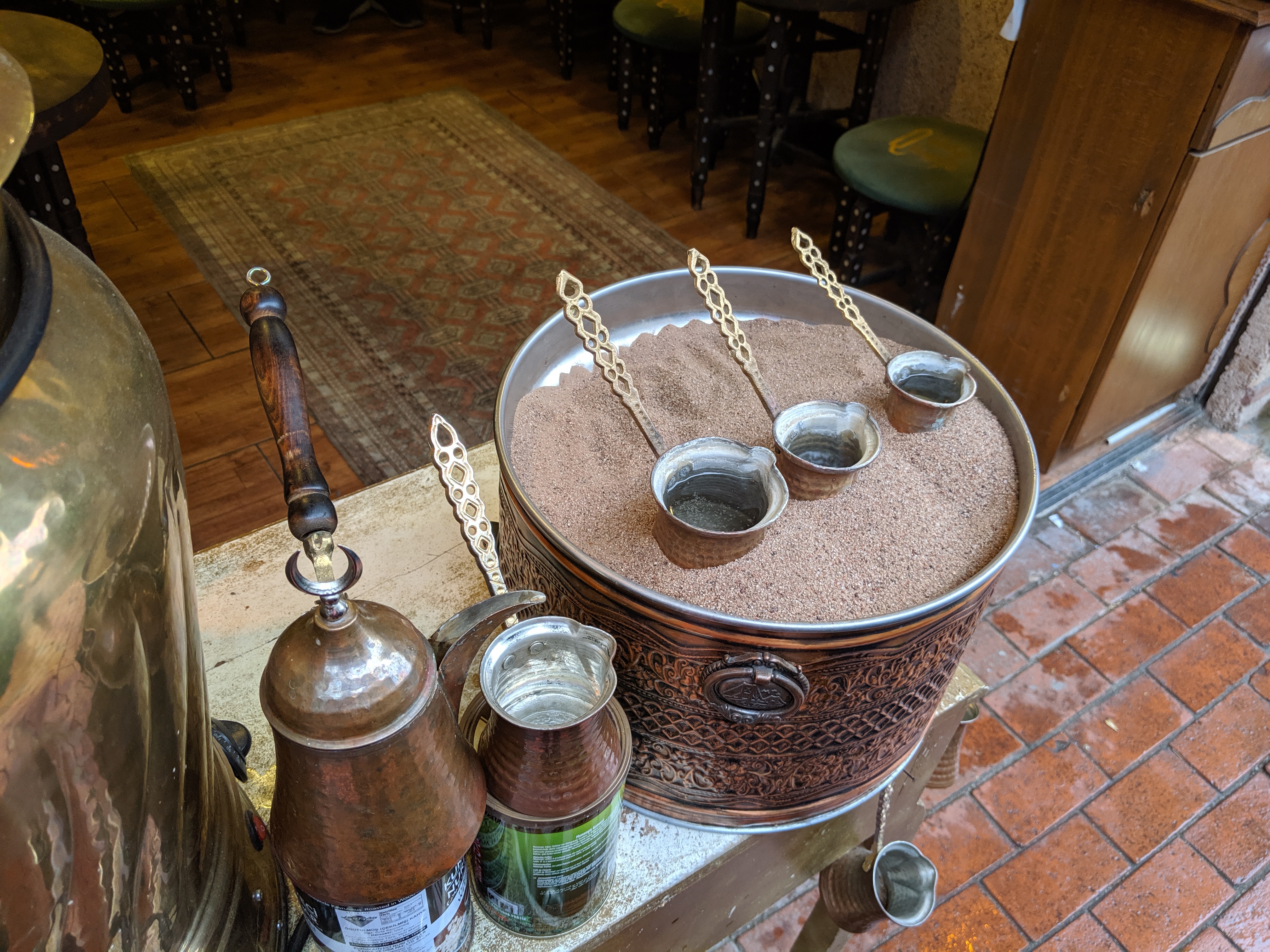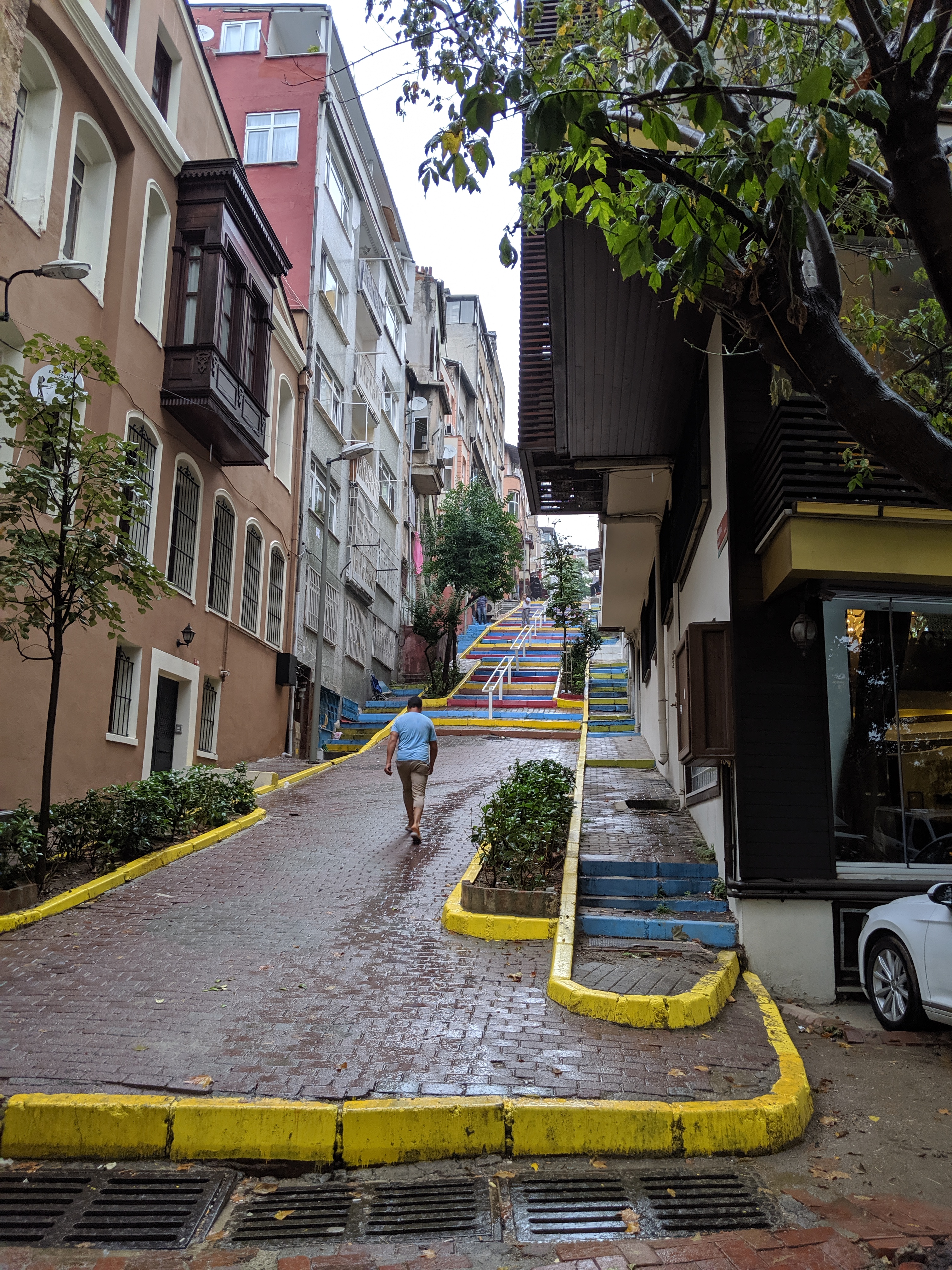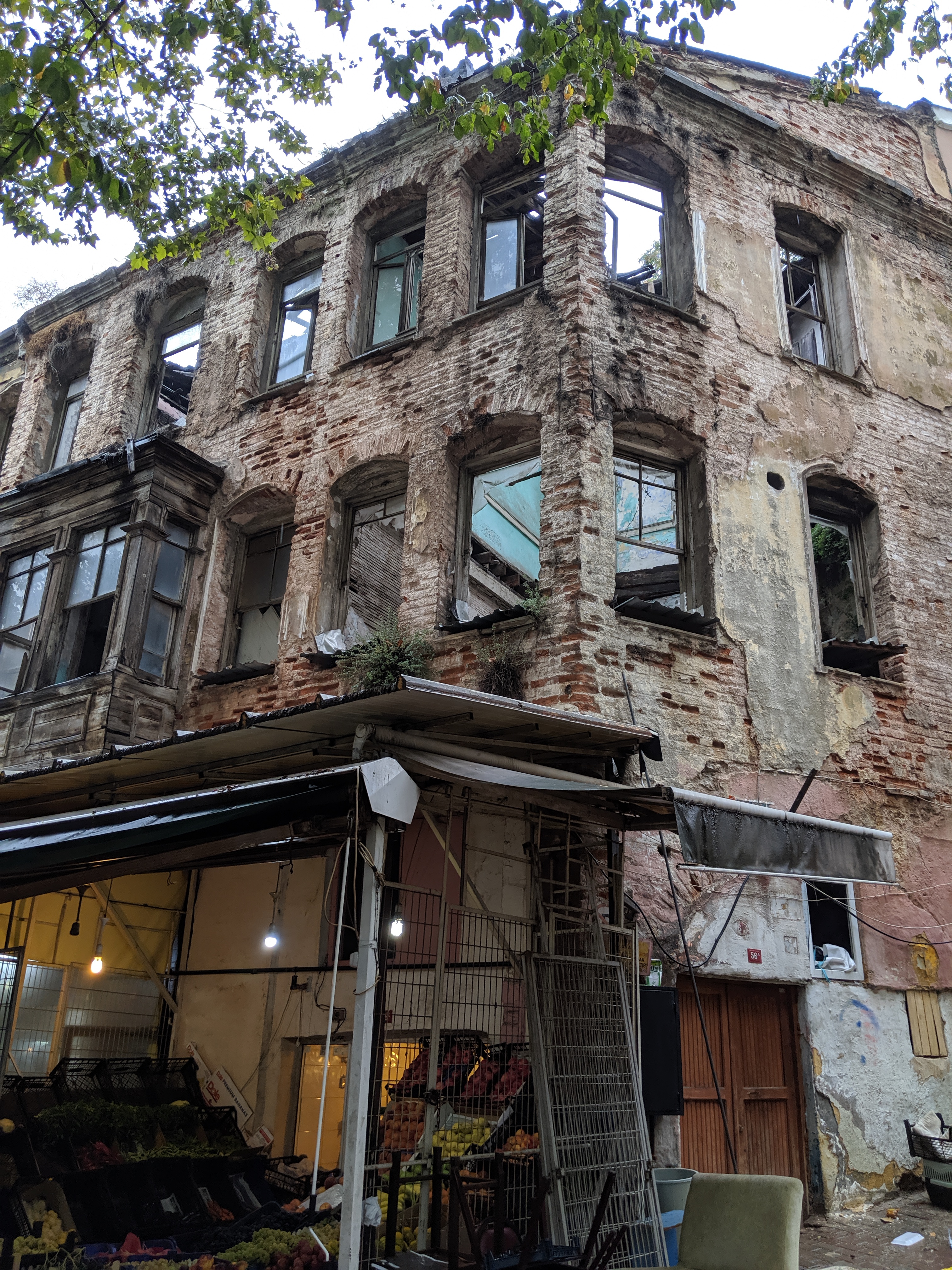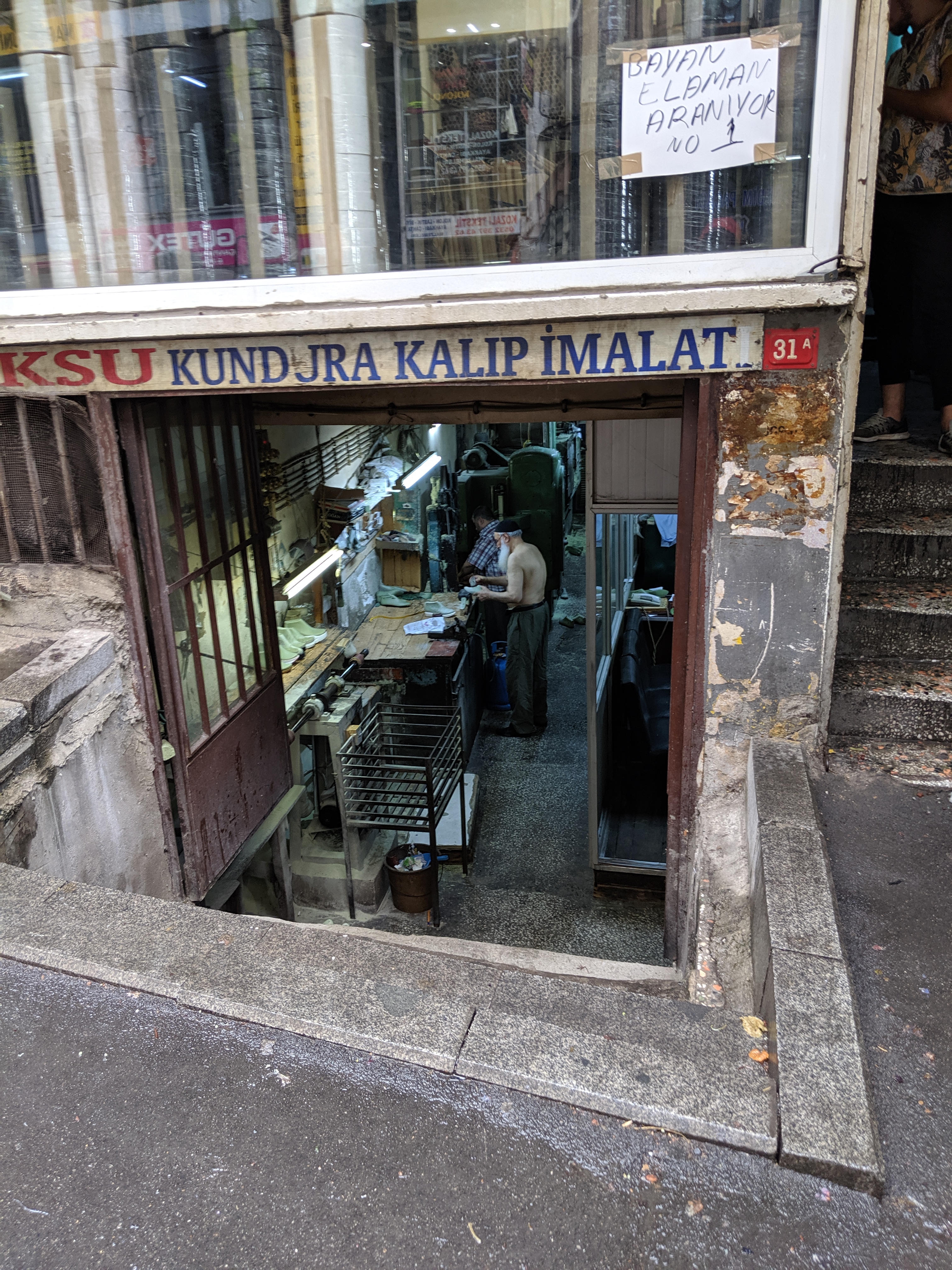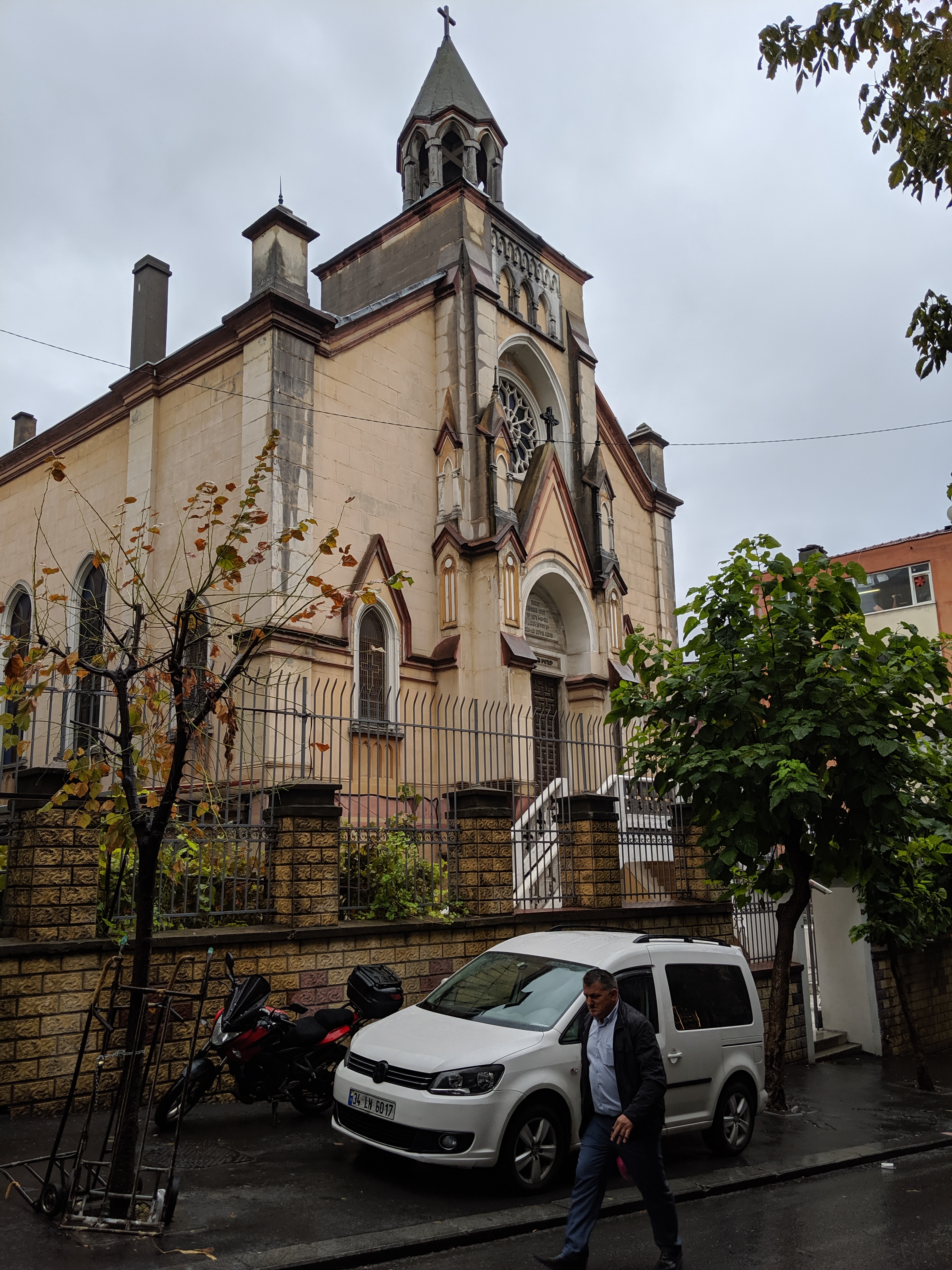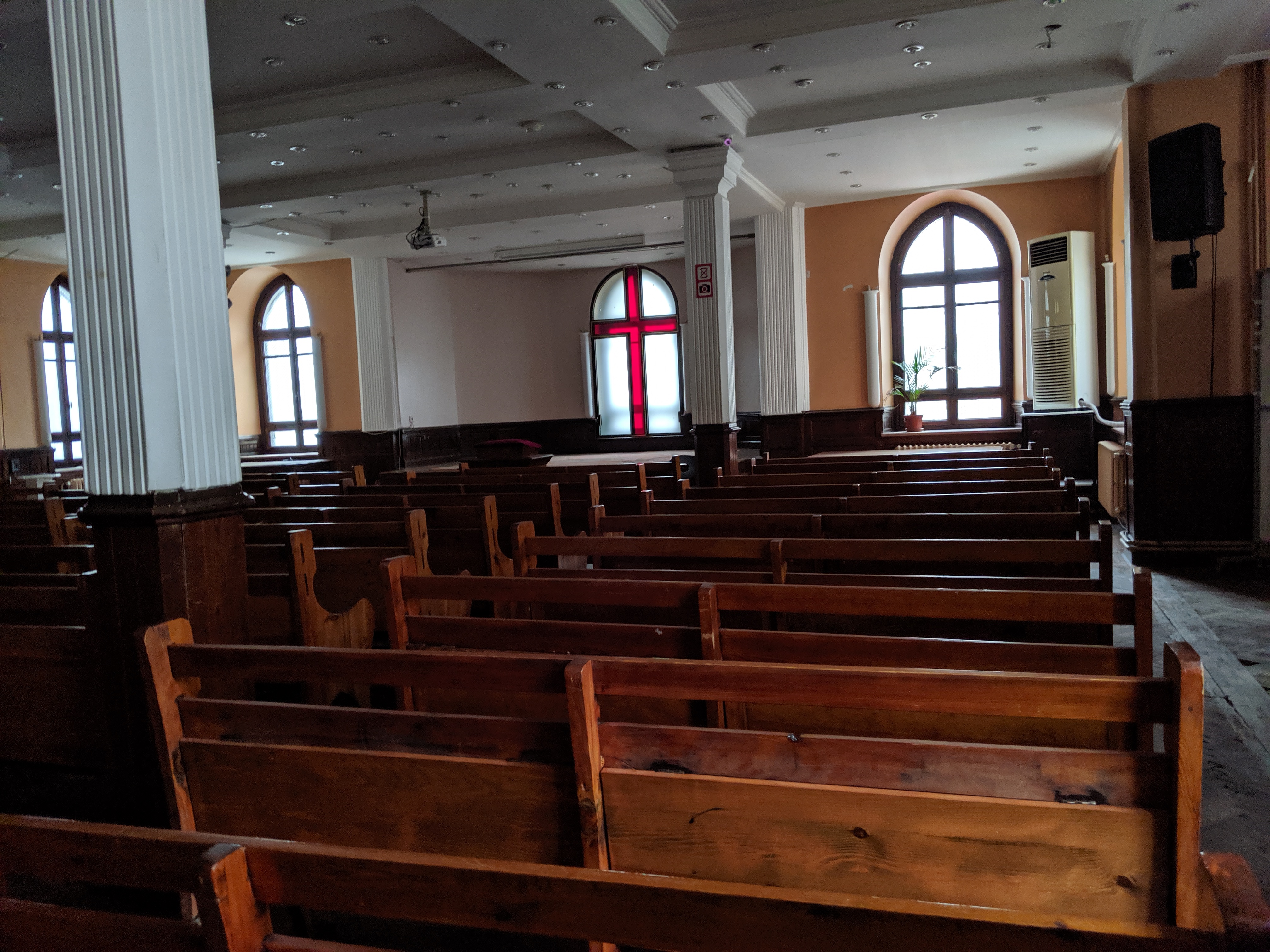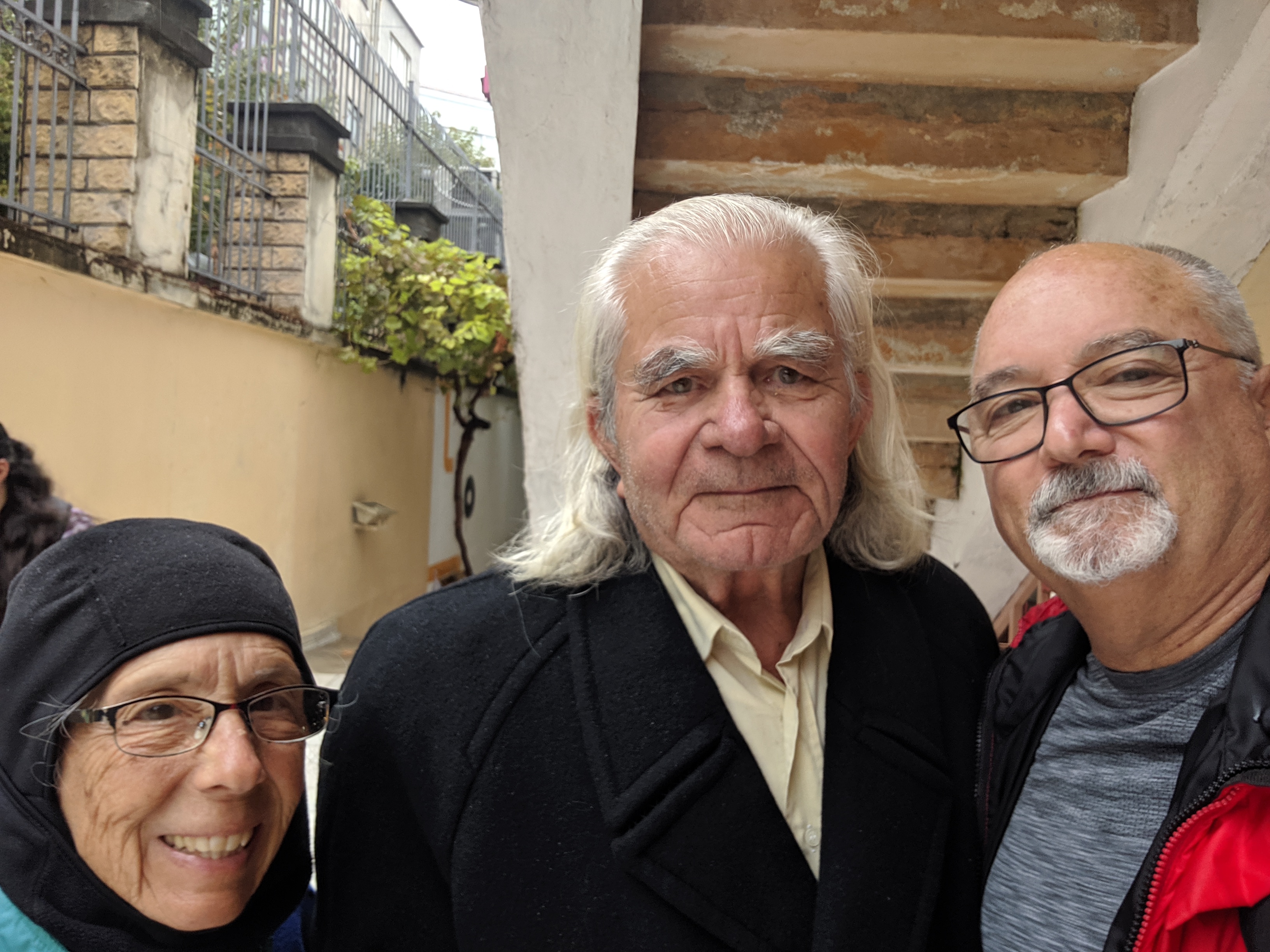 Blaise travels Madison to Istanbul
Blaise left Madison mid-afternoon Wisconsin time, traveling to Istanbul to meet Nancy and Jim. This involved a short flight Madison → Chicago, an ~11 hour flight Chicago → Istanbul, and a hour long bus ride to get downtown. The most remarkable experience was the Turkish Airlines flight, which involved an unprecedented level of hospitality. Every passenger was given two excellent meals, blanket, pillow, eye masks, slippers, headphones, and seemingly countless other little amenities. It's easy to see how Turkish Airlines got its reputation.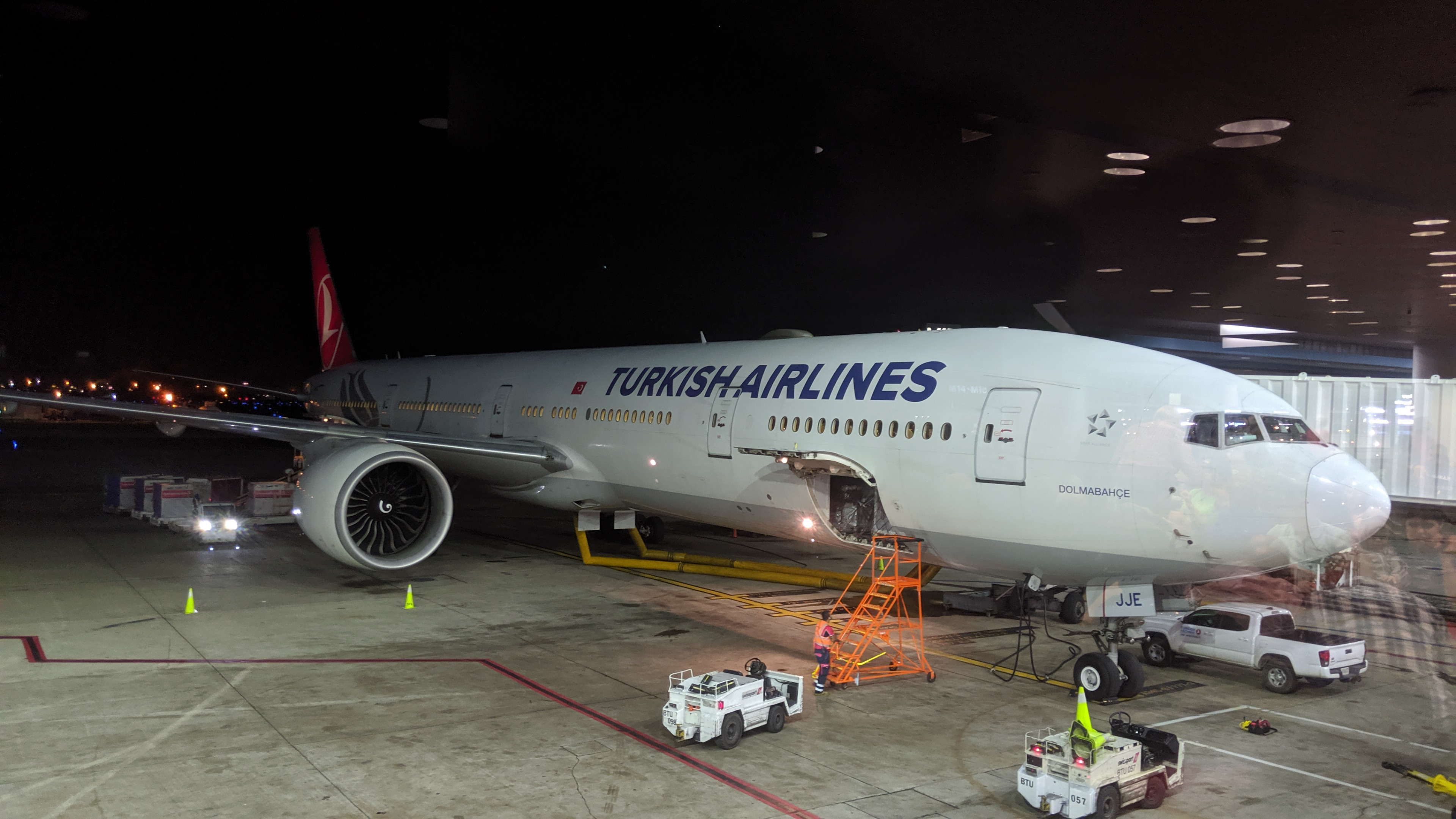 Turkish Airlines airplane that took Blaise from Chicago to Istanbul.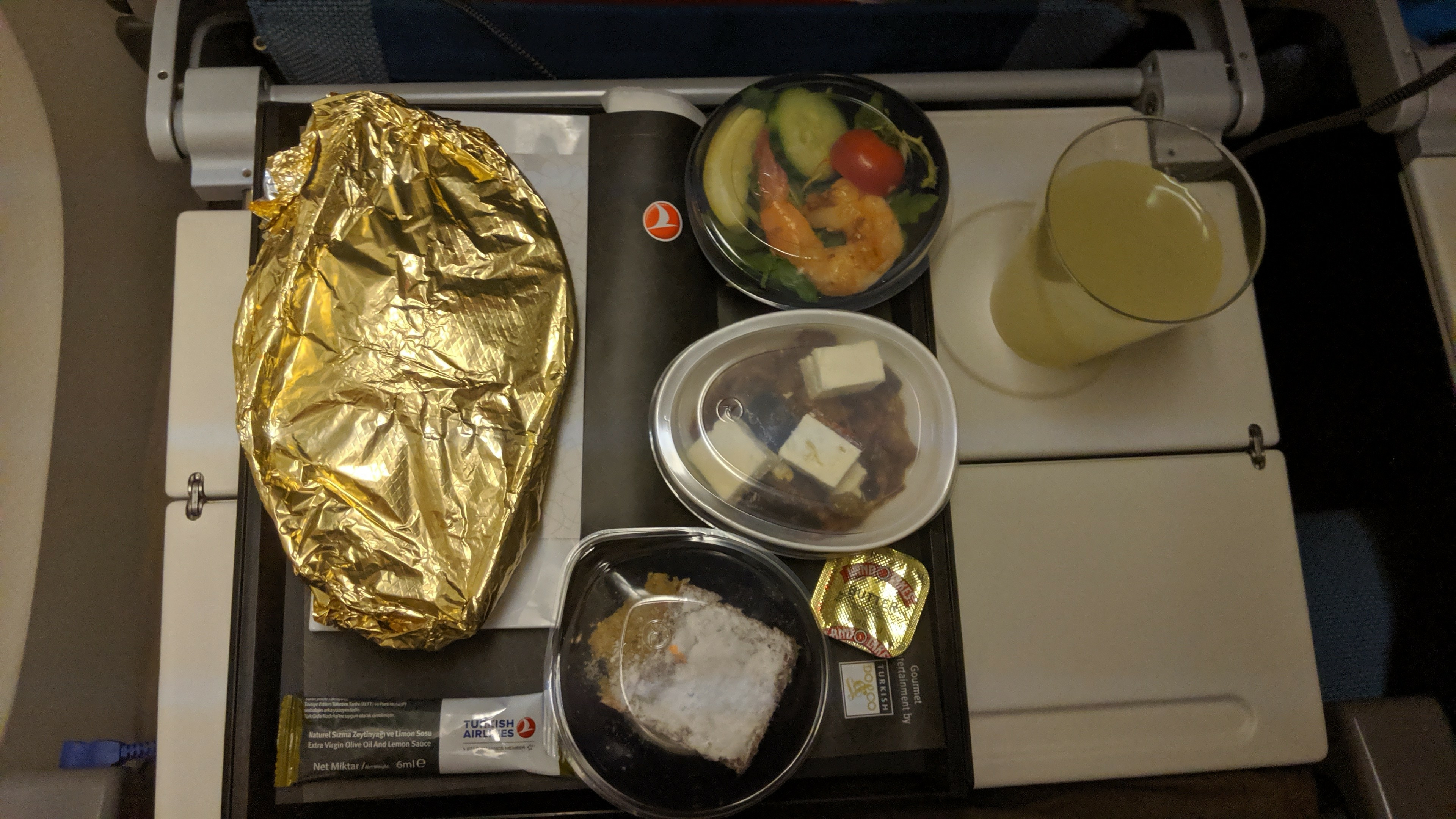 Dinner served to Blaise by Turkish Airlines:
chicken breast, penne, zucchini, eggplant
fried eggplant and green pepper, tomato, white cheese
salad with prawn
lemonade with fresh mint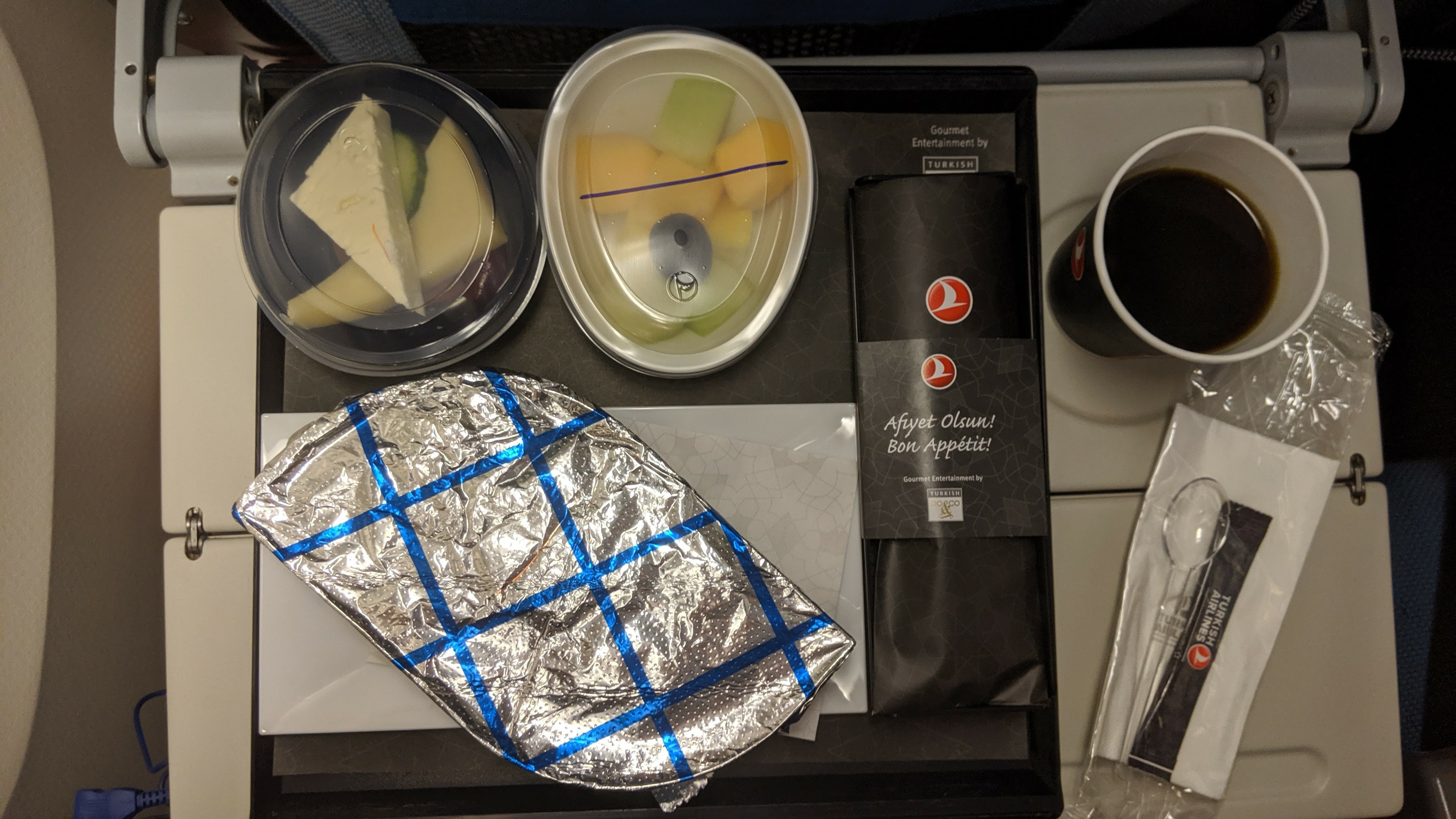 Breakfast served to Blaise by Turkish Airlines:
fresh fruit salad
assorted cheese
salad with prawn
scrambled egg with cheese, mushrooms, potatoes, grilled tomato
fresh bread, butter, jam
coffee
Arriving in Istanbul (early evening Istanbul time), Blaise was greeted by Nancy and Jim at the bus stop. Blaise was able to unpack before the three of them had a very nice meal at the restaurant across the street.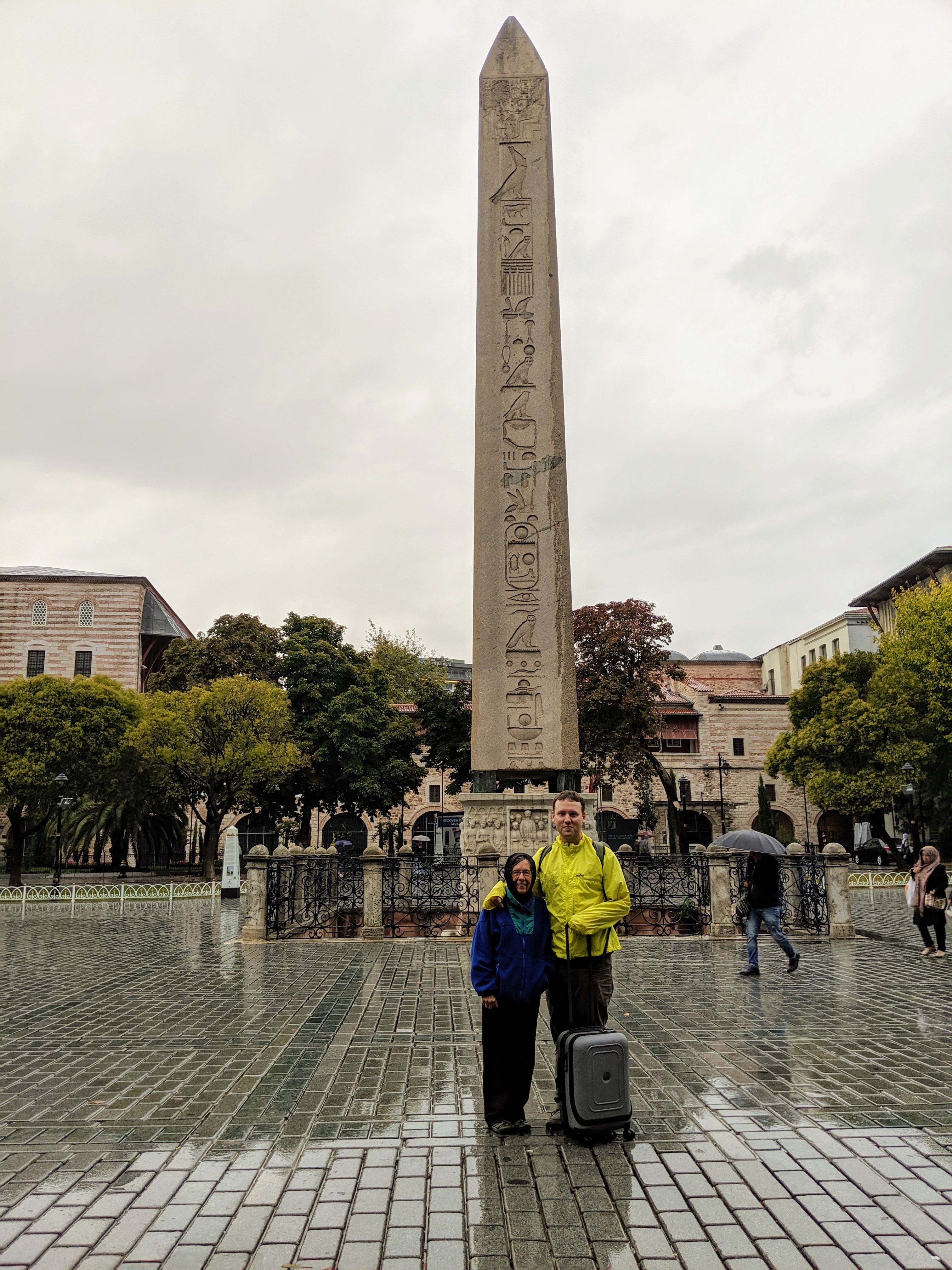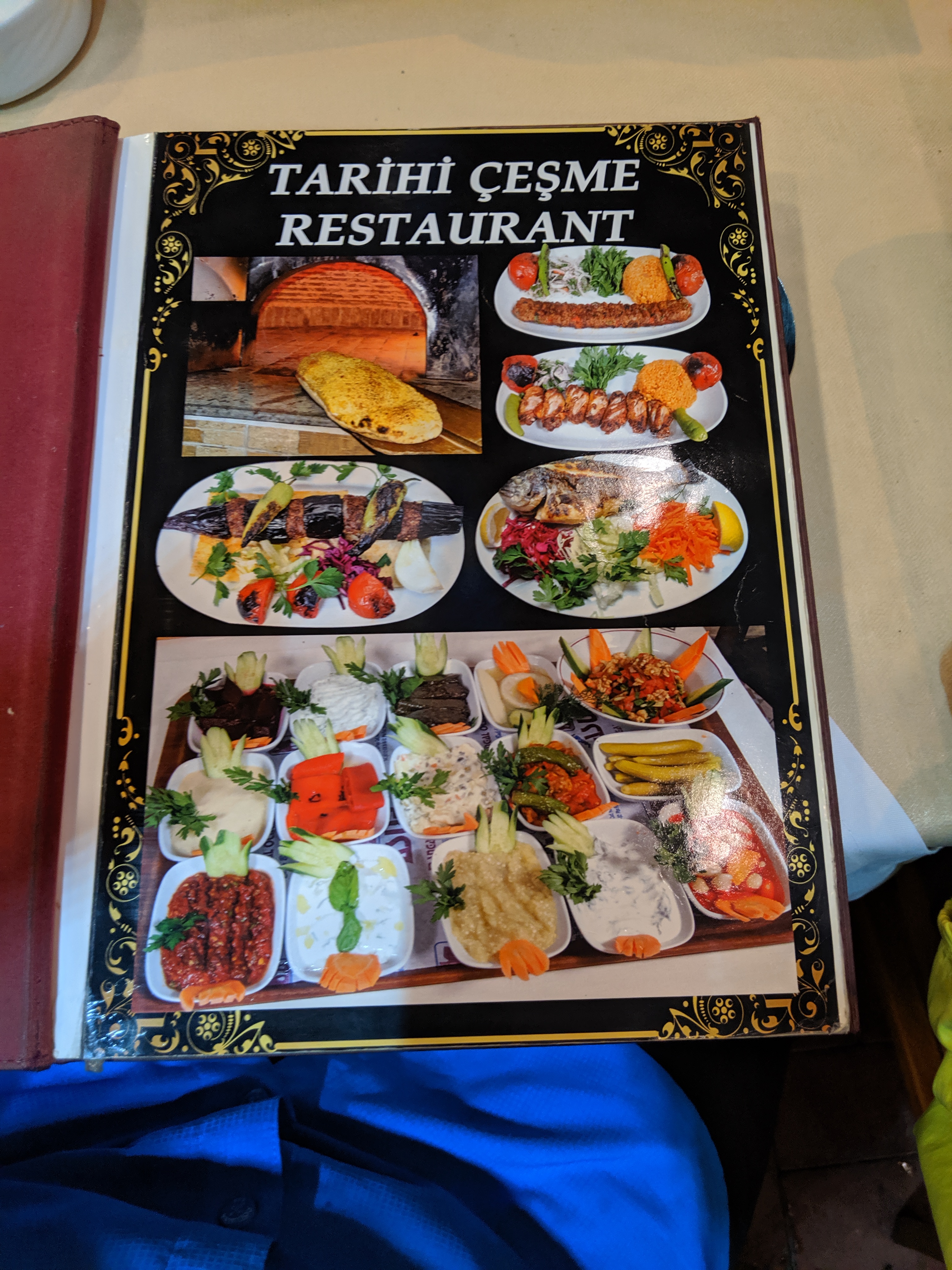 ---
Morning Walk
Nancy and Blaise started the morning with a walk along the Sea of Marmara, near the hotel. They saw divers with harpoons, fishermen, cats and dogs near the sea. After walking along the water for roughly 30 minutes, they turned around and returned to the hotel through the city. This included passing through the seafood restaurant area, several blocks worth of just seafood restaurants.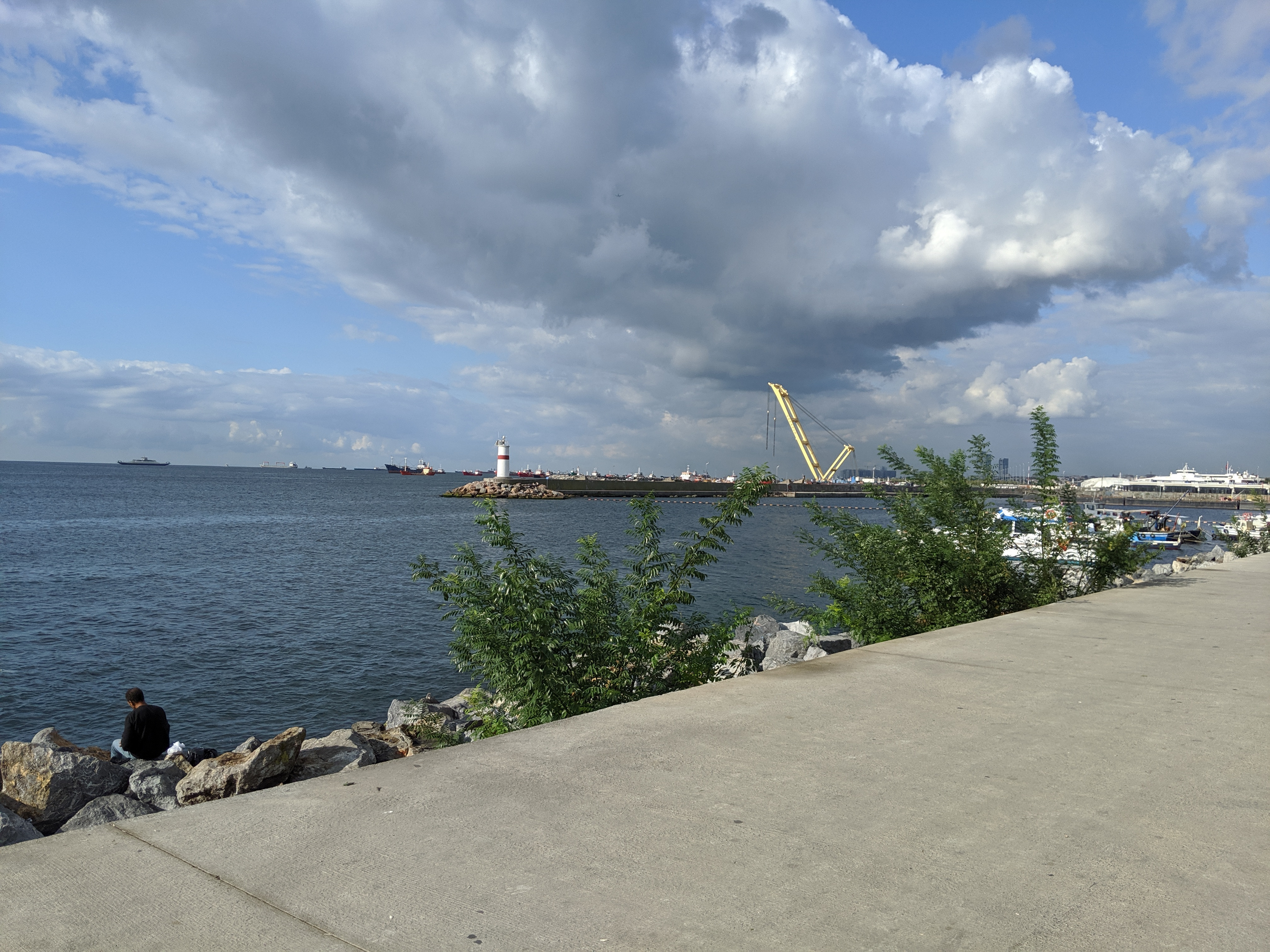 View of the Marmara sea.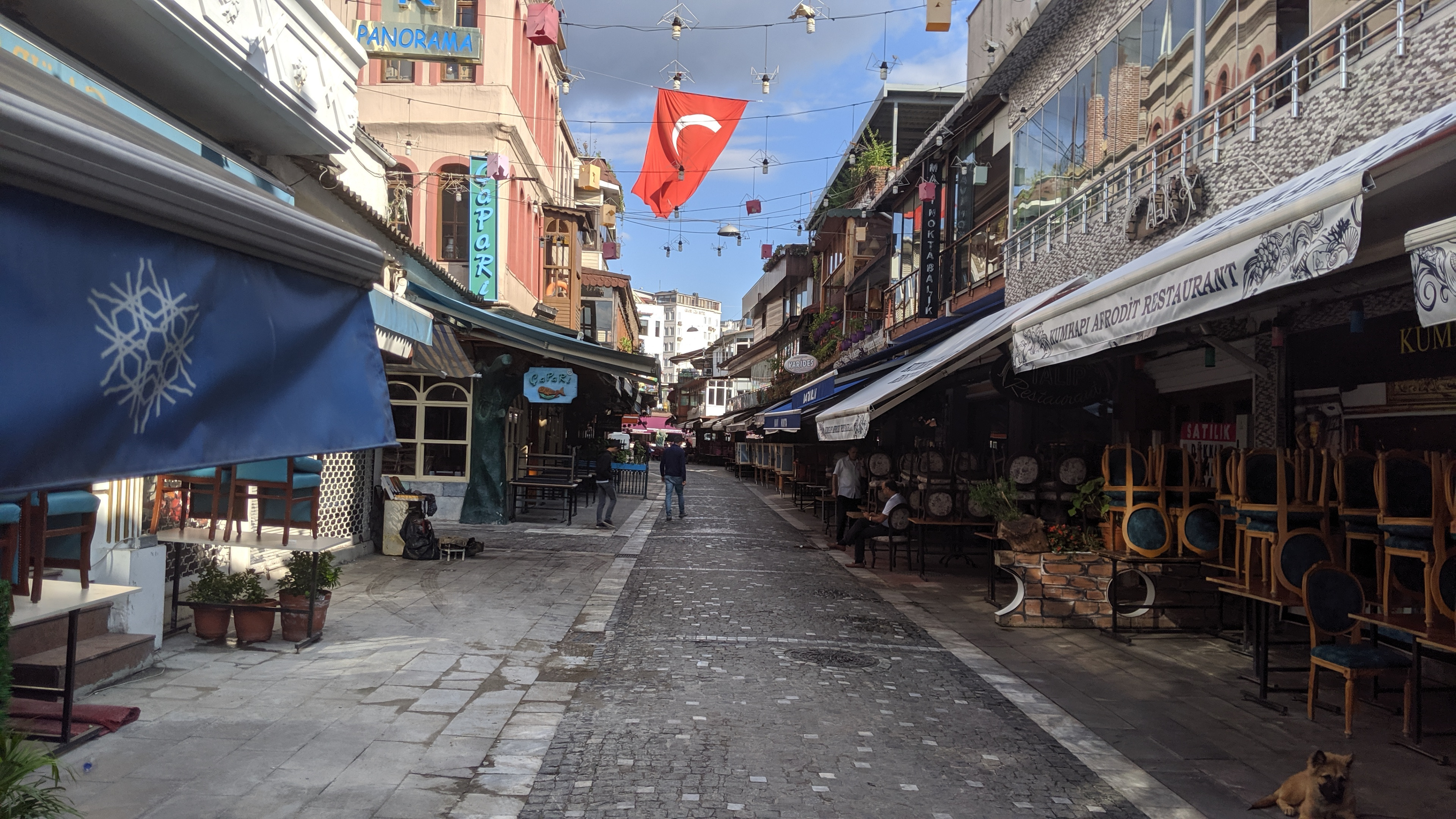 Seafood restaurant district. Early in the morning, so most restaurants are closed.

Hagia Sophia
At 10:30 Nancy, Jim, and Blaise went on a guided tour of Hagia Sophia. On the way, they explored the Hippodrome and saw the Alman Çeşmesi.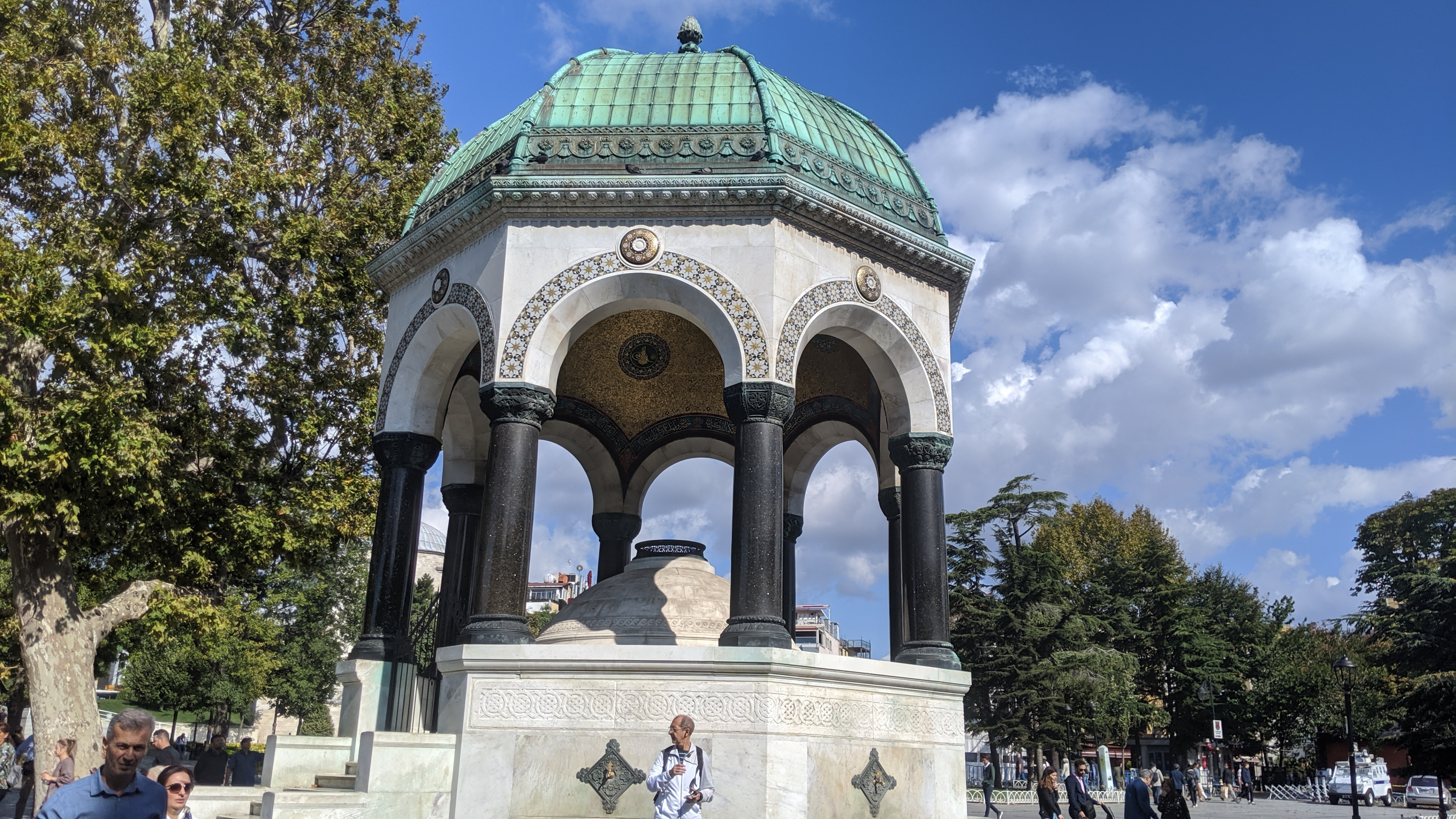 Alman Çeşmesi, exterior.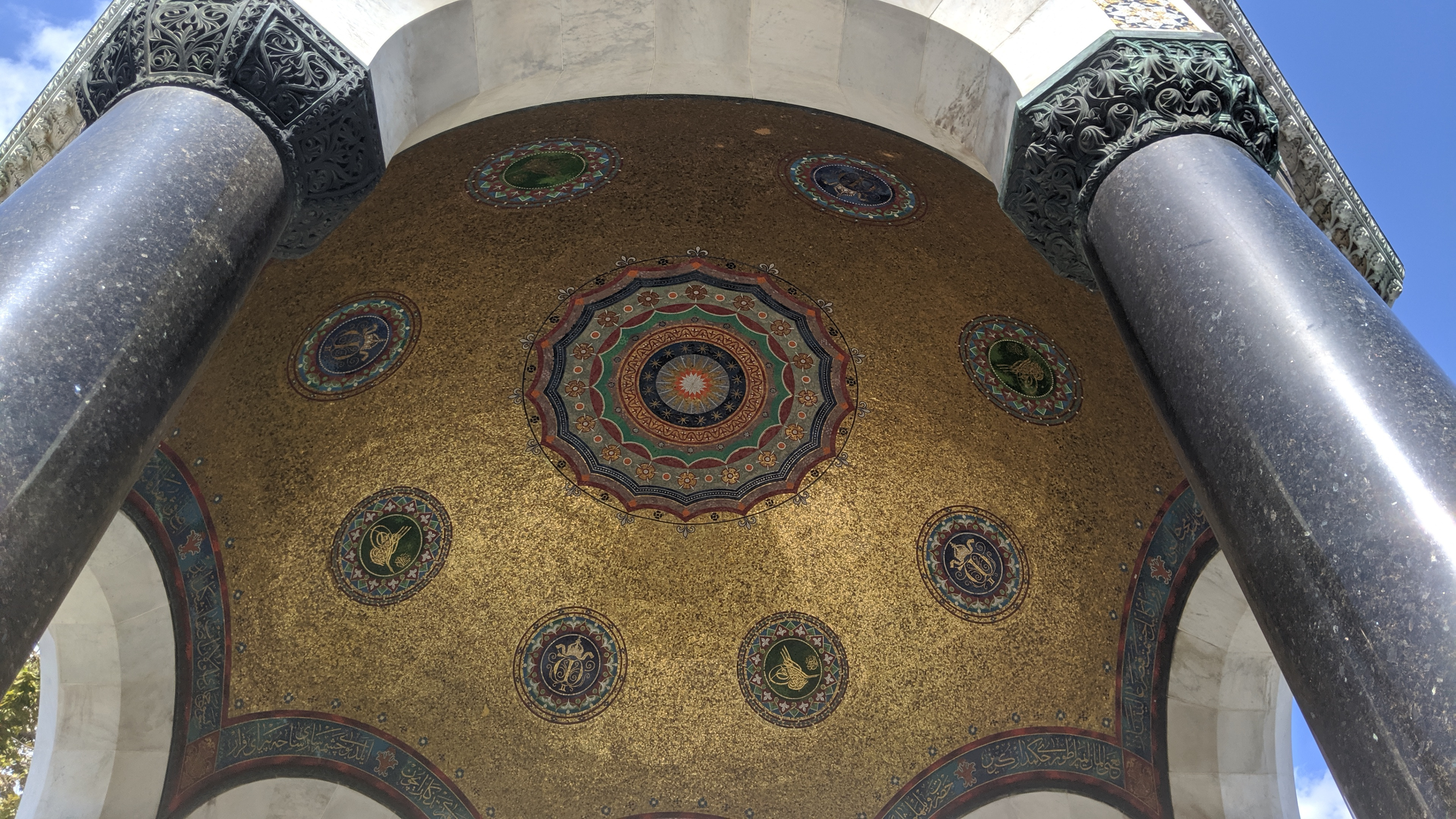 Alman Çeşmesi, interior.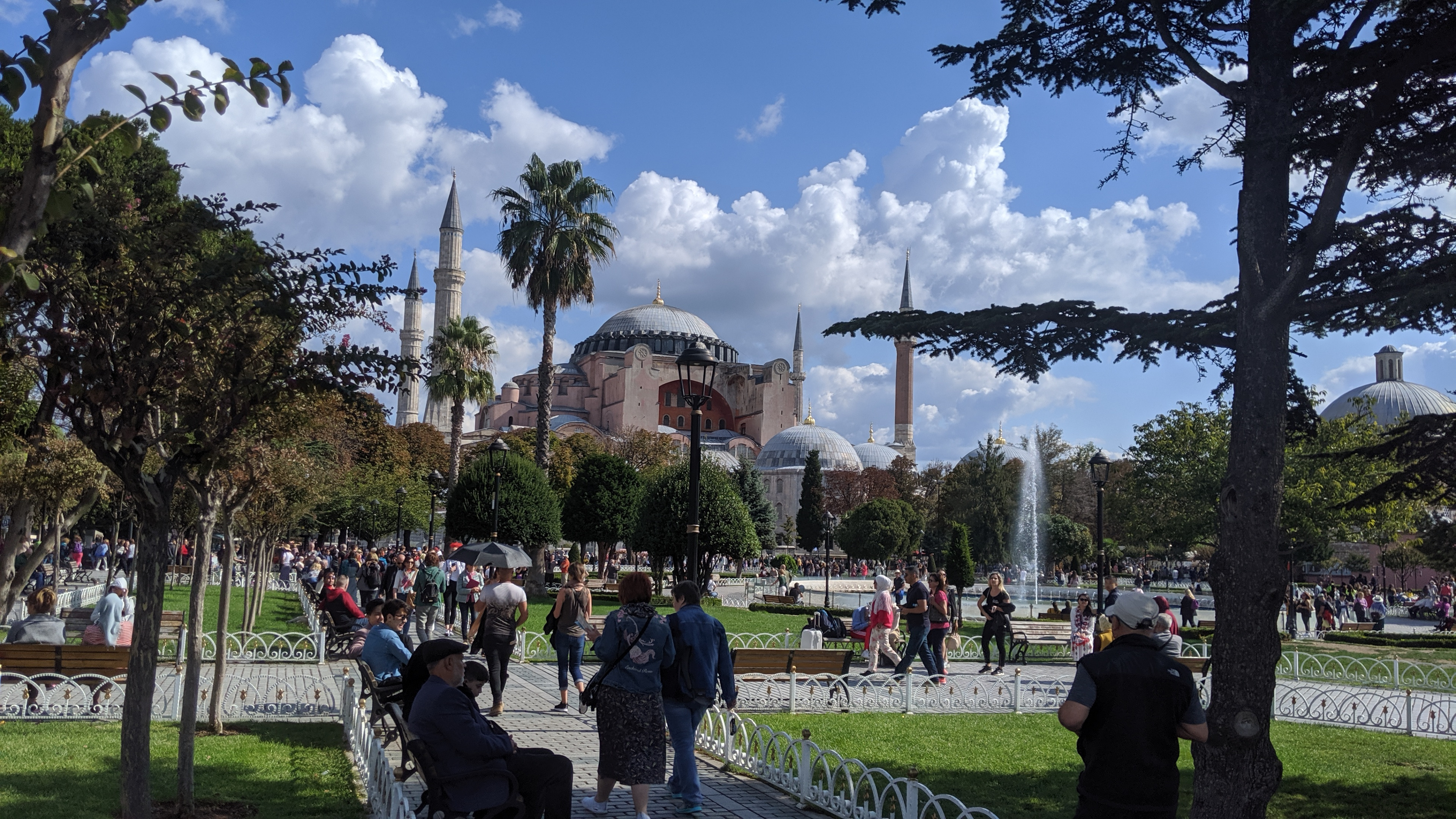 Hagia Sophia as seen from the Hippodrome.



Their guide was from Bulgaria, with a mother born in Erzincan. There was a long line to enter into Hagia Sophia, but once inside it wasn't too crowded. The entire building is under constant restoration, exterior and interior.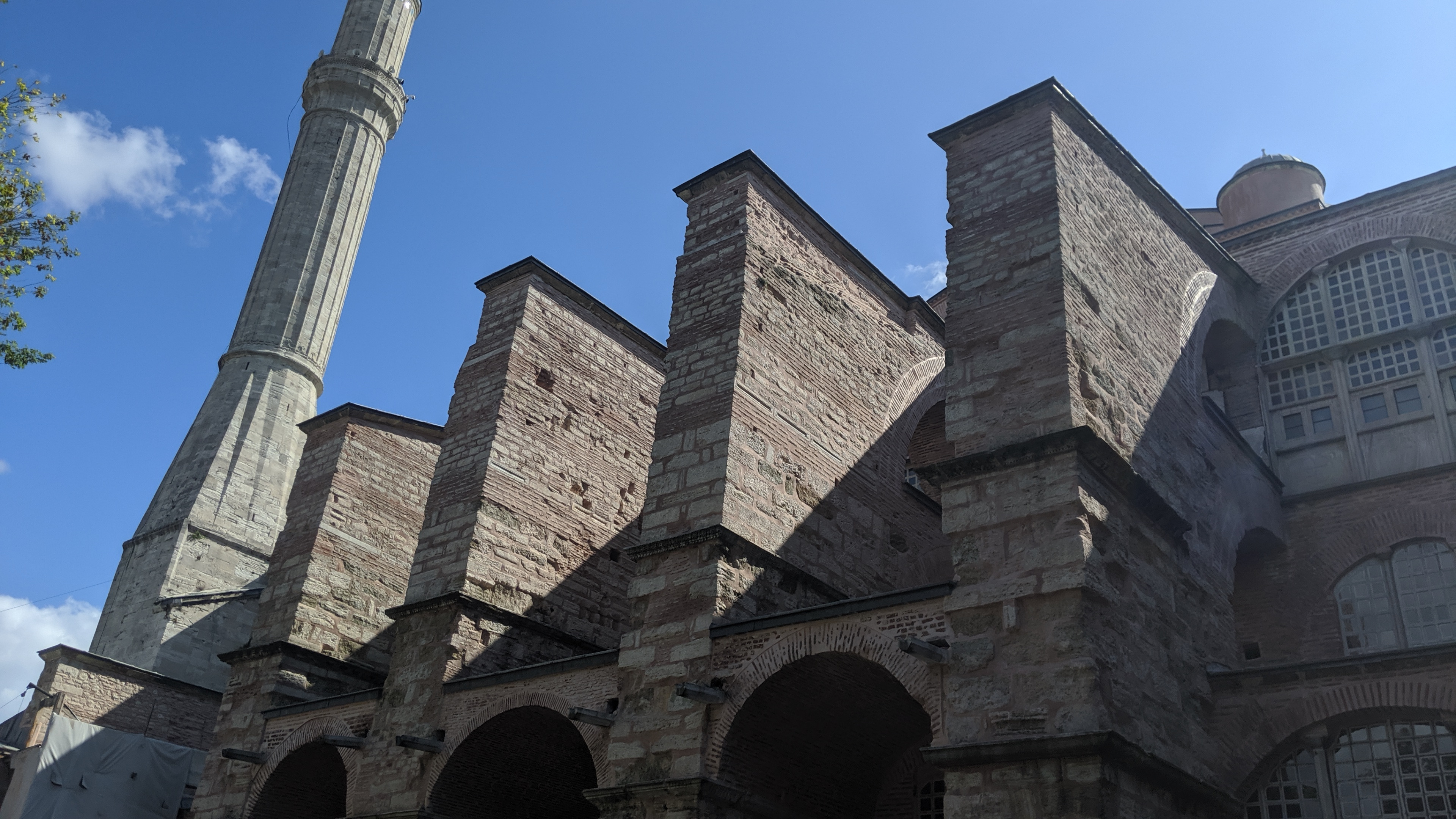 Hagia Sophpia exterior, detail.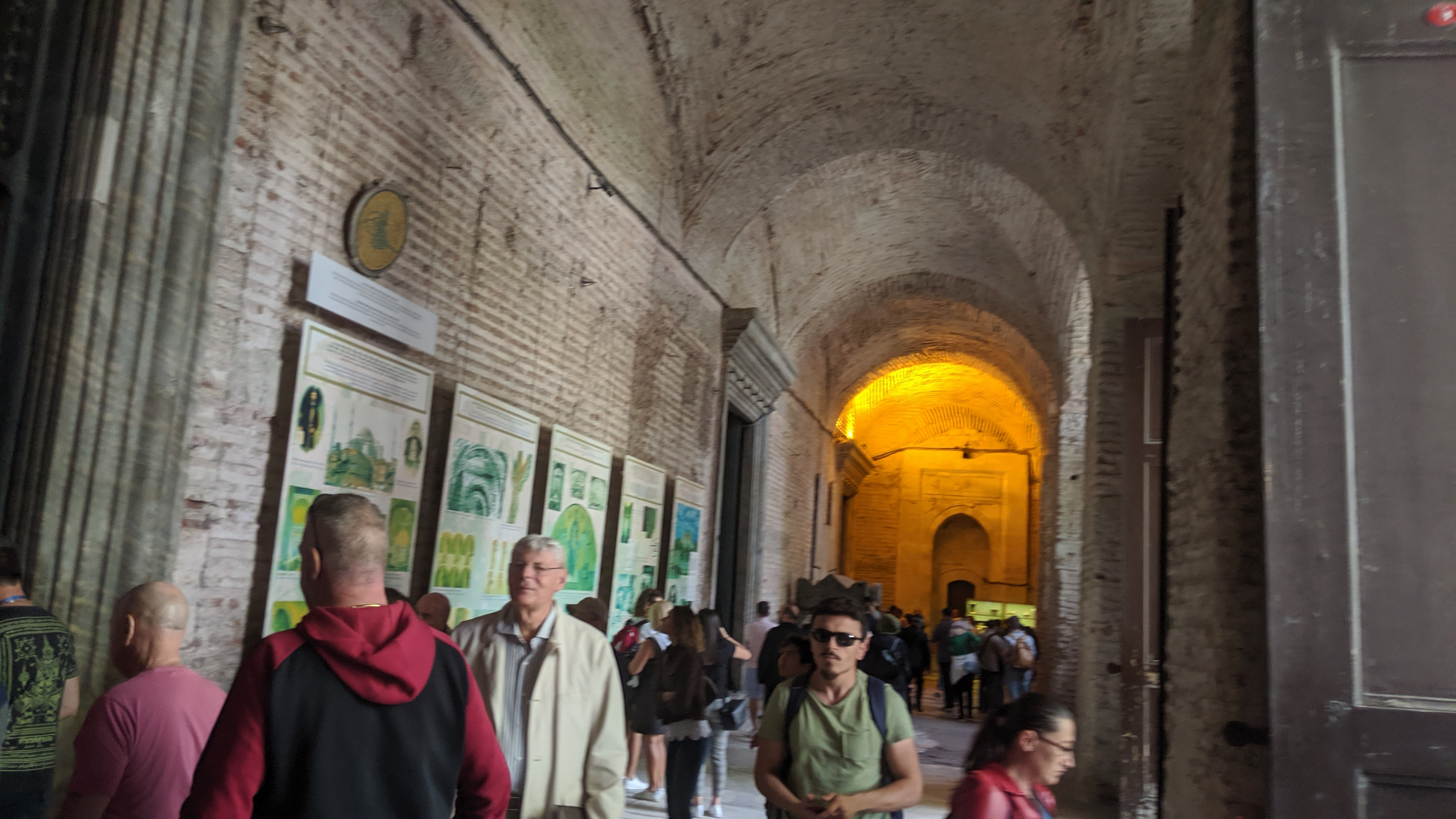 Outer corridor.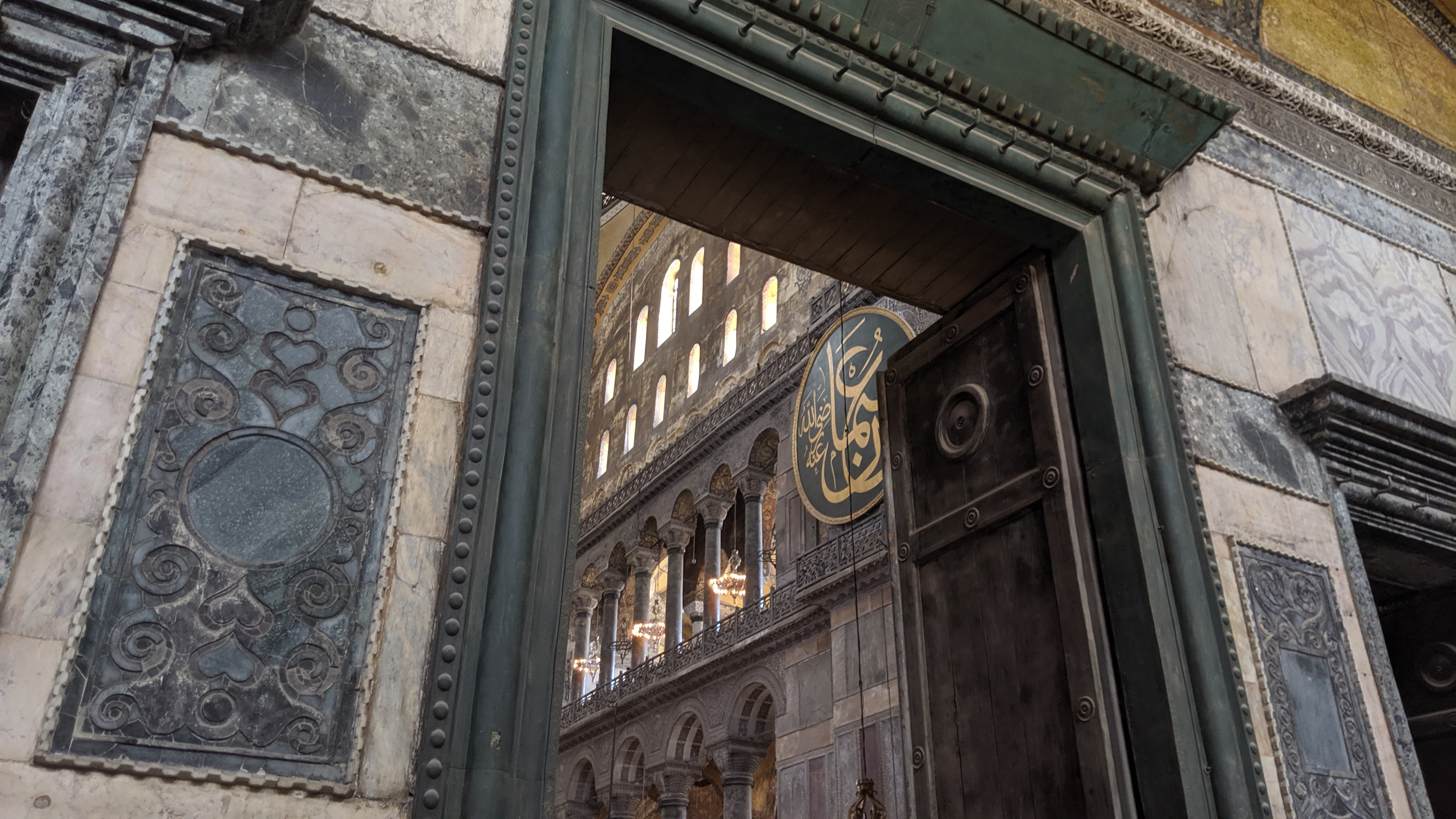 View of inner corridor, detail of main door only to be used by emperors.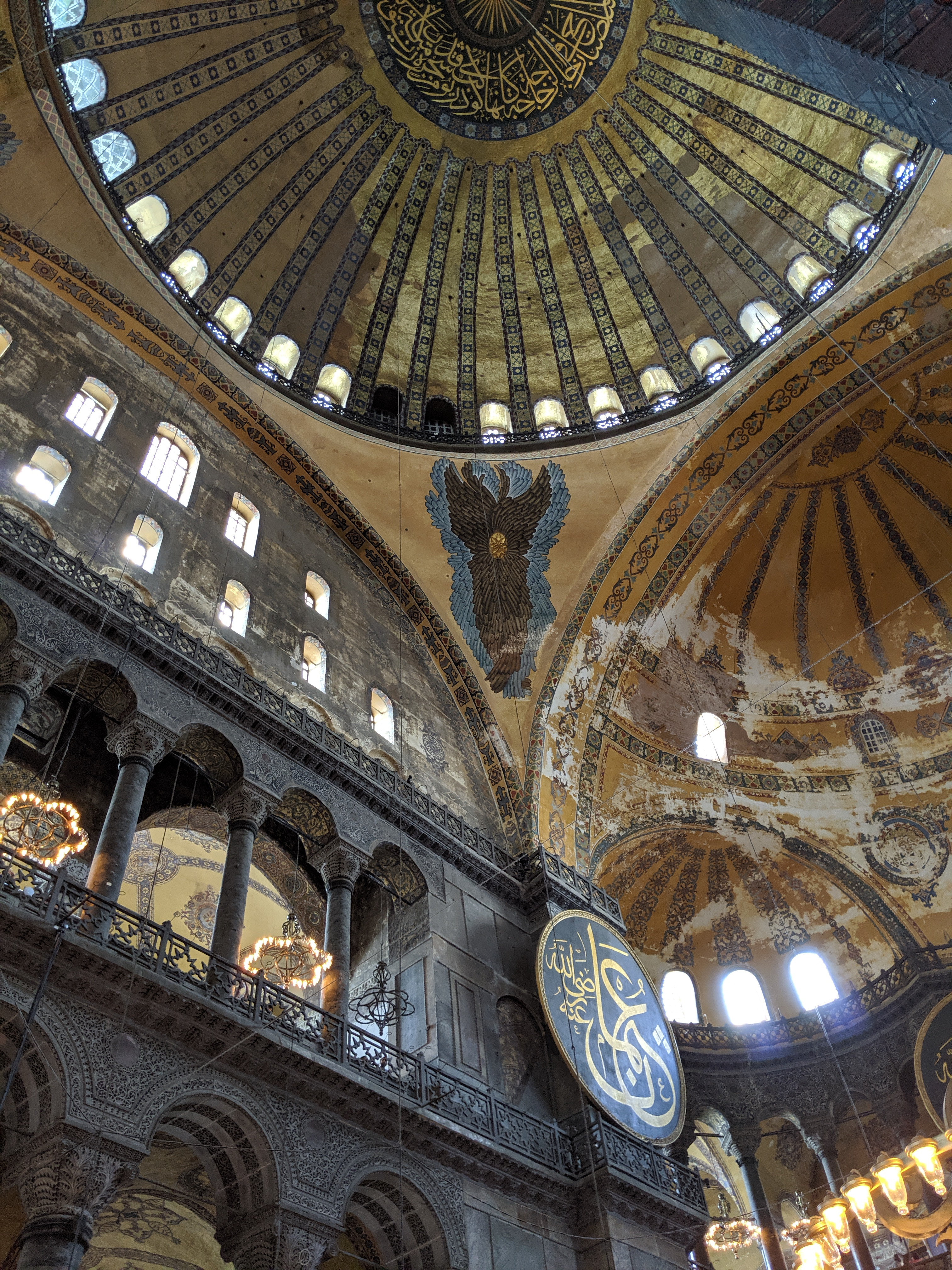 Internal sanctuary of Hagia Sophia. The top dome has 40 windows. One of the triangular pendentives can be seen, a large architectural innovation to support heavy domes. Much is under restoration.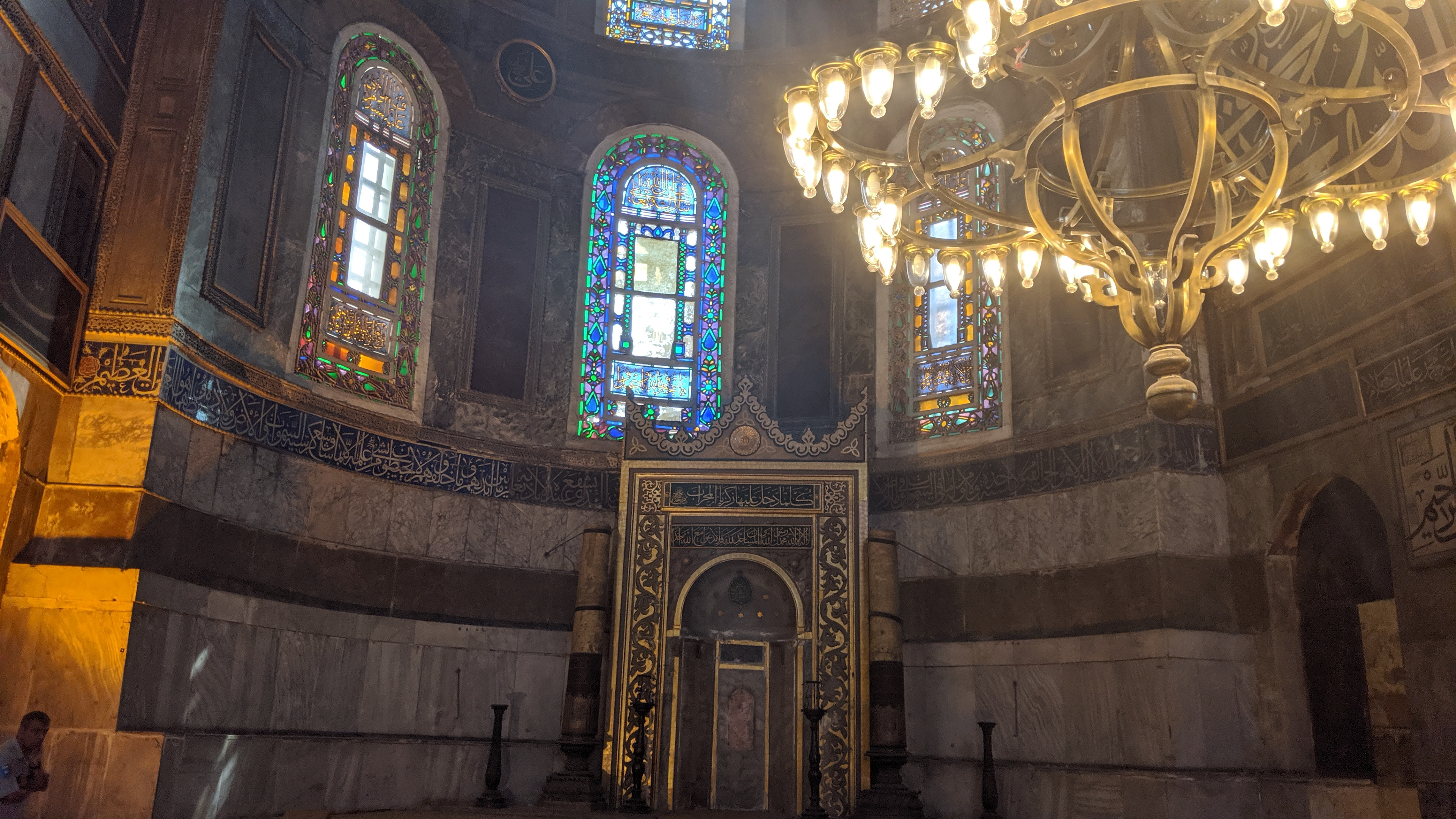 Interior shot of Hagia Sophia, featuring stained glass windows. The door-like structure is oriented towards Mecca for Muslim prayer. The lamps were placed low to the ground so that they could be lit as candles.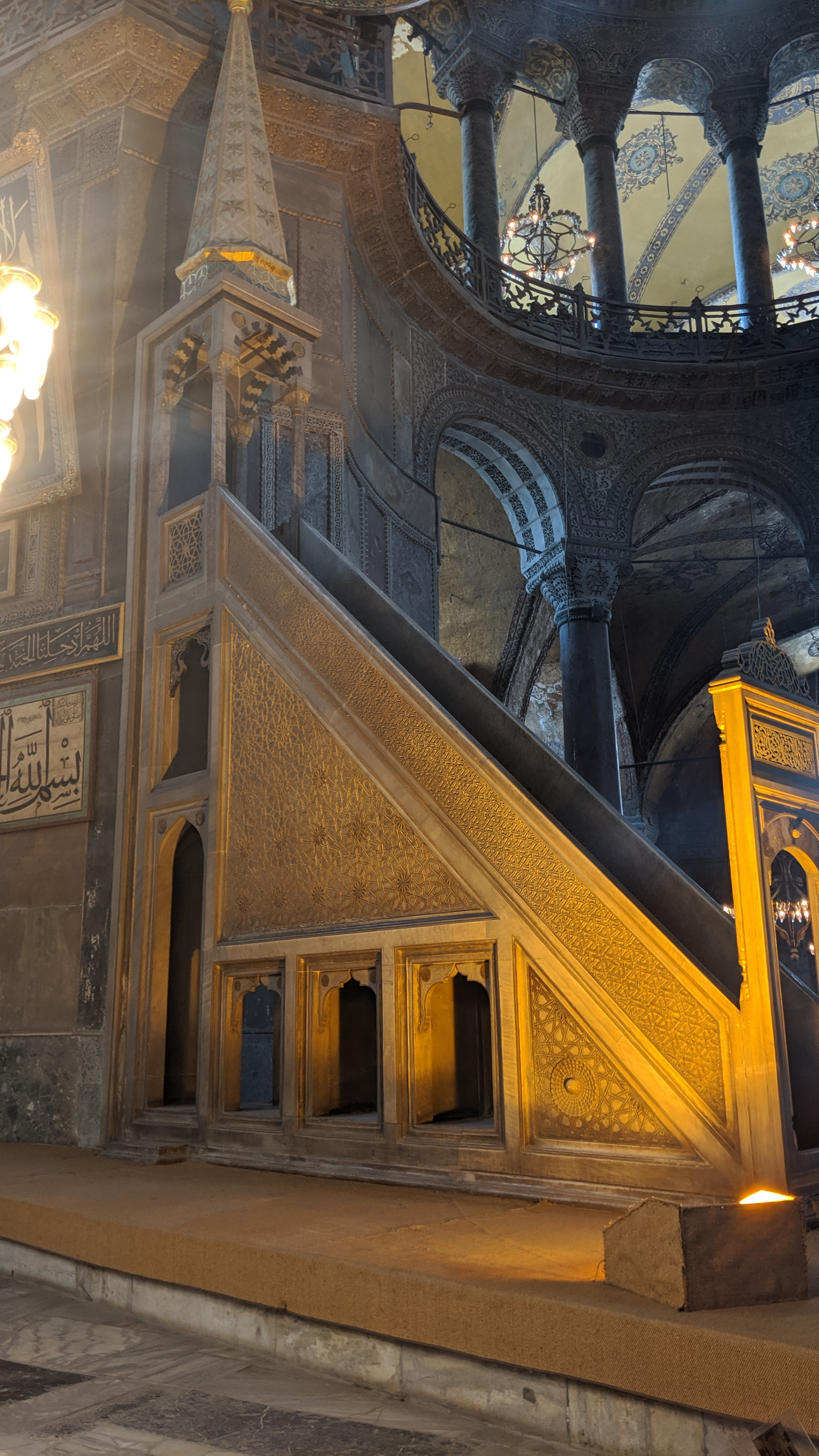 Special stairway used by Muslim imans for delivering messages to congregation.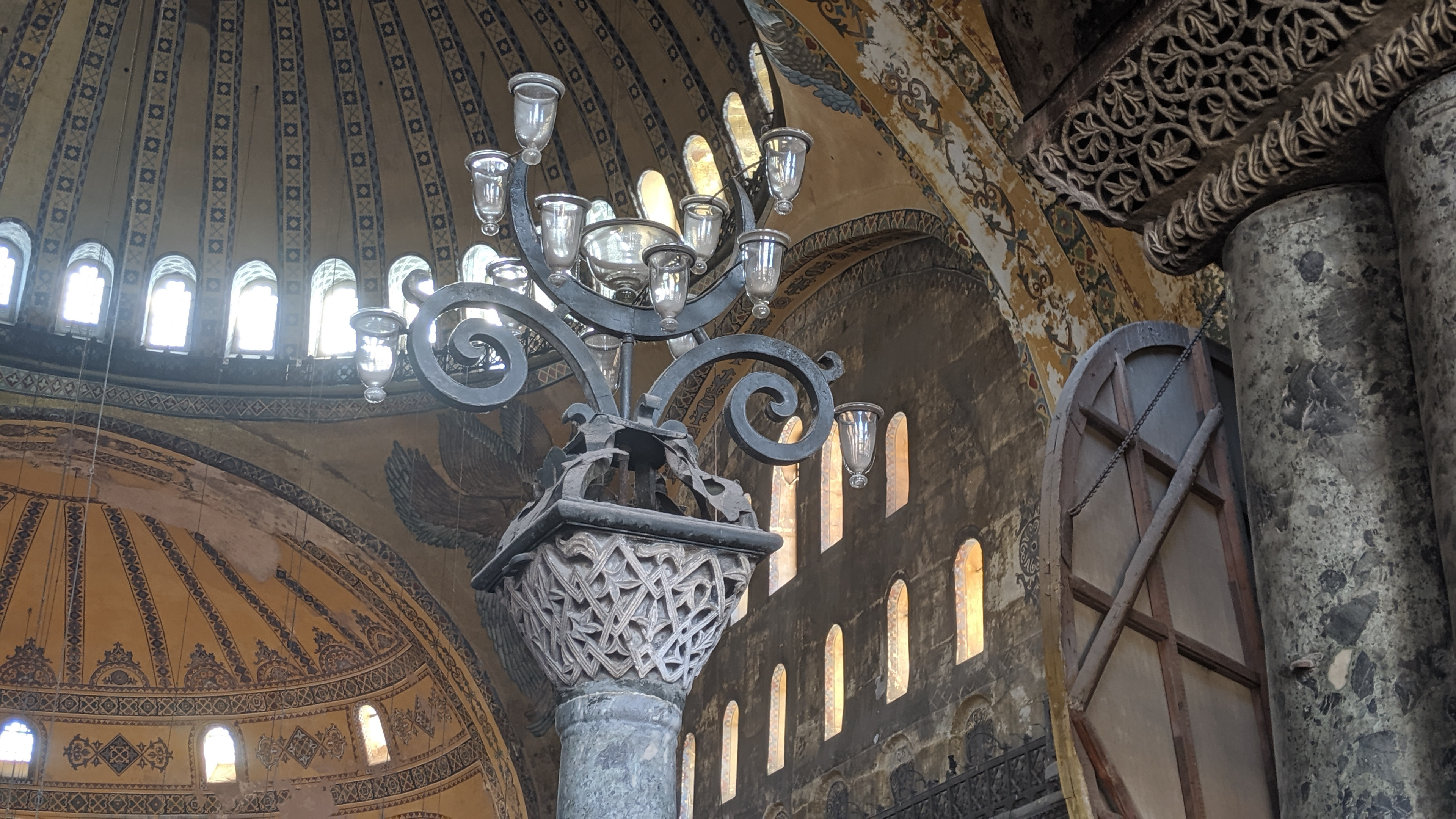 Interior of Hagia Sophia, featuring column detail and special lamp.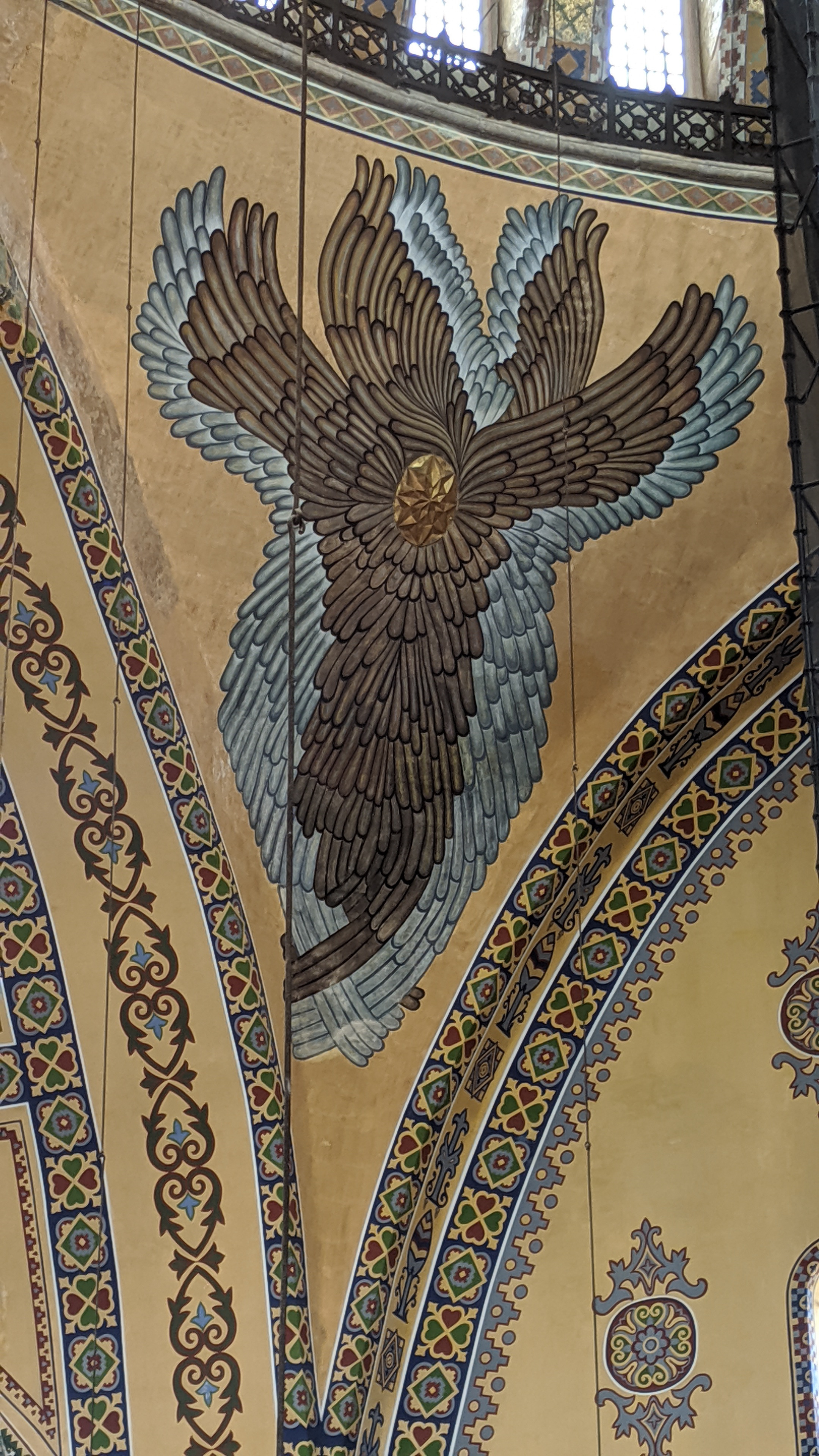 Interior of Hagia Sophia, focusing on angel artwork. Muslims believe that all faces must be covered in worship areas. The face of this angel was covered when Hagia Sophia became a mosque.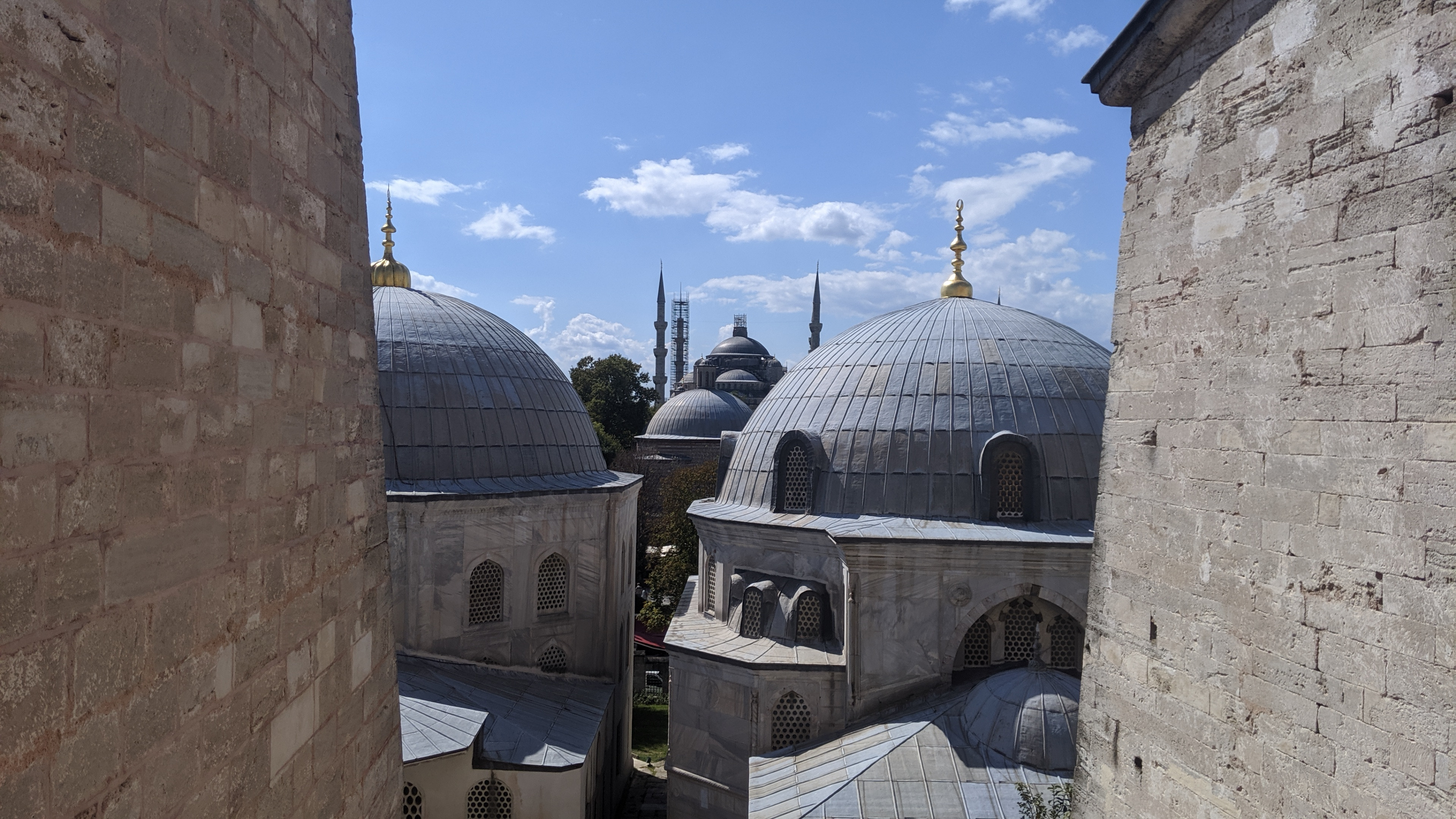 Looking out from Hagia Sophia. In the distance, the minarets of the blue mosque can be seen.


Bazaars of Istanbul
After Hagia Sophia Nancy, Jim, and Blaise toured the streets of Istanbul including several bazaars. First, they visited the Grand Bazzar.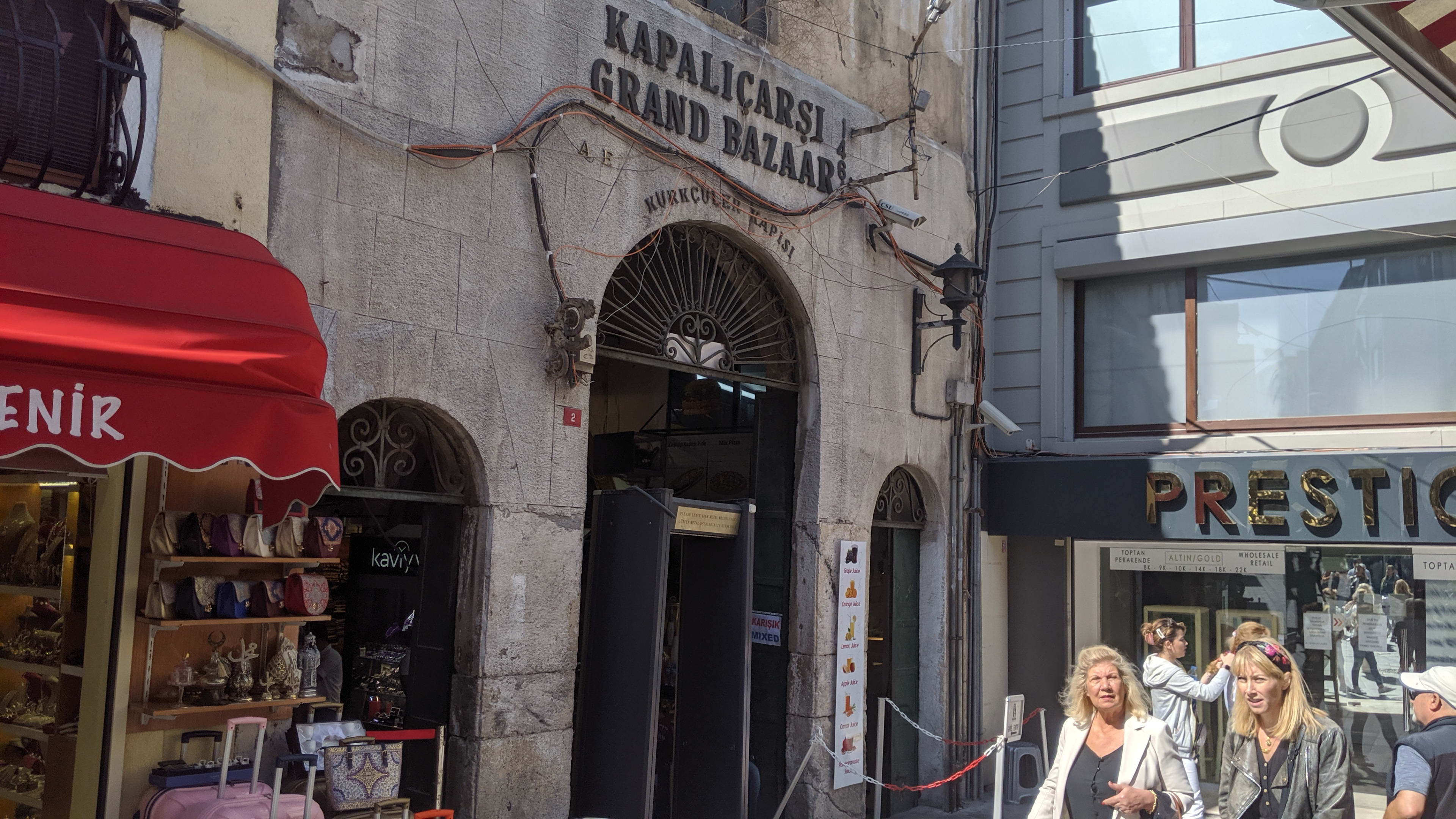 One of the entrances to Istanbul's Grand Bazaar.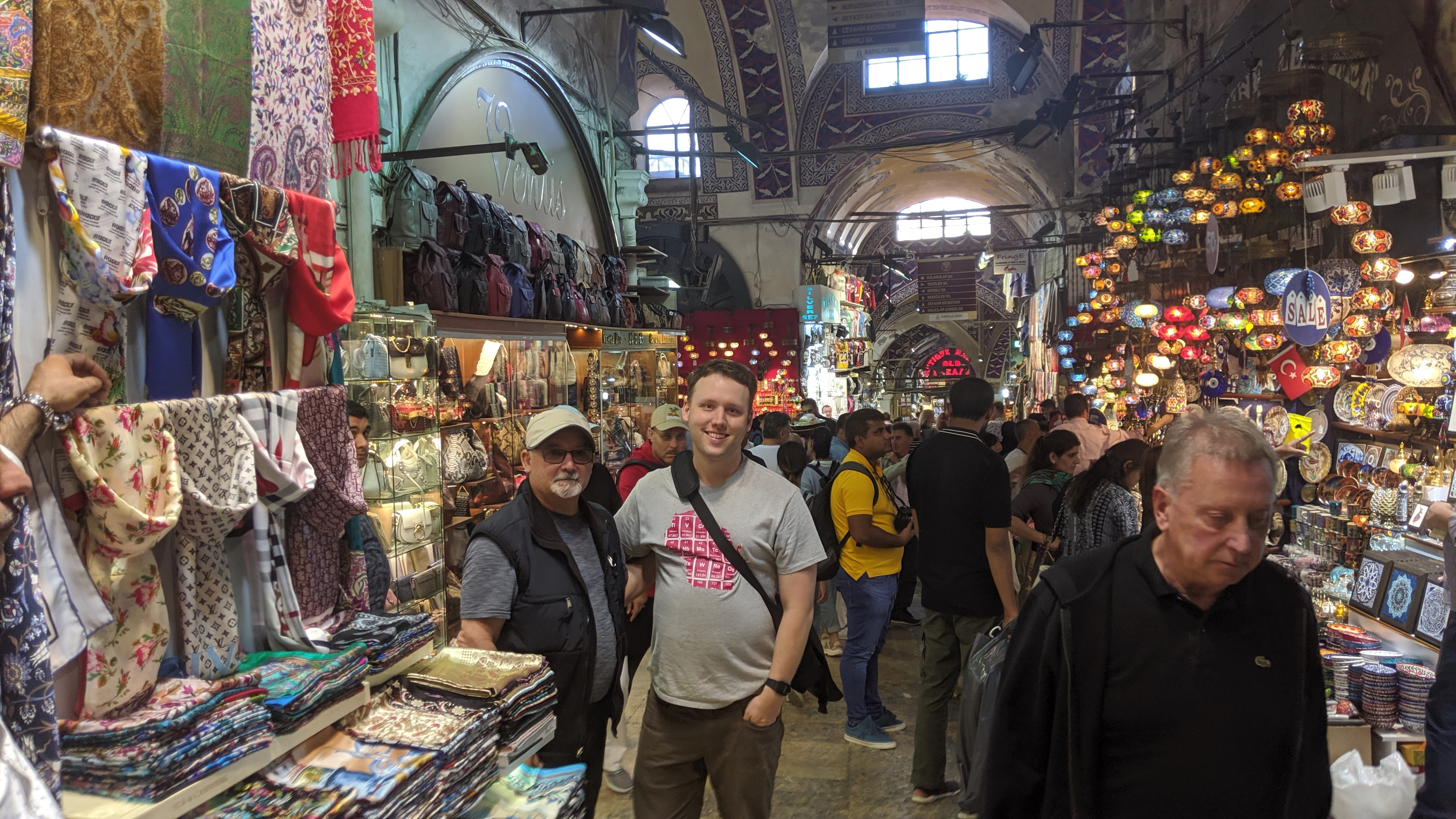 Jim and Blaise inside the Grand Bazaar.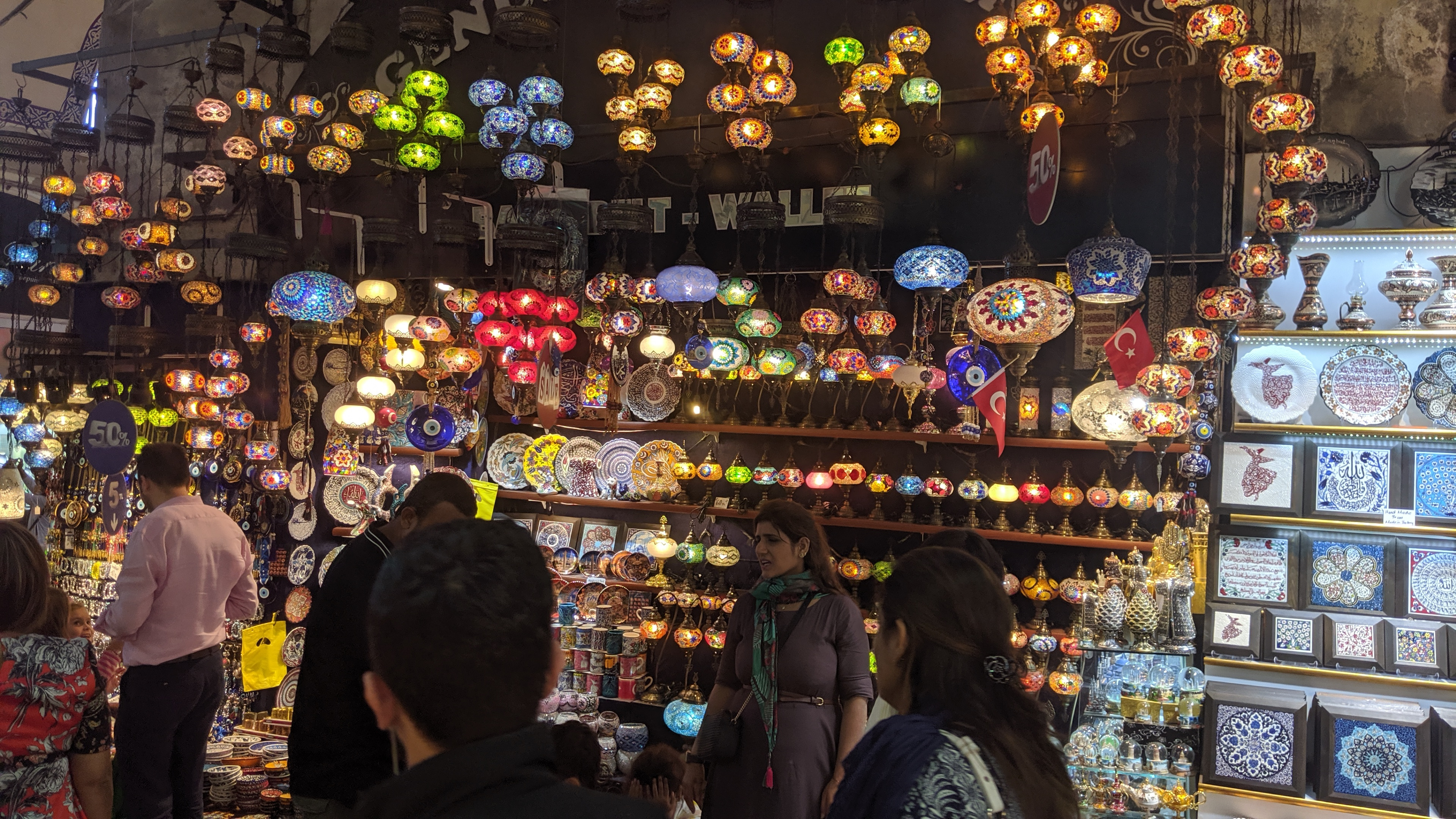 Lighting store inside the Grand Bazaar.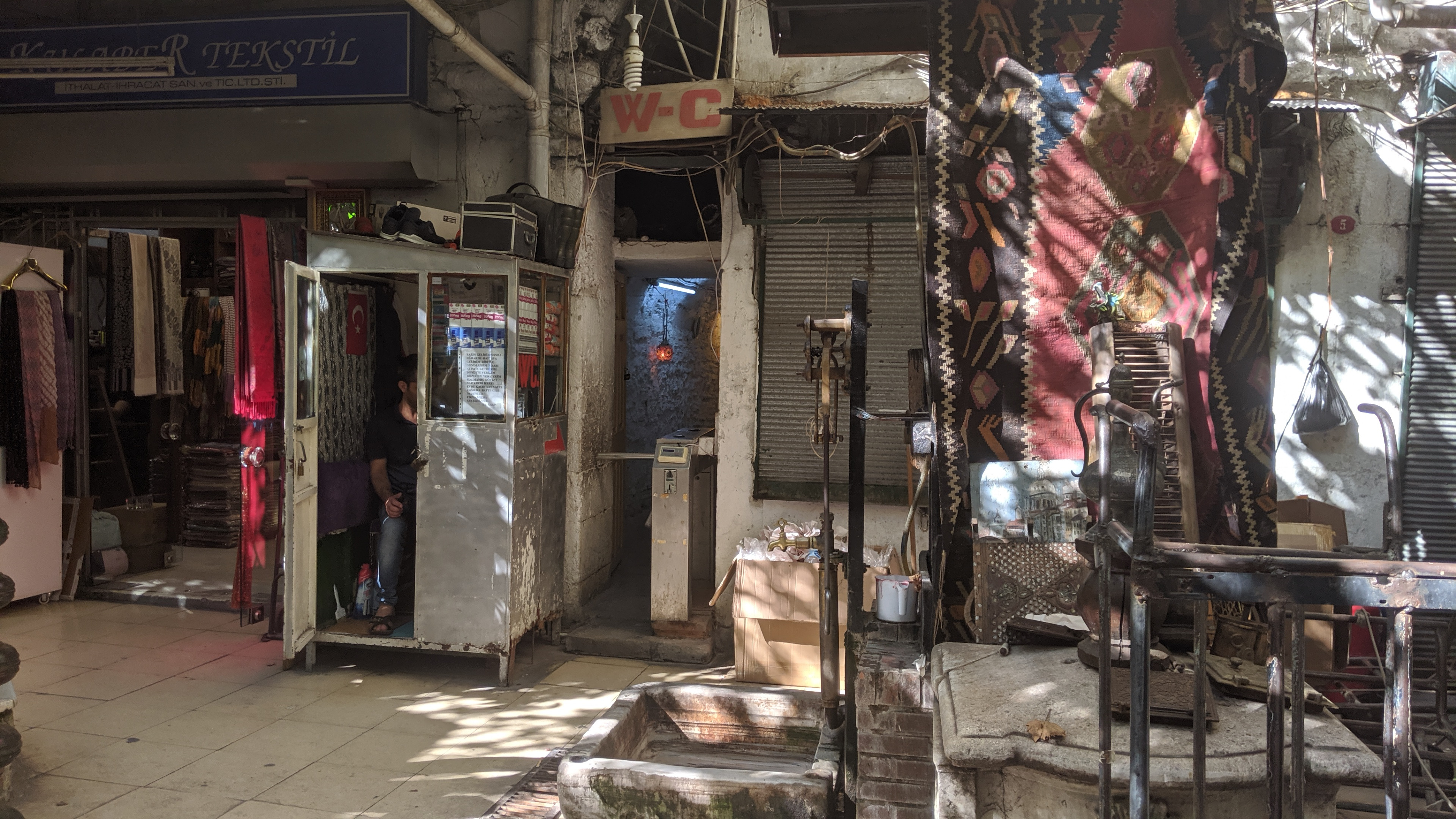 Water closet at the Grand Bazaar. All toilets were pay-to-enter. They were squat toilets.


Then the spice market, a smaller bazaar near Galata Bridge with a focus on spices and food.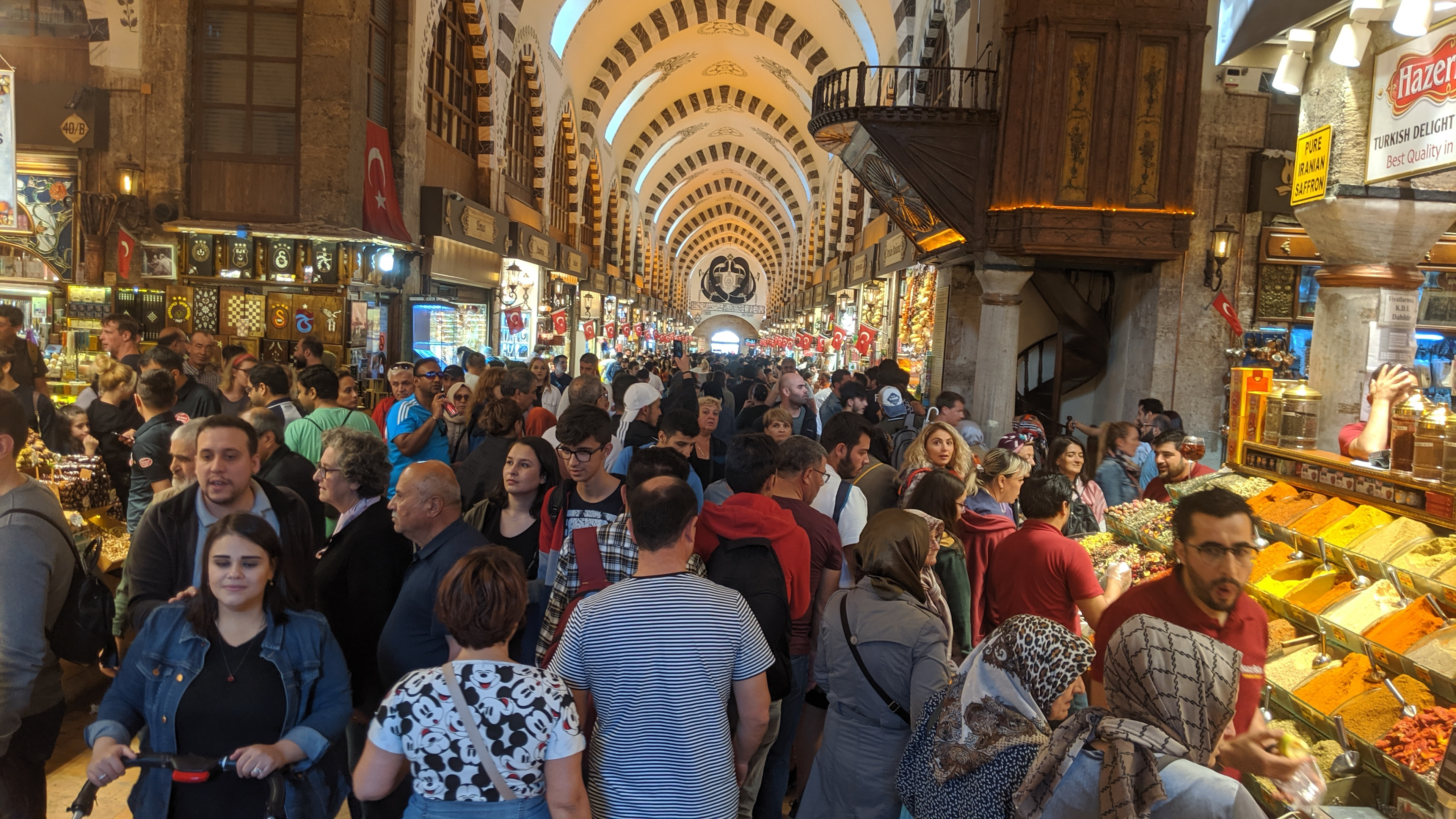 The Spice Market.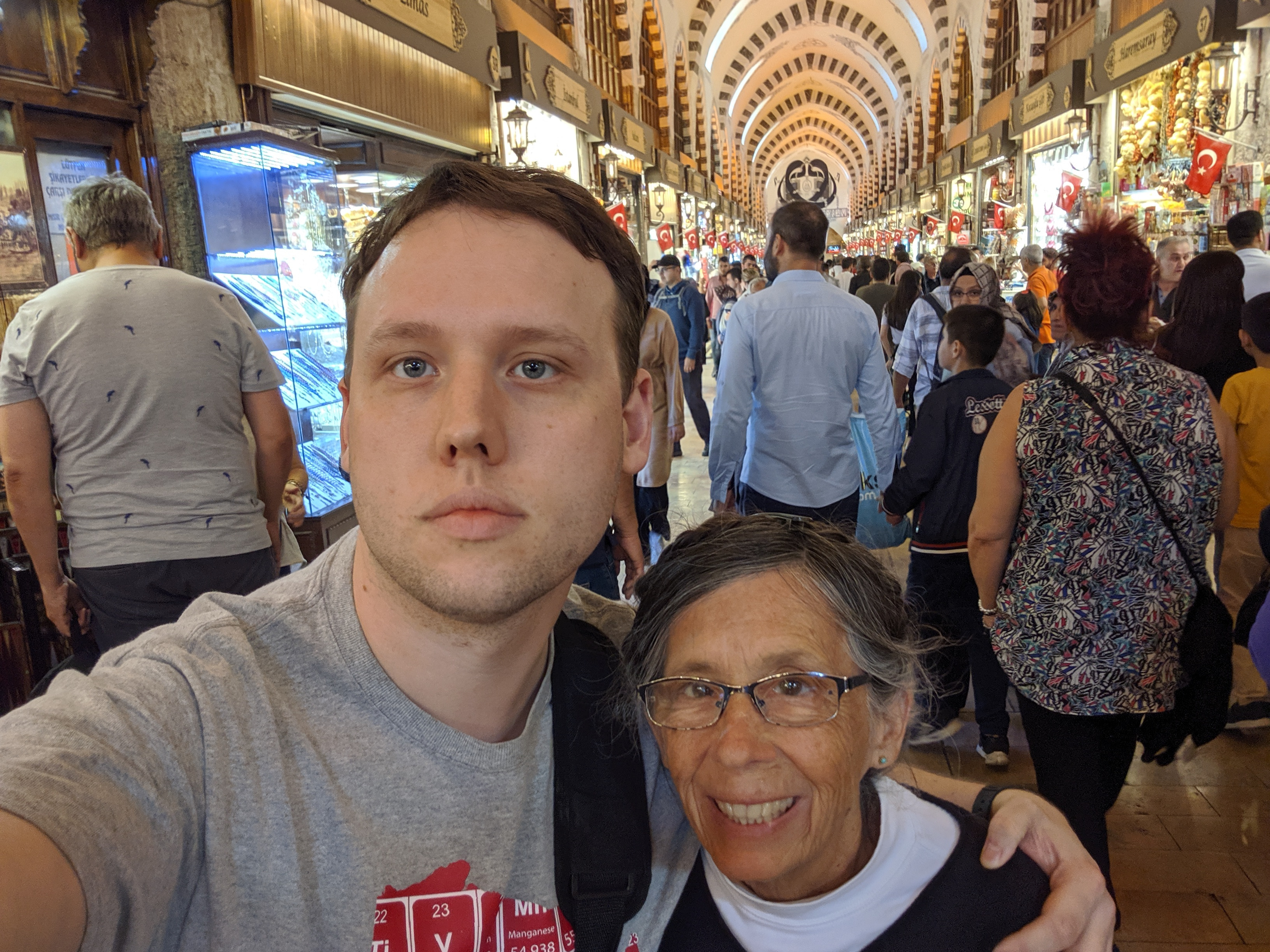 Nancy and Blaise at the Spice Market.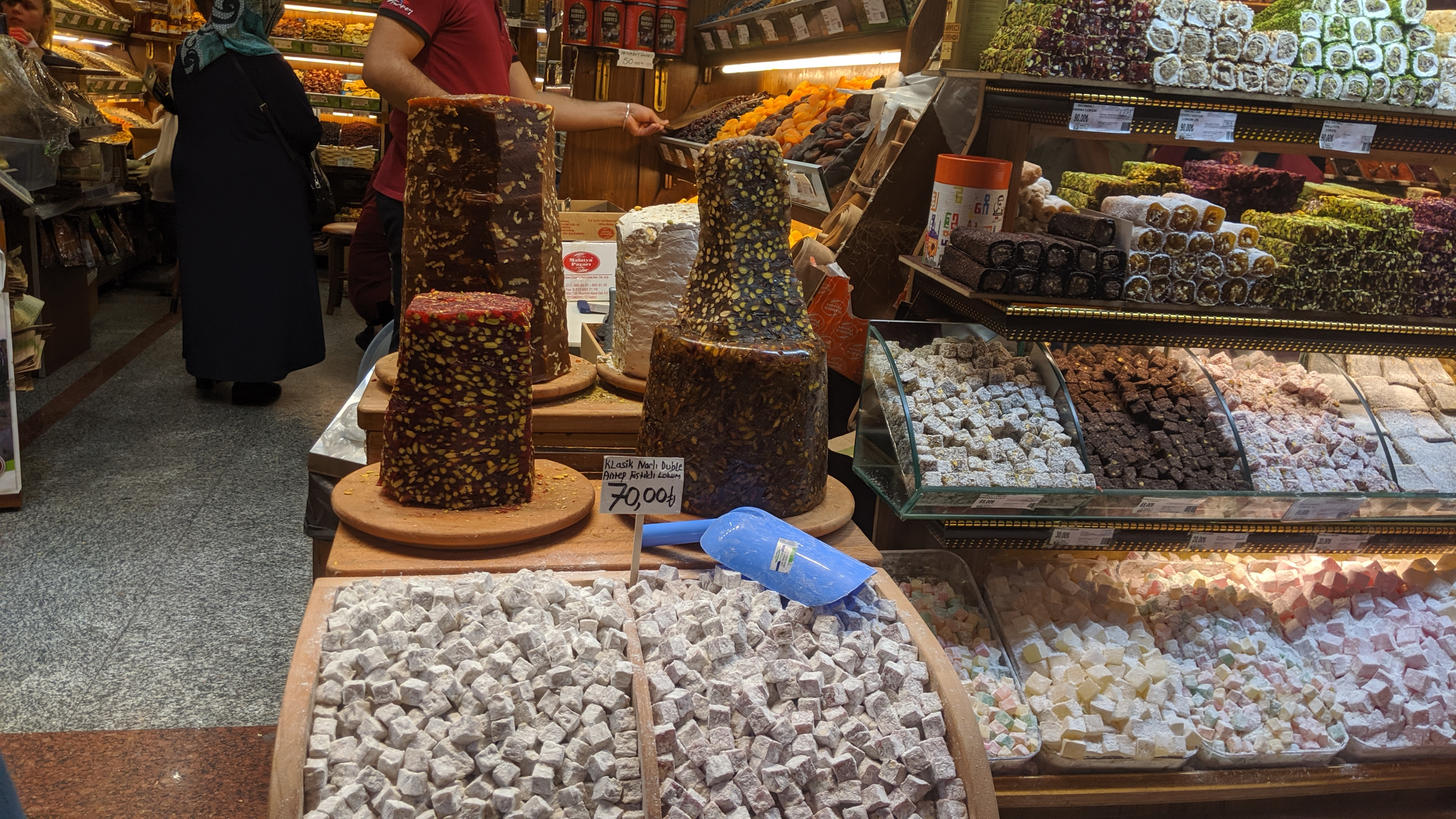 Large chunks of turkish delight being displayed at the Spice Market.


There were even markets in unexpected places, such as this one which they stumbled upon in a tunnel underneath the interstate.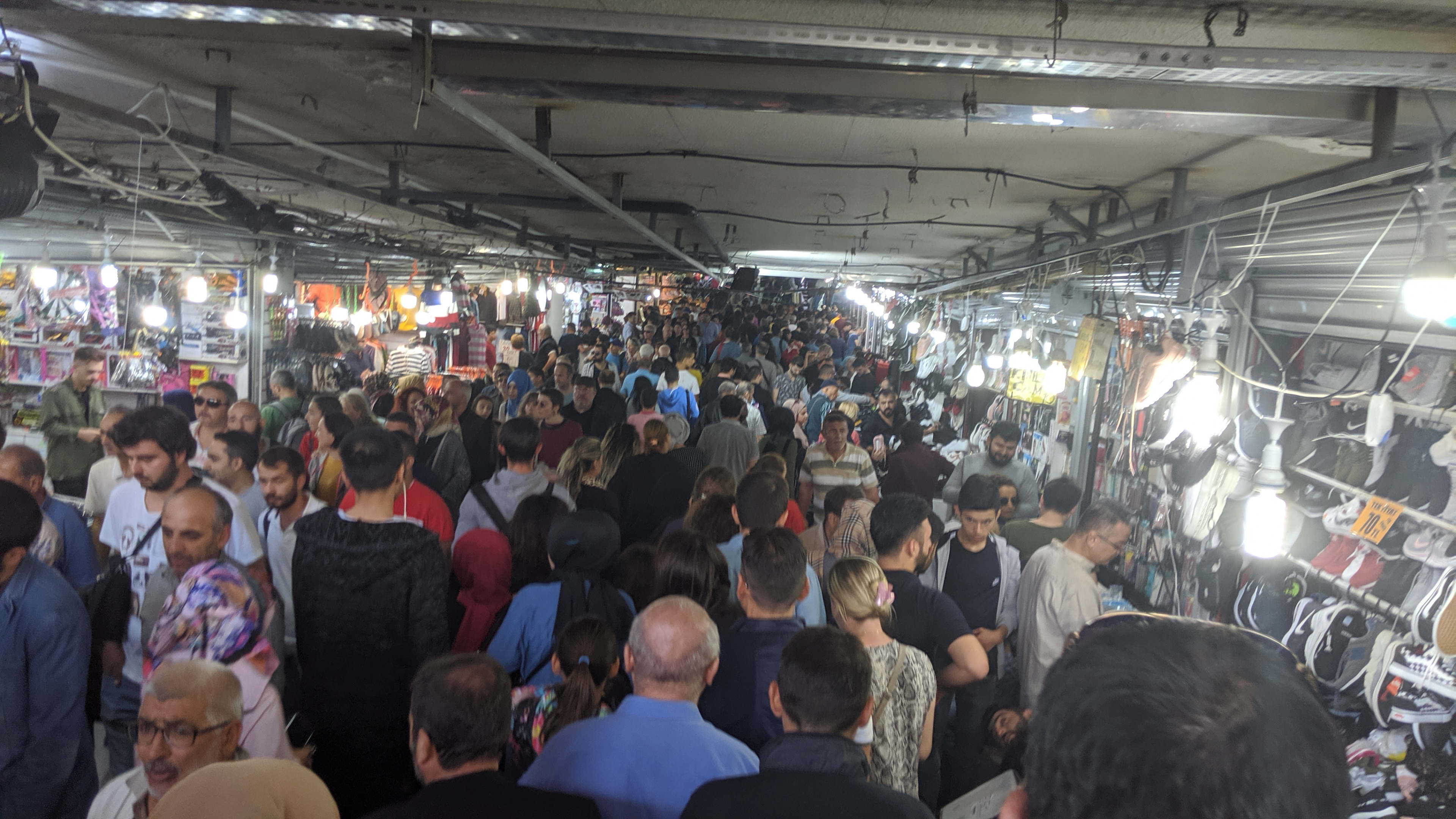 A bazaar located in a tunnel under the interstate.

Bosphorus boat tour
At 17:00 Nancy, Jim, and Blaise went on a guided boat tour of the Bosphorus straight.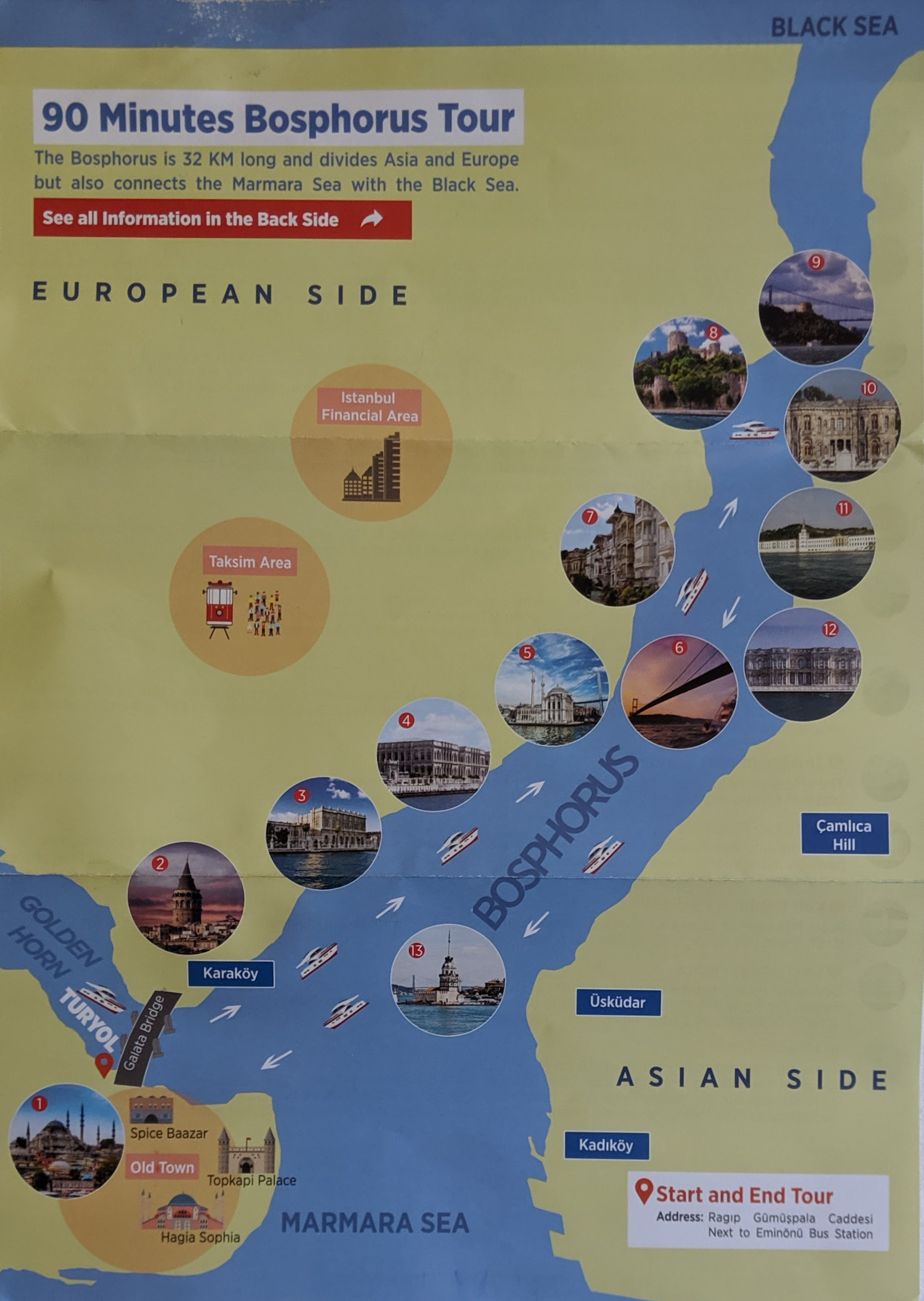 Bosphorus tour route.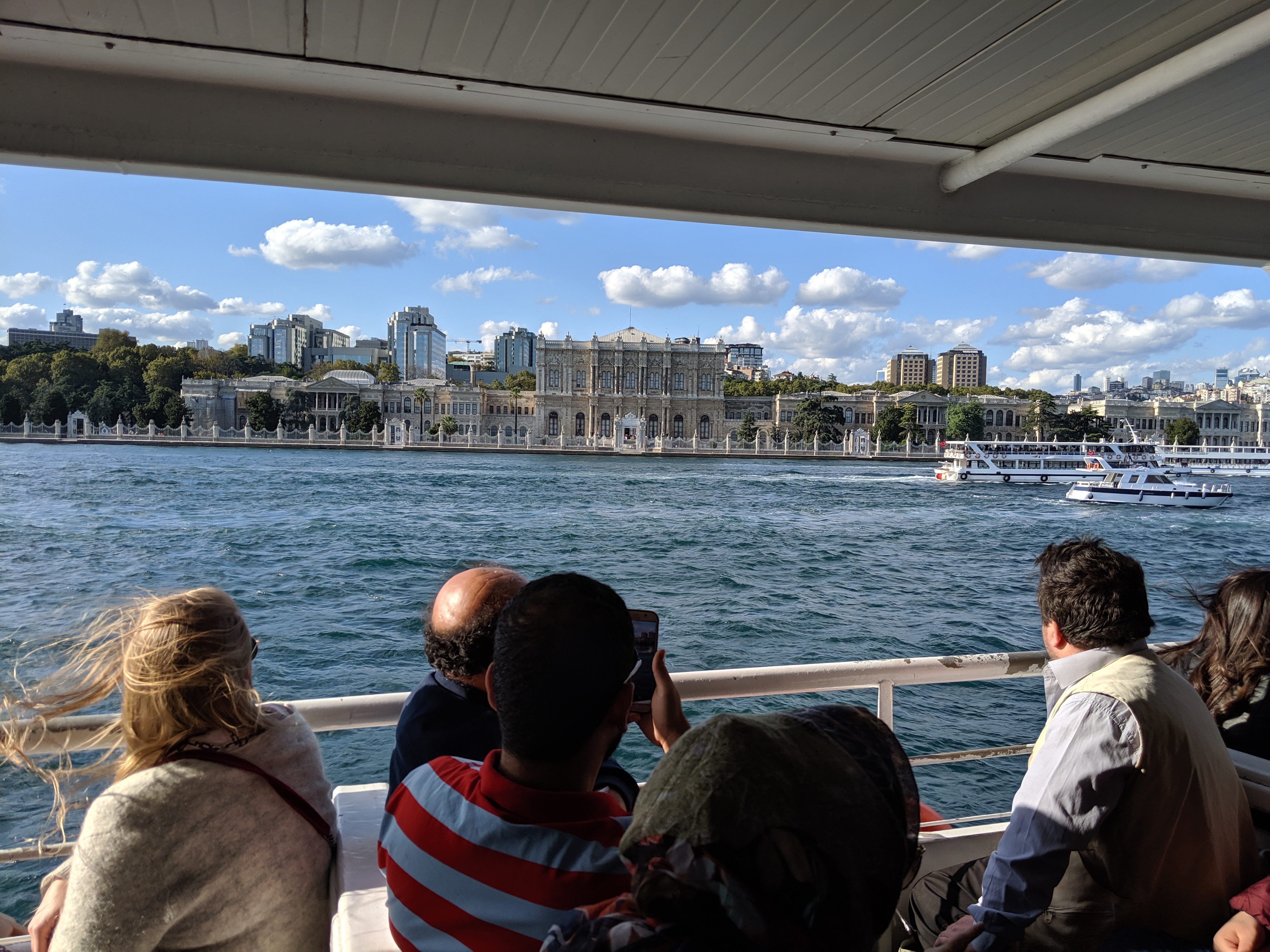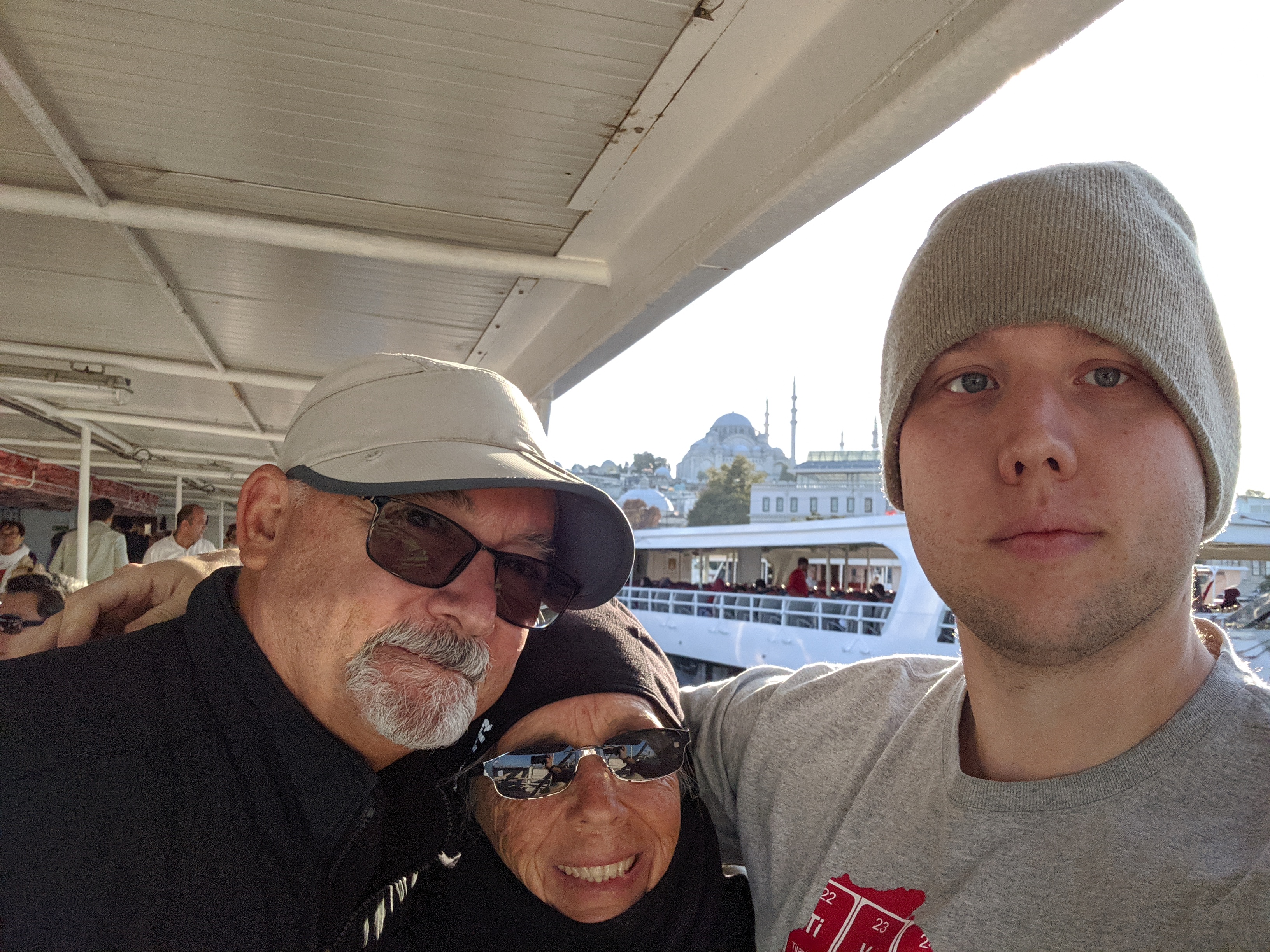 dinner